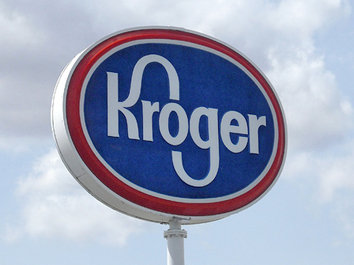 A subsidiary of The Kroger Co. has unloaded a high-profile shopping center on Indianapolis' north side for $8.5 million, but the Cincinnati-based supermarket giant has committed to remaining a tenant of the complex along Keystone Avenue for 15 years.
Slate Grocery REIT, an owner and operator of U.S.-based retail real estate anchored by groceries, announced on Friday that it had closed on the $8.5 million acquisition of Glenlake Plaza, a 104,678-square-foot shopping center located at 2629 E. 65th St.
"We are pleased to acquire another quality grocery-anchored property in a growing market with compelling demographics at a significant discount to replacement cost," said David Dunn, CEO of Toronto-based Slate, in a media release.
The seller was Topvalco Inc., a subsidiary of Kroger. The supermarket firm is the largest tenant in Glenlake Plaza, with a 63,000-square-foot store.
In its announcement of the center acquisition, Slate said it had secured a 15-year-lease from Kroger for the store. The remaining space in the plaza is largely occupied by shops and restaurants in an adjacent retail strip. Several spaces currently are vacant.
The Arby's and Sahm's Place restaurants that occupy outlots on the southeast corner of Keystone Avenue and 65th Street were not part of the transaction.
Including the Kroger, the plaza has an occupancy rate of 85%, according to Slate.
Topvalco bought Glenlake in 2014 for $9.45 million, according to Marion County Assessor records.
"The sale represents a bit of a change in our real estate philosophy since we purchased the property," said Eric Halvorson, manager of corporate affairs for Kroger's central division. "Credit that to growth in e-commerce and expansion of our digital footprint. But, as the lease indicates, we remain committed to Glenlake Plaza."
With the closure of the Broad Ripple Kroger in 2020, the Glenlake store is the chain's closest supermarket to the dense Broad Ripple, Glendale and Meridian-Kessler neighborhoods.
A leasing brochure for potential plaza tenants says 35,000 vehicles pass the center every day and that 266,000 people live within a 10-minute drive time. The average household income of residents within three miles is nearly $100,000.
Slate owns and operates about $1.4 billion in retail real estate across major U.S. metro areas.
Please enable JavaScript to view this content.