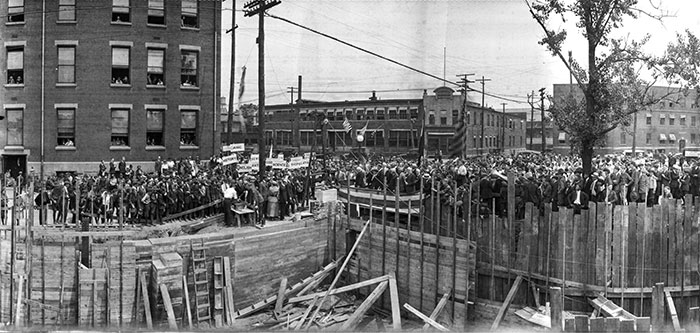 On June 7, 1920, Bert H. Gadd, chairman of the Indianapolis Board of School Commissioners, laid the cornerstone of an addition to Charles E. Emmerich Manual Training High School at 525 S. Meridian St. The new building, which included an auditorium with a stage and orchestra pit, a cafeteria and a gymnasium, opened in 1922. Manual Training High School moved in 1953, and this facility was renamed the Harry E. Wood Vocational Training School, which remained in operation until 1978. Since then, the property has housed another school, an insurance company and more until it opened as The Union 525 in 2016.
Sources: Indiana Historical Society, The Union 525
Credit: This image is courtesy of the Indiana Historical Society and is part of the Charles F. Bretzman collection. More images are available at images.indianahistory.org.
Please enable JavaScript to view this content.