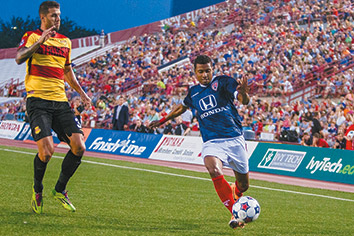 Legislation that will give the Indy Eleven more time to finalize plans for a permanent soccer stadium is headed to Gov. Eric Holcomb's desk.
The Indiana House on Thursday voted 83-6 to approve Senate Bill 385, which adds two years to a 2019 bill that had called for a new special tax district—known as a professional sports development area, or PSDA—to be established in Marion County by mid-2022. The bill extends that date to July 1, 2024.
The Senate voted 45-0 last month to approve the bill, authored by Sen. Jack Sandlin, R-Indianapolis.
The PSDA would capture taxes spent in a designated geographical area surrounding the stadium to help finance the project. The Indy Eleven would be required to sign a long-term agreement with the city's Capital Improvement Board (which also owns and operates the Indiana Convention Center and Lucas Oil Stadium) and pay for 20% of the stadium construction costs.
The new PSDA would have to be enacted by the city's Metropolitan Development Commission once a deal is struck between the city and the team.
Passed in 2019, Senate Bill 7 included language approving the creation of an additional PSDA in the county, as well as other measures, such as $270 million for renovations to Bankers Life Fieldhouse and an expansion of existing PSDAs.
SB 7 allowed up to $9.5 million annually in tax revenues to be captured for up to 32 years to pay off bonds for an outdoor soccer stadium. Sandlin's bill would mean collections could start either once all requirements are met as part of a deal, or on June 30, 2023—whichever is sooner.
Sandlin has previously said the unexpected pandemic caused the need for the extended timeline for the soccer stadium.
Indy Eleven officials have said they plan to announce a location for the proposed $550 million Eleven Park development, which would include a stadium, by the end of March.
For years, Indy Eleven has eyed various sites in the downtown area, including the former Valspar site west of Lucas Oil Stadium, but it's not entirely clear where the team now plans to build its development or if that site remains in contention.
IBJ reported in January 2020 that the team had scaled back its initial plans for a 20,000-seat stadium. Instead, the team is pursuing a venue that has at least 12,000 seats and could be expanded as the fan base grows.
Wherever the project goes, tax dollars would be used to help fund only the stadium portion. The remainder of Eleven Park—including apartments, retail, office and parking—would be privately funded.
Please enable JavaScript to view this content.