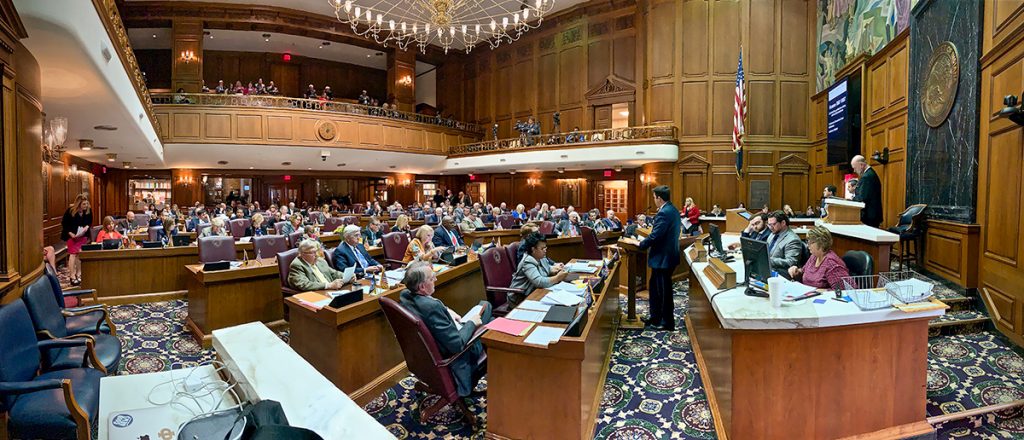 State government can give cities and towns power, and it can just as easily take that power away.
That's the source of a longtime struggle between the Republican-controlled General Assembly and Indiana municipalities, with lawmakers repeatedly stepping into local affairs and sending the message that state officials know best.
This year, efforts to preempt what's known as "home rule"—the idea that local governments should make the policies that impact their constituents—seem even more frequent, especially as they relate to Indianapolis.
Just in the past month or so, lawmakers have debated proposals to prohibit cities from regulating landlord-tenant relations, allow the attorney general to step in when a local prosecutor decides not to pursue a case, and cut funding to IndyGo—which might stop construction of future bus rapid-transit lines.
Those measures—plus one to so tightly restrict panhandling that it will effectively be illegal in all of downtown Indianapolis—were all targeted at the Circle City.
Top Republican lawmakers say they have a right to take a heavy hand in Indianapolis, because it is the state capital.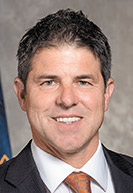 "It's not the first time that we've been involved in things that pertain to Indianapolis," Senate President Pro Tem Rodric Bray said. "We take a little stronger interest in that than we do some other places."
But home-rule preemptions aren't limited to Indianapolis.
Lawmakers this year have attempted to overturn a decision by the Allen County Council and are seeking to impose a tax on a Gary casino without local elected officials voting on it.
Not all the proposals will pass into law. In fact, some have already failed, including the one to let the attorney general overrule local prosecutors.
"All of those won't happen, I'm confident, but there may be some," House Speaker Brian Bosma said.
Some officials say legislators are going too far.
"They're really coming at us this year," Democratic Indianapolis City-County Councilor Ali Brown said. "It's obviously a partisan push to take control of Indianapolis."
Bill Oesterle, a Republican who managed Mitch Daniels' 2004 run for governor, said certain policies should be standardized across the state. But, he said, "That's not what's going on here.
"This is very intentionally the Legislature attempting to step on municipal government," Oesterle said.
Local governments should have the ability to try new ideas without state interference, he said.
"If the Legislature is parachuting in, it removes all of that experimentation," Oesterle said. "It makes one size fit all."
Not the first time
Cities and towns are most vulnerable to state intervention because they are created by state law, while counties and townships were created by the Indiana Constitution.
As a result, municipalities derive their power from state laws that specify how they can be created and organized, what duties their elected officials can undertake, and how they can conduct business.
That's long been unpopular among city officials, but proposed constitutional amendments to strengthen the concept of home rule died in Indiana in the 1940s and 1950s.
In 1980, the Legislature passed a Home Rule Act that was sold as a way to ensure local governments retained control over local affairs. But the law actually itemized a long list of restrictions, including the inability to impose and collect taxes without state permission.
In the meantime, legislative efforts to regulate city policy have continued largely unabated.
Some recent examples:
In 2016, lawmakers banned local governments from taxing or restricting the use of disposable plastic bags. The move was seen as a way to get ahead of Bloomington officials, who had been considering some type of ban or tax.
The following year, lawmakers and Bloomington representatives were at odds again when a bill passed that stopped the city's annexation efforts and prevented the city from revisiting the plan for five years. The city challenged the legislation in court, and the Indiana Supreme Court heard the case in January. The court has not yet ruled on it.
Closer to home, legislators in 2014 banned light-rail mass-transit construction in Marion and six central Indiana counties as local officials debated the best mass transportation system for the area.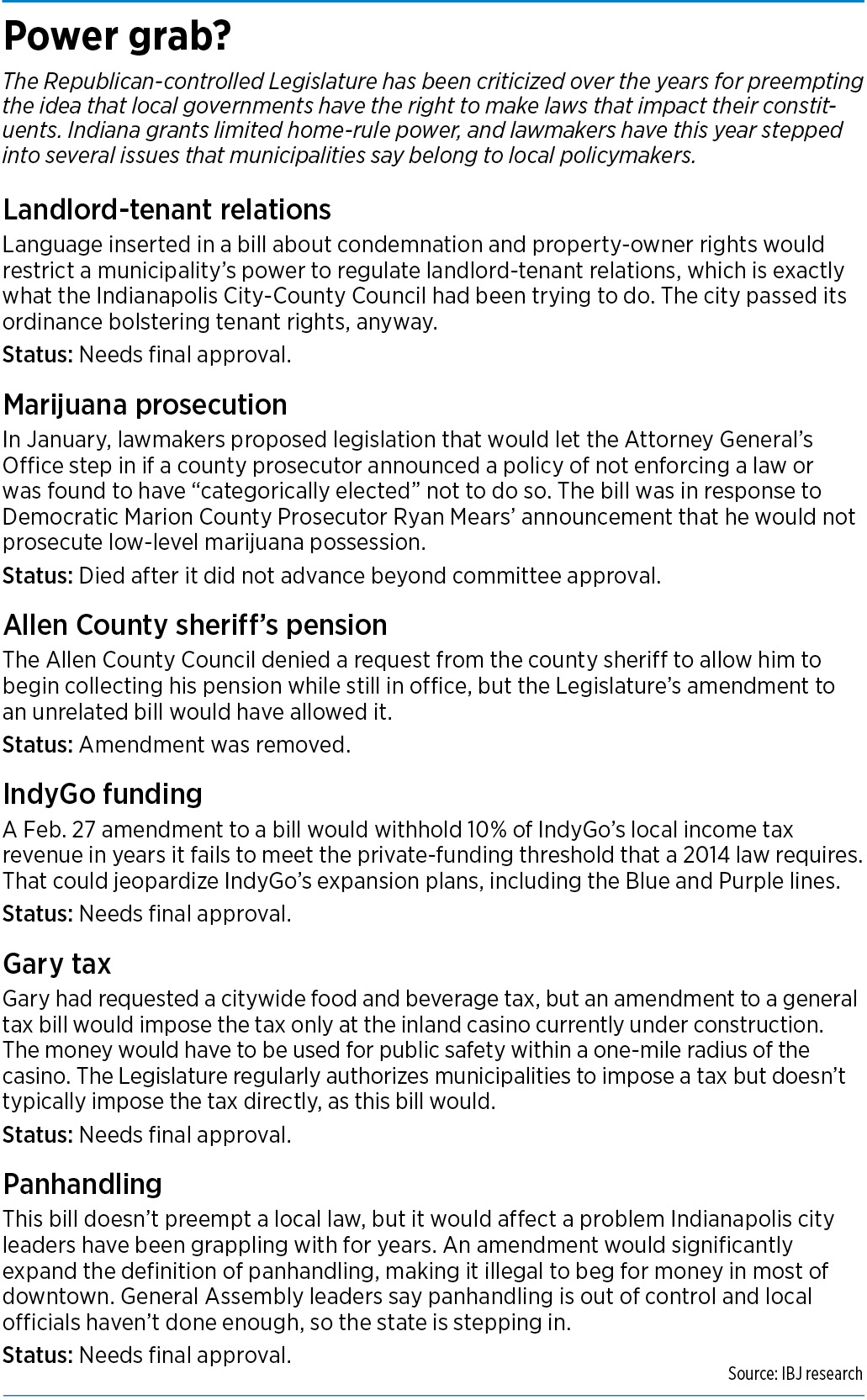 Bills have repeatedly been filed to overturn that ban but have failed to advance.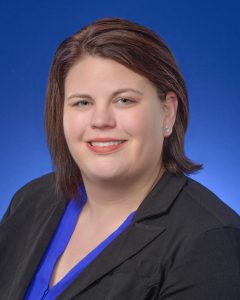 Brown said Republican lawmakers purposefully try to thwart Democratic-controlled communities, like Bloomington and Indianapolis.
"As soon as we make some kind of progress, they do something to take it away," she said. "They just want to hinder us from our ability to do our jobs."
The home-rule preemptions have not always targeted left-leaning cities, though. In 2017, legislators felt compelled to protect short-term rental companies like Airbnb after the city of Carmel, a Republican stronghold, started to debate regulations for the rental properties.
The law passed that year prevents local governments from prohibiting the use of a property as a short-term rental.
When local governments "begin to pursue divergent agendas, the state is demonstrating a willingness to just step in," Oesterle said.
Tension in Indy
This year, tensions sparked between state lawmakers and Indianapolis elected officials when language to prevent local communities from regulating landlord-tenant relations was added to a bill.
That move came hours before the Indianapolis City-County Council was expected to vote on a measure designed to bolster tenant rights as a way to address the high number of evictions in the city.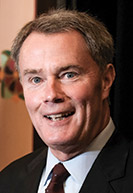 City officials, including Mayor Joe Hogsett, had little warning that the amendment would be added to Senate Bill 340 during a committee hearing. Democrats tried to remove the wording on the House floor, but Republicans blocked that move.
Bosma said lawmakers had concerns about some aspects of the city ordinance, and felt they needed to take action.
"I'm sure we'll continue working on this legislation until there's a proper balance between the rights of landlords and the rights of tenants," he said.
But Democrats saw the move as a power grab and argued that lobbyists for companies that own and manage apartments ran over to the Statehouse after not getting what they wanted from city officials.
"Anytime that they get mad at the local level, you'll have some of those Republicans coming over to the state and saying, 'OK, help us out since we don't have the majority over here and you have the majority over there. Come over here and help us and figure out, how can we get this on our side?'" said state Rep. Robin Shackleford, D-Indianapolis.
Only a few days after the landlord-tenant regulation fight, lawmakers inserted language into a bill on the Senate floor that would withhold some IndyGo funding if the transit agency fails to meet fundraising goals it agreed to as part of a 2014 law authorizing a tax-increase referendum. Cutting that state funding could jeopardize future IndyGo projects like the Purple and Blue bus rapid-transit lines.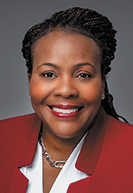 Republican Sen. Aaron Freeman, who represents part of Indianapolis and is a former city-county councilor, said he authored the measure to hold IndyGo accountable to its commitment.
But local officials argue the move ignores what voters want, because the 2016 tax-increase referendum to help fund bus rapid-transit passed with 60% approval.
"They just undermine us," Brown said. "Of course Indianapolis isn't going to succeed if they don't give us a chance."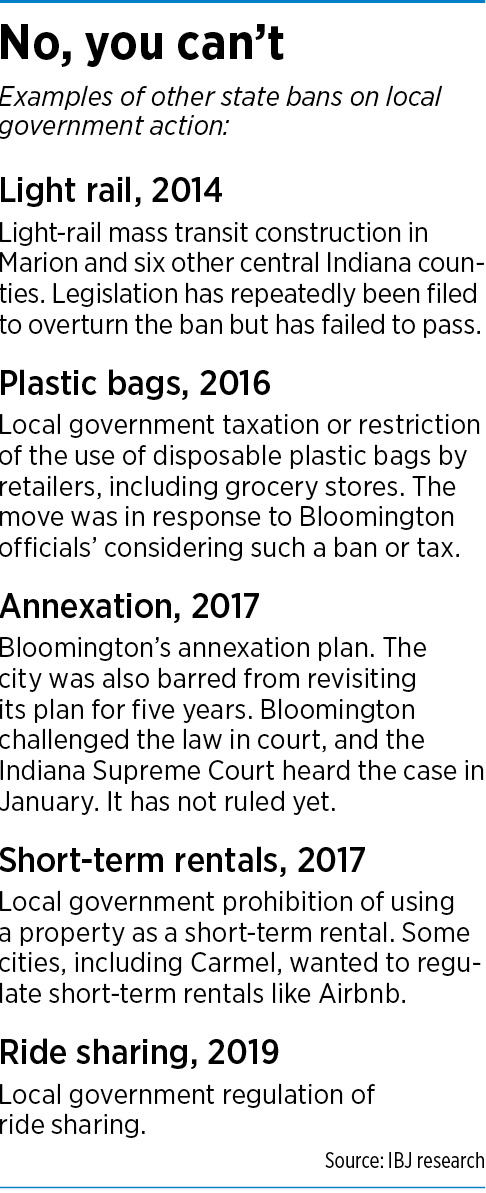 'We'll address it'
Some lawmakers say their actions actually do the opposite—they help the city succeed.
That's the argument for the proposed expansion of territory off limits to panhandling. The change would make panhandling illegal within 50 feet of an ATM; entrance or exit of a bank, business or restaurant; public monument; or place where any "financial transaction" occurs.
The bill's definition of financial transaction includes any exchange of money received by a business, parking meter, parking garage, public-transportation-authority facility or pay station, or restaurant.
Although it's not technically a home rule issue—because the state already defines panhandling and its limitations and potential penalties—the move was made to target a downtown Indianapolis problem.
Bosma said legislators didn't think the City-County Council was doing enough to tackle panhandling, especially after the council announced earlier this year that one of its first big initiatives would be to address climate change.
"I think that raised some eyebrows that there were a lot of other issues that needed to be managed in the city," he said. "So, we'll address it."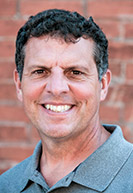 Even so, Oesterle said it's not up to state lawmakers to solve a local problem.
"That's what voters are for," he said. "That's up to the voters of Marion County."
Brown agreed that, if residents are unhappy with how local elected officials are managing the city, they should show that at the ballot box.
"The people in Marion County have shown repeatedly that they don't want the Statehouse to control us," she said. "Every time they do something to come at us, the people reject it."
The bills affecting landlord-tenant relations, IndyGo funding and panhandling are still pending; the legislative session is expected to end by March 11.
Despite the various actions that target Indianapolis this year, Bosma and Bray say they are not worried about becoming some type of "super council" overseeing the city.
"Am I personally worried about it? No, I am not," said Bosma, who is retiring at the end of the session. "Is Speaker-elect [Todd Huston] worried about it? Yes."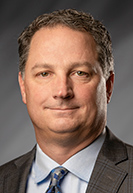 But Huston said lawmakers will consider issues on a case-by-case basis, and he's not sure Indianapolis has been targeted.
"Some issues have been brought forward by Indianapolis that make us take a look at the overall policy statewide," he said.
Oesterle said he is worried the trend is only going to worsen as the urban population continues to grow and Indianapolis voters lean more Democratic. In the 2019 municipal election, Democrats gained six seats on the City-County Council, bringing their total to 20 on the 25-seat body.
The result, he said, could be that legislators who represent smaller portions of the population make decisions for larger parts of the state that they don't live in.
"I think it's a very dangerous phenomenon for the Legislature to standardize or in some cases completely subvert the will of elected local officials," Oesterle said.
Please enable JavaScript to view this content.