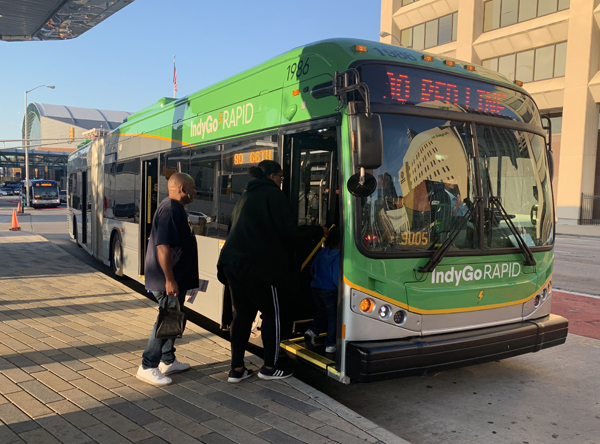 The Indiana Senate on Tuesday passed a bill that could cut future funding from IndyGo and prevent planned expansions of the mass transit system.
House Bill 1279, authored by Rep. Ed Soliday, R-Valparaiso, initially only addressed a regional development group in northwest Indiana. But an amendment added to the bill last week sought to put teeth in a 2014 state law that required IndyGo to raise private dollars to help finance its mass transit operations, including the Red Line.
The 2014 law authorized a 0.25-percentage-point increase in the city's income tax rate to fund IndyGo operations and new services—with approval from the City-County Council and Marion County voters. That law also said that IndyGo would be required to provide a 10% match of that new income tax revenue, raised only from private sources, not fares or taxes.
The tax went into effect in October 2017 and is generating about $60 million per year. That means IndyGo would need to raise about $6 million per year to meet the law's threshold, but until this week, the agency had not raised any private money.
On Monday, the Central Indiana Community Foundation announced it had donated $35,000 to IndyGo's not-for-profit foundation, which was allowed to start fundraising in June. On Tuesday, IndyGo officials said they've also received other "very small" donations from various sources.
That's still far from what IndyGo is expected to raise.
"I understand yesterday they got their first donation," said Sen. Aaron Freeman, R-Indianapolis, who authored the amendment. "God bless them. Good."
The 2014 law did not include any penalties, and now some lawmakers, like Freeman, want to hold IndyGo accountable for raising private money. But IndyGo officials are worried the legislation will jeopardize its operations and its ability to build its planned Blue and Purple rapid transit lines.
"It does have a great potential to stop those things," IndyGo President and CEO Inez Evans told reporters during a press event held at the Julia M. Carson Transit Center on Tuesday.
The controversial language added to the bill on Thursday would withhold 10% of IndyGo's local income tax revenue in years that it failed to meet the private funding threshold imposed in the 2014 law.
The current version of the bill would also ban IndyGo from moving forward with expansion projects—including the planned Blue and Purple lines—until it secured private funding.
Freeman described the move as "taxpayer protection."
"If we don't think our laws are important, then we should just take that provision out," Freeman said.
The original requirement that IndyGo use private funding to match the income tax revenue grew out of concern that private companies—some of the biggest advocates for an expanded transit system—would not be required to foot the bill for any of its costs. Initially, the 2014 legislation included a tax on corporations that would cover 10% of the system's operating costs. But lawmakers removed that tax in favor of the provision requiring IndyGo to raise private money—with the belief that area companies would be willing to contribute.
Evans, who joined IndyGo just last year, said it's unrealistic to believe that the bus system will be able to raise about $6 million annually, especially since the law requires that the 10% match be used only for operating expenses.
Evans also said IndyGo would like to see a change in the state law so that the 10% match could be used to support programming—things an initiative launched in July 2018 that provides free bus rides for veterans.
That change, Evans said, would make it easier for IndyGo to raise money through its foundation.
"We want to comply with what the law says—but give us something we can sell that is truly community-based," Evans said.
During the debate on the Senate floor on Tuesday, Sen. Jean Breaux, D-Indianapolis, defended IndyGo for not having raised the money yet.
"It takes time to bring all of the stakeholders together and get things moving" Breaux said. "What Sen. Freeman is doing is just cutting off at the knees a process that has just begun to work."
But Sen. Mike Young, R-Indianapolis, criticized IndyGo for a slow start to fundraising since receiving not-for-profit status in June.
"If they don't raise it, you know who pays for it?" Young said. "We get to pay for it."
The amended bill split Senate Democrats, as some of them represent parts of northwest Indiana that would benefit from its other provisions. It passed 43-7 with one Republican—Indianapolis Sen. Jim Merritt—voting against it.
Sen. Karen Tallian, D-Ogden Dunes, supported the bill for the northwest Indiana language.
"I am hopeful that all of this Marion County language will be taken out of this bill" when it moves to a conference committee, Tallian said.
Soliday said he doesn't plan to keep the IndyGo language as it currently is in the bill, but he does not plan to remove it completely.
"I mean, the law is the law," Soliday said. "But there could be consequences if people move too quickly."
To date, Evans said, IndyGo has completed about 80% of the design work for the $155 million Purple Line, a bus rapid-transit route planned to run between Lawrence and downtown Indianapolis.
IndyGo has also completed about 30% of the design work for the $220 million Blue Line, which is planned to run along Washington Street between Cumberland and the Indianapolis International Airport.
IndyGo is applying for federal funding that would cover half of the construction costs for each project. But Evans said if the Federal Transit Administration believes that IndyGo's funding sources are in question, it will be less likely to award the project grants.
IndyGo officials are also concerned about having to reverse service improvements that have been made in recent years, like increasing the frequency of service on some of its bus lines, if it loses 10% of its income tax revenue.
Evans said those improvements have helped boost ridership. Total system ridership went from 8.8 million in 2018 to 9.2 million in 2019, an increase of 4.9%. In January, ridership was up 8% as compared with January 2019.
"That is a significant improvement," Evans said.
But IndyGo's launch of the Red Line last September was marred by problems with technology and a shortage of bus drivers that combined to make the buses run significantly later and less reliably than promised. Problems with its payment system—which IndyGo has blamed on private vendors—meant it did not begin collecting fares until December.
And the electric buses it purchased have not been able to go the distance on a single charge promised by the manufacturer.
Freeman said he's not trying to attack the issues with mass transit.
"At the end of the day, I'm not here to talk about ridership of the Red Line," Freeman said. "I'm not here to talk about the roll out."
IBJ reporter Susan Orr contributed to this report.
Please enable JavaScript to view this content.