During the second gubernatorial debate on Tuesday night, it was the third party candidate—Libertarian candidate Donald Rainwater—who came out as the aggressor, repeatedly attacking Republican Gov. Eric Holcomb, in part by painting him as a "big government" politician.
Rainwater has gained support among some conservatives, who say Holcomb went too far this year by mandating masks and putting restrictions on private business in an attempt to curb the spread of the coronavirus.
And Rainwater has seized on that big government theme to criticize Holcomb in other areas, including workforce development and technology. Such attacks—and frustration with Holcomb's pandemic-related actions—have Rainwater polling better than third-party candidates typically fare in Indiana, although he still trails Holcomb and Democrat Woody Myers significantly.
Rainwater's comments came during an hour-long forum hosted by the Indiana Debate Commission and moderated by Nadia Brown, associate professor of political science and African American studies at Purdue University. The candidates were in the WFYI-TV Channel 20 studio, but in separate areas from each other and from Downs as a COVID-19 safety precaution.
During the discussion, the candidates answered questions about job creation, broadband internet, marijuana, a COVID-19 vaccine, racial disparities, redistricting and what time zone Indiana should be in.
Rainwater started criticizing Holcomb immediately in his opening statement, and the attacks kept coming in nearly every response he gave. At one point, Rainwater compared Holcomb's workforce training programs to a free college-for-all policy suggested by former Democratic presidential candidate U.S. Sen. Bernie Sanders.
Workforce development has been one of Holcomb's top priorities in his first term, and the governor reiterated Tuesday night that it will continue to be a big focus for his administration, if he wins a second term.
"We have to be future proof," Holcomb said. "That means if technology displaces you, we need to skill you up and we have the resources close to you."
Rainwater also blamed Holcomb's previous stay-at-home order from the spring as the reason that 6.2% Hoosiers are unemployed right now.
"As governor of the state of Indiana, I will never again say some Hoosiers are essential, some are not," Rainwater said. "Some jobs are essential, some are not."
Libertarian Donald RainwaterAnd Rainwater described Holcomb's $100 million Next Level Broadband program—which is meant to bring high-speed internet—as a "big government" solution.
Myers, meanwhile, criticized the rural broadband program for not doing enough.
"Our approach to broadband in this state has failed," Myers said.
Holcomb defended the program, saying he listened to Hoosiers who were having to take kids to the parking lots of McDonald's restaurants to finish homework because they couldn't get reliable internet access at home.
"We didn't wait on this problem," Holcomb said. "It didn't take COVID-19 to wake us up."
Rainwater also took a jab at Holcomb for his overseas economic development trips.
Holcomb said those trips were not paid for with taxpayer dollars, instead funded through the private Indiana Economic Development Corporation Foundation, also called the Works Foundation.
The foundation is funded by such donors as Vectren, Duke Energy, Indiana Michigan Power, IPL, NIPSCO, Old National Bank and Hoosier Energy.
"And the good news is we've tripled our foreign direct investment in the state of Indiana," Holcomb said. "That's called on-shoring."
On the issue of racial disparity, Holcomb talked about his ongoing plan to review policies and programs within state agencies, equip Indiana State Police with body cameras and hire a chief equity, inclusion and opportunity officer that will be part of his cabinet, if he wins reelection.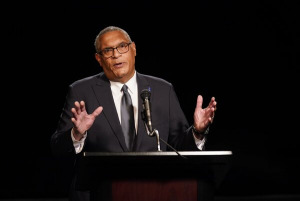 Myers said he doesn't think the state needs to create that position.
"Perhaps my opponent needs someone to help him understand the issues of fairness and equity," Myers said. "I've lived in this state for many years. I've been under siege on occasion because of race. I understand what fairness and equity is all about."
Rainwater also said a new cabinet-level position was unnecessary.
On redistricting, Myers and Rainwater agreed that a non-partisan redistricting commission should be created to handle drawing the lines.
But Holcomb said he didn't think it would be possible to find truly non-partisan individuals to make up the commission. "Easier said than done," Holcomb said.
Myers and Rainwater rejected that argument.
"We can find nonpartisan individuals that represent the entire spectrum of political thought in our state," Myers said.
Please enable JavaScript to view this content.