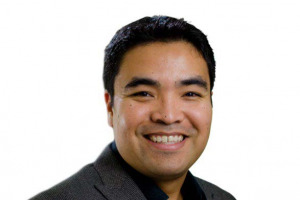 Tech-marketing executive Sean Shelby has been chosen to take over as president and CEO of the Carmel-based Liberty Fund, the not-for-profit educational foundation announced Wednesday.
Shelby is U.S. chief technology officer for London-based global digital marketing agency Isobar, based in the Chicago office.
He will join Liberty Fund on Aug. 31, succeeding Emilio Pacheco, who has led the organization since 2016.
The Liberty Fund board of directors picked Shelby after an eight-month search led by executive search firm CarterBaldwin that considered almost 80 candidates.
The Liberty Fund is one of the richest foundations in the state, with about $378 million in assets as of April 2019. The pro-free-enterprise foundation was founded in 1960 by businessman and philanthropist Pierre Goodrich, the son of James Goodrich, Indiana's 29th governor (1917-21).
The foundation raised its local profile by opening a $22 million headquarters at 111th Street and U.S. 31 in Carmel in 2016.
The Liberty Fund did not say how much Shelby would be paid. His predecessor received $403,200 in annual compensation, plus $57,609 in benefits, in fiscal year 2018-19.
Shelby served in several executive roles over his 19-year career at Isobar, including as head of strategy and mergers and acquisitions, and as engagement director.
He previously was a management consultant at Deloitte Consulting and a founding member of digital consultancy Roundarch.
Shelby graduated from the University of North Carolina with a bachelor's degree in history.
"After many years in the private sector, I am excited to bring my passion for ideas and innovation to the Liberty Fund," Shelby said in written comments. "When I look back on my life and contemplate the educational, professional, and travel experiences that have shaped my life, I realize I have been preparing myself for many years to lead an organization dedicated to principles I hold dear."
The Liberty Fund typically conducts more than 150 educational conferences throughout the year in the United States, Canada, Latin America, and Europe. The events aim at advancing understanding and appreciation of the libertarian ideals of limited government, individual responsibility and the free market.
It also publishes books and maintains four educational web properties.
"Our board is pleased to have Sean join our organization, "Nate Feltman, Liberty Fund's chairman of the board, said in written remarks. (Feltman also is IBJ Media's CEO.) "Sean's combination of strong private-sector leadership experience, his passion for the study of liberty and his commitment to lifelong education, made him the ideal candidate."
Please enable JavaScript to view this content.