There was nothing especially new in David Ricks' comments to The Economic Club of Indiana on April 20.
The CEO of Eli Lilly and Co. told a lunch crowd at the Indiana Convention Center that, to compete for jobs—particularly technology, life sciences and engineering jobs, Indiana needs to improve its education system, reduce health care costs, embrace diversity, move to greener energy sources and do a better job training its workers.
Policymakers have certainly heard those sentiments before.
But Ricks' words—repeated on social media by those in attendance and reported by IBJ and local TV stations—have reverberated across the state. In boardrooms. In government offices. On Twitter. In columns and news stories. Even at parties where talk of public policy is, at least in theory, supposed to be at bay.
READ a partial transcript of Ricks' speech at the Economic Club of Indiana.
"Dave Ricks is trying to drive us to action," said John Thompson, chairman of the Indiana Chamber of Commerce and founder of Thompson Distribution and other construction-related companies. "He's firing a warning shot."
That shot is making waves because it comes from the CEO of a Fortune 200 company with 11,000 employees in Indiana and 58,000 globally—a company that in recent months has announced it would invest more than $3 billion in new factories and research laboratories outside of Indiana. Ricks acknowledged those moves immediately prompted calls from state leaders inquiring why Lilly would invest outside Indiana.
"I give them this speech that I gave you today," he told The Economic Club crowd.
Fritz French, a life sciences entrepreneur who has started companies in Indiana and sold them, said Ricks' challenge to state government leaders was "spot on."
"While Indiana does have many factors in its favor that are attractive to businesses, including low taxes and [low] regulatory burden," Fritz said in an email to IBJ, "there are many others that are very troublesome, including the ones Ricks mentioned in his speech in which our state performs poorly—education, health care, inclusion."
"Making real and measurable progress will be a big undertaking," he said. "To be successful, it means making it a stated priority, with sustained focus, significant funding and accountability for results."
Scott Dorsey, a co-founder of ExactTarget and now a partner at venture studio High Alpha, said he agrees with Ricks "that we need to aim higher as a state—particularly across education, health care, health of Hoosiers and the environment. And where that really resonates with me broadly [is in] economic development."
READ Indiana Commerce Secretary Brad Chambers' response to Ricks' comments.
Low taxes aren't enough
At the crux of Ricks' argument is that Indiana's focus for so long, over so many years of Republican leadership, has been to create a tax climate and a regulatory structure that is friendly enough to business that companies can't help but consider Indiana for major projects.
By all accounts, that has been a success. The Washington, D.C.-based Tax Foundation's 2022 State Business Tax Climate Index ranks Indiana ninth for its overall tax climate and No. 1 in the Midwest.
But Ricks said—as have business leaders before and even more in the days since—that a good tax climate is just one piece of a complex puzzle that determines where companies invest. High health care costs, an under-educated workforce, and a dearth of talent substantially drive up the cost of doing business in Indiana.
"If I had to make a list for the upcoming Legislature, this would be it … to work on K through 12 education and the basic building blocks of how we prepare our workforce for the future, reskilling those that have already left that system but may struggle to find a new role in the modern economy," he said.
Add more spending on public health (Indiana now ranks near the bottom of states), a greater push toward greener energy (Indiana remains one of the natmore coal-dependent states) and opening the state's doors wider to immigrants, who can help address companies' desperate need for workers.
And political leaders say they've heard the message—not just from Ricks but from others as well.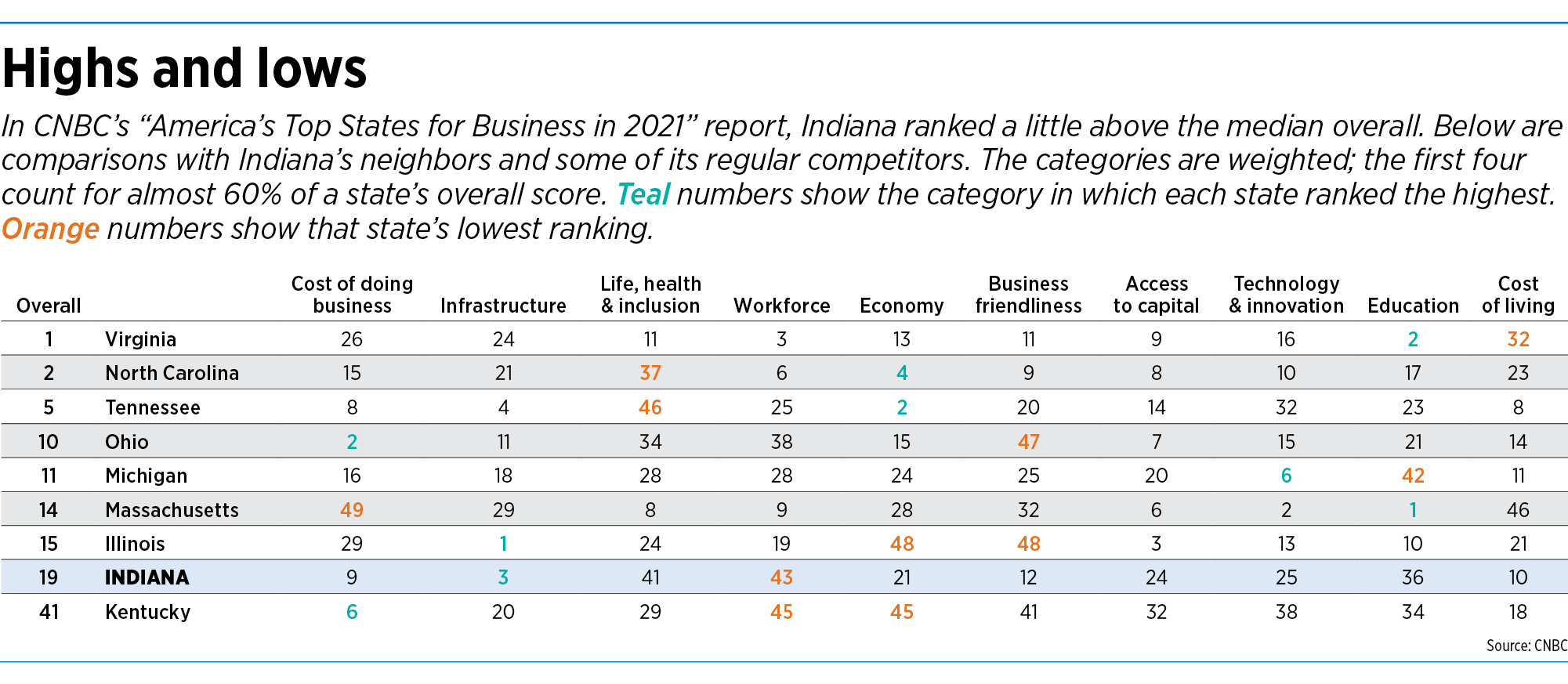 It's one reason Commerce Secretary Brad Chambers, in the job less than one year, has pivoted the agency to focus on many of the issues Ricks spoke about—including sustainable-energy efforts and talent attraction. But he said Indiana is an attractive place to do business, even as it seeks to improve in other ways.
"While discussion about opportunities for improvement are important, they should also be framed in context to relative strengths," Chambers, who is in Europe this week on a trade mission, wrote to IBJ. "Indiana is strong and getting stronger."
In addition, legislative leaders have been pushing Indiana's hospitals and health insurance industry to reduce the cost of health care, particularly the cost to companies that provide insurance to their employees. That work has led several health care systems to try to rein in costs.
"Senate Republicans agree lowering the high costs of health care in Indiana is critical, which is why we've taken steps to provide price transparency and push industry leaders for action on this important issue," President Pro Tem Rodric Bray of Martinsville, told IBJ in a statement.
Kevin Brinegar, president of the Indiana Chamber of Commerce, said Ricks' comments dovetail with the priorities the group plans to take to lawmakers in the 2023 session (the 2022 session ended in March).
The chamber has been among the biggest drivers of those low tax rates, pressuring lawmakers over the past decades to drive down first this tax, then another.
"To use the Mitch Daniels analogy," Brinegar said, referring to the former governor who is now president of Purdue University, "we've created one of the best sandboxes in the country as far as our business climate … but there are some things in the business climate we still need to work on."
Much more work ahead
He and other business leaders pointed to areas where the Legislature has failed to act: incentivizing local governments to locate wind and solar farms in their communities, increasing the cigarette tax to deter smoking, approving a hate-crimes law that applies to transgender people.
And there are problems as well, business leaders said, in what the Legislature has chosen to focus on instead. In just the past few years, lawmakers debated making abortion illegal, the way diversity issues are taught in school, whether transgender girls should compete in sports, and whether Hoosiers should obtain a permit to carry a handgun.
"What I've come to learn is that the most valuable and scarce resource around the General Assembly is their time and how they choose to spend their time," Brinegar said.
Thompson, the state chamber chairman and a member of the Indy Chamber board, said he raised the issue of Ricks' comments during an Indy Chamber meeting this week. He said he reminded the group's members that "we've got to get more involved in the political process to try to solve these things."
That means finding ways to back moderate candidates in both parties. "The parties are bifurcated—the Democrats have centrists and far-left members; the Republicans have centrists and far-right," he said. "Business leaders need to elect and work with the centrists."
In fact, trying to block legislation that might be bad for the business climate in Indiana can take as much time as advocating for positive policies, some leaders say.
Michael Huber, Indy Chamber president, said engaging private-sector leaders and local lawmakers to talk about what companies need the Legislature to do is a key focus of his organization.
"But also making sure that we play defense against very divisive policies," Huber said. "Our business coalition fought publicly against legislation that we thought would limit how diversity education is taught in schools. We're on record for pushing back against that. And so [we need to talk about] things like that, which the business community doesn't see as helpful in growing and retaining diverse talent."
'We've got to do something'
But not everyone sees the Legislature or government in general as the primary answer to the state's problems.
Just three days after Ricks' speech, while accepting TechPoint's Trailblazer Award at the Mira Awards at the JW Marriott, Bill Oesterle commended Ricks for speaking directly about the state's problems. "It was a remarkable list—courageous and objective."
However, Oesterle said, Ricks "looked to the Legislature and the governor to solve our problems."
"I disagree," Oesterle told the crowd of more than 1,200. "I think those problems get solved in this room. Innovation, diversity, inclusion. It happens here.
"David Ricks issued us a challenge. I'd like to say to him, 'We accept.'"
READ Bill Oesterle's column: 'We are going to have to innovate ourselves'
John Wechsler, founder of Launch Fishers and an Indiana Technology and Innovation Association board member, heard Oesterle's speech on Saturday. He said the entire tech community must answer the call, which means focusing as well on entrepreneurship and capital investment—two things that can be driven by the business community.
Indiana, he said, ranks near the bottom in entrepreneurial starts and per-capita investment of venture capital. "We've got to do something to fix it," he said. "That's the critical metric. … It does not bode well for the long term."
And Megan Glover, co-founder of Zionsville-based startup 120Water and another association board member, said Indiana's struggles securing talent lead to less venture capital.
"That's one of the number-one questions: 'What's the talent like in Indiana?'" she said. Venture firms "love the cost of living, love the economics about building a business in Indiana, but how is the talent pool? And do you feel comfortable that you can get the team that you need to grow this business?"
Oesterle said companies can address those problems better than government. He pointed to Cook Group, a Bloomington-based medical-device company, as an organization that is tackling problems related to workforce and education without seeking help from government.
Cook is preparing to open a manufacturing plant in a challenged neighborhood in Indianapolis where it has partnered with Goodwill of Central and Southern Indiana to provide services to employees who might struggle with transportation or health care. And Cook hired 100% minority-, veteran- and women-owned businesses to construct the building.
It also pays for all its workers to attend school (upfront, not as reimbursements) and has purchased 62 acres of land in Owen County in its efforts to build 300 homes in the region for workers.
READ Pete Yonkman's column: Core business resources can drive community change
Cook President Pete Yonkman said in an email to IBJ that "government and policymakers have a large role to play in addressing" the challenges Ricks identified at the Economic Club.
"Solutions will come from government, from not-for-profits, from industry and our neighbors," he said. "If we sit down with a common goal and each bring our best to the table, I am confident we can tackle the challenges Mr. Ricks has identified."•
Please enable JavaScript to view this content.