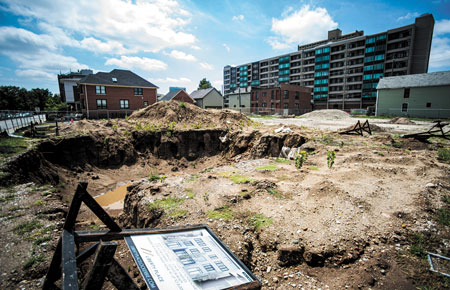 Five years after the prominent Indianapolis residential developer Litz & Eaton Investments upped its business ambitions—going from a home-renovation firm to high-end, multi-home projects—the firm is unraveling.
Partners Brad Litz and John Eaton are splitting up, at least a dozen subcontractors and suppliers who worked on their projects allege they're owed more than $500,000, and work has stalled on more than $16 million in projects. Those projects include the high-profile Liberty Place at Lockerbie Square, where a muddy hole in the ground is the only evidence of the 12 luxury town houses planned for the spot.
The dispute is playing out in court—where at least three vendors have sued to collect money for work done on Litz & Eaton properties. And one homeowner is accusing Litz & Eaton and their associated companies of fraudulent conduct, unfinished work and doctoring documents.
Even Eaton's own construction firm, John Eaton Homes, is among those claiming money owed. That company, plus the subcontractors and suppliers, have filed nearly 60 mechanic's liens worth $1.3 million for work on more than two dozen properties.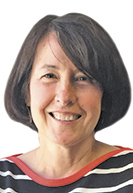 Mary Beth Schneider, who serves on the town council in a neighborhood just northwest of Newfields called Wynnedale, said a $1.5 million Litz & Eaton development on Wilshire Road has been at a standstill since early summer. Packs of shingles have been sitting unpacked on top of one the structures theres for nearly a month. Weeds were recently cut down after growing for weeks,and the properties appear abandoned.
"It's a mess," Schneider said. Litz & Eaton's trouble "makes us very concerned here that it's going to stay this eyesore and, frankly, a health hazard."
That mess is a long way from the firm's beginnings.
Litz, owner of Litz Real Estate, and Eaton, owner of John Eaton Homes, joined forces in 2011 to build and sell high-end homes on the city's north side.
Litz was to serve as the development and finance guru—and sell the homes through Litz Real Estate—while Eaton oversaw construction through John Eaton Homes. Litz previously told IBJ the company had about $1 million in revenue in its first year.
In 2014, Litz & Eaton shifted its focus to high-end spec construction and multi-home developments, and its revenue rose along with the project count.
By 2018, with contract builds composing half its inventory, the company projected annual revenue exceeding $40 million and was juggling more than 20 single-family and multi-unit projects, including the prominent Penn Row development along North Pennsylvania Street in the Herron-Morton Place neighborhood and Liberty Place in Lockerbie Square.
The decline
But in the past year—according to lawsuits and interviews by IBJ—the relationship between the two partners deteriorated, with money and the direction of the firm at the core of the conflicts.
Eaton told IBJ his partner was seeking to renegotiate their relationship to reap more of the firm's profits. He said Litz & Eaton owes him at least $2 million, and without that money, he hasn't been able to pay subcontractors.
"I told all my subs and suppliers to file liens to protect themselves," Eaton told IBJ. "I did the same for my own company on the ones I could still file on."
Litz, however, said he doesn't owe Eaton anything, and that Eaton was responsible for paying subcontractors. He said the partners didn't "share the same vision for the future of Litz & Eaton."
"My vision for the future involved using a shared accounting platform and management team so we could bring additional efficiencies and streamlined management to our operations," Litz said.
He also he believed the company's finances were in good shape in June, when Eaton departed Litz & Eaton, which was headquartered at 1101 Central Ave., also home to Litz Real Estate.
Still, Litz recently sent a letter to subcontractors he termed "creditors" asking them to provide information about what they're owed. He wrote that he's hired Somerset CPAs and Advisors and the law firm Barnes & Thornburg LLP to sort out the firm's financial picture and "arrive at a global solution that benefits all of the company's creditors."
In his letter, Litz said he is "finalizing a plan to provide the best option to move forward to continue in the real estate industry."
Projects stalled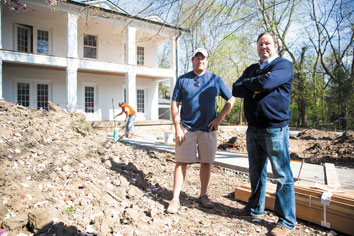 Although Litz and Eaton have parted ways, it could take months to separate their business interests.
Litz, 42, said he plans to transfer ownership of all Litz & Eaton properties into a firm he created in June called Litz Development LLC. He said he will share more about the new entity and other "appropriate details" soon.
To make the transfers, Litz will need to either purchase Eaton's stake in the company or reach a settlement with his former partner to move $16 million in projects forward.
Eaton, 48, said he is open to selling his ownership in the projects, but expects to receive "fair market value for any properties and work done so far."
Until that happens, the projects are at a standstill. Some sites have seen activity in recent weeks tied to cleanup and general maintenance, but little has occurred on others since the split.
The duo has at least four town house developments—mostly downtown—and several single-family home projects planned or under construction.
The $7 million Liberty Place town house project at North Street and Park Avenue, announced in 2017, has been inactive since the company's June breakup. The site is currently a hole in the ground surrounded by a fence.
The latest signs of life for the project came in August, when minor changes to its design received approval from the Indianapolis Historic Preservation Commission. At that time, Litz told the commission the project would move forward under a new development agreement but did not give a timeline.
In an email to IBJ, Litz said Liberty Place is "a fluid situation at the top of our priority list."
"We're still in the process of getting our [arms] around the entirety of the situation and [evaluating] options on the table," the email said.
Another project—The Portofino, a two-home, $1.2 million project in the 500 block of Warsaw Street near Eli Lilly and Co.'s corporate campus—has about $225,000 of work remaining but is expected to be completed, both Litz and Eaton said.
Penn Row is also nearly done, but needs about $80,000 in work on two units, which Litz said he plans to finish "in the coming weeks." According to property records, all but four of the 13 town houses for the $6 million project have been sold since late 2018, totaling around $3.1 million in revenue for Litz & Eaton and its wholly owned subsidiary, 1824 Penn Holdings LLC.
Litz & Eaton's $2 million development fronting Delaware Street, called Fall Creek Townhomes, has some of the biggest question marks. The five-unit project was expected to get underway late last year, but work has yet to begin.
Litz said he is exploring options for the Fall Creek project, indicating that both clients and others firms are interested in the property's development.
He's working to address neighbors' concerns at each of the company's stalled projects, Litz said, including the one on Wilshire Road in Wynnedale, which is to include the renovation of an existing house and the addition of two more; Highwoods Park, off Michigan Road; and a four-parcel development along Westfield Boulevard.
Eaton said his former partner has already found a new builder for at least two projects, in the 5800 block of North Illinois Street and the 4100 block of East 79th Street, but those have not yet moved forward.
Litz declined to comment about whether he's working with a builder at those sites.
Subcontractors' pain
So far this year, at least a dozen vendors have filed mechanic's liens—a legal right to sell a piece of property to pay for a debt owed by its owner—against Litz & Eaton, their affiliated companies and the buyers of some of the properties.
Eaton himself has filed mechanic's liens on at least four projects, totaling more than $770,000. He said he would have sought more but the filing window had closed for several projects.
By Indiana law, contractors have up to 60 days after non-payment to file a mechanic's lien. Liens can be filed against the property's owner and other parties thought to be responsible for the absence of payment.
About $100,000 of the liens filed by Eaton are tied to money owed to subcontractors, while the rest is money owed to him directly, he said.
According to Eaton, the problems started last winter, when he said Eaton Homes started to go unpaid on Litz & Eaton projects, forcing him to dip into his retirement account to pay subcontractors and outstanding bills. But he said the breaking point for him came in June, after a Litz & Eaton property on 11th Street sold for $875,000 and he didn't receive any of the proceeds to pay his subcontractors and suppliers.
Instead, he said, the "money was withdrawn [by Litz] for personal use." That's when he moved out of the firm's headquarters.
Litz rejected Eaton's claim he was owed more money on the home, saying Eaton and the subcontractors had already been paid. He also denied using money from the 11th Street sale for personal reasons.
Eaton "was provided with all of the funds for the construction on that home," Litz said. "It's all math; it's all traceable. Just my version of the story is different."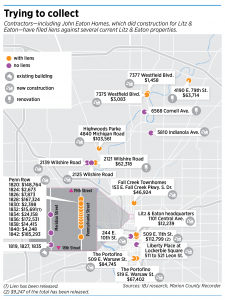 It was during that time—midsummer—when most subcontractors also filed liens against Litz & Eaton, John Eaton Homes, Eaton and Litz individually, or sometimes the current owners of recently sold Litz & Eaton properties.
The claims range from as low as $4,000 to as high as nearly $170,000.
'Slow pay'
Four subcontractors told IBJ they weren't surprised by Litz & Eaton's financial struggles, having dealt with years of disorganized business practices by its principals.
Even before the problems between the business partners started last year, Eaton wasn't always on top of his financial responsibilities to his suppliers, said Rodney Vore, owner of Rod's Quality Concrete.
Vore said his company—which he said is owed at least $17,500 for work on two projects—has been subjected to irregular payment practices, including slow payment and incorrectly dated checks, since he began working with Eaton in the early 2000s.
"He's always been slow pay; if you talk to any of the subs, he's always been" like that, Vore said.
In May 2009—the height of the Great Recession—Eaton and his wife, Rachel, filed for Chapter 7 bankruptcy. In court filings, they listed assets of $2.8 million and liabilities of $8.56 million. The filings assigned a value of zero to the homebuilding firm he was running at the time, J&R Eaton Homes.
Vore had been doing business with that company and was able to get paid without going to court.
"He settled up with me and made it right with me," Vore said. "I just felt like, 'The guy's going to do what's right.' Maybe I was a fool for thinking that way, but I don't know. I always liked him."
Still, last year, when Vore noticed Litz & Eaton payments starting to slow, he began to "watch [his] lien time" more intensely, so he was prepared to file mechanic's liens if he wasn't paid.
Vore said he learned about the Litz & Eaton infighting from other contractors and that Eaton never urged him to file liens to make sure he was paid. Instead, Vore said, he filed the liens after consulting with his own attorney.
Another contractor, who spoke on condition of anonymity because of concerns about retaliation, also said he was never told by Eaton to file liens. He said he did so after hearing about Litz & Eaton's problems.
'A little weird'
Another contractor, who would speak only on condition of anonymity because of concerns about retaliation, also said he was never told by Eaton to file liens and instead did so after hearing about Litz & Eaton's problems.
Matt Gallimore, owner of MRG Floors and Home Renovations, said in the months before the Litz & Eaton split, "stuff was kind of feeling a little weird around the job sites."
"We weren't getting product like we were supposed to," Gallimore said. "It seemed like it was not going smooth."
MRG has filed $54,700 in mechanic's liens against Litz & Eaton properties. And in documents provided to IBJ, MRG claims it is owed a total of $121,000 on unpaid invoices. He said the company had agreed to do about $1 million in work for Litz & Eaton this year.
Gallimore said he is continuing to work on other Eaton projects through which he can get paid directly by the investor, rather than Eaton.
He said Eaton did what he could to get MRG and other subcontractors paid, and that the homebuilder blamed Litz for the financial strains.
"Even before [the split] happened, John paid me money while he was waiting on a big, big check to come through," he said. "He'd just get me money to cover some of our expenses while we were waiting" on the rest of the payment.
Another contractor, Juan Oropeza, told IBJ that Eaton was in a difficult situation, but he said he planned to work with Eaton in the future.
Oropeza, who said he is out $80,000—with mechanic's liens filed for $23,000 of that total—said he was encouraged by Eaton to file the liens against Litz & Eaton.
"We started to get behind" on the bills, he said. "They just kept telling me, 'Next week, next week, next week,' and nothing happened."
IBJ reached out, either directly or through attorneys, to all the contractors that have filed liens against Litz & Eaton, but most did not respond to requests for comment. Some reached by IBJ declined to comment, citing fears it would hinder their efforts to get paid; others cited company policy.
Going to court
Three subcontractors have taken their claims to court.
Creative Designs, an interior design firm, sued Litz & Eaton and several other parties on Aug. 12, after filing nine liens in June alleging it is owed more than $107,000.
In both the liens and the lawsuit, the Indianapolis-based company said it's owed for work on Penn Row, The Portofino and property on 11th Street, along with multiple other projects on which it was unable to file liens due to time limitations.
The company claims Litz & Eaton and their related companies "have failed to pay Creative Design for its construction services, labor, and material," along with allegations that both Eaton and Litz used their businesses for "personal gain."
The lawsuit claims both Litz and Eaton have "improperly taken assets and funds" from their other entities and calls their joint venture and respective firms undercapitalized and "unable to meet financial obligations."
According to the claims, Eaton allowed Creative Design to use a credit card he controlled to pay for materials, but payment was denied.
Since the Creative Designs complaint was filed, Litz said he has talked with the company's owner, seeking an out-of-court settlement.
Weber Concrete Construction filed a lawsuit July 23 in Marion Superior Court against John Eaton Homes seeking $96,000 for work the company performed in November and December 2018 and April 2019 on various Eaton Homes and Litz & Eaton projects.
Blue Star Redi Mix Corp, a concrete company, filed a suit in Marion Superior Court on Sept. 5, seeking $6,213 from John Eaton Homes for work on projects on Wilshire Road, 11th Street, Warsaw Street and Illinois Street. The suit said Blue Star has made "repeated informal attempts to collect the monies owed it, to no avail."
A homeowner, Jason Bertin, filed a lawsuit Aug. 5 in Marion Superior Court against Litz & Eaton, Litz Real Estate, John Eaton Homes and several related defendants.
In the 44-page suit, Bertin claims Litz & Eaton committed multiple breaches of contract as part of a larger "fraudulent and conspiratorial" scheme tied to his November 2018 purchase of a Litz & Eaton home in the 600 block of East 82nd Street.
The suit also claims the men, their companies and associates misled city officials and financial institutions, doctored paperwork to cover up misdeeds, and threatened and defrauded Bertin. The suit cites flooding problems it attributes to problems with the house's construction.
Bertin said he "was tricked into closing on a transaction that was the byproduct of [Litz & Eaton's] fraudulent and conspiratorial scheme" to sell him a home with "serious structural flaws."
The lawsuit also alleges the company needed additional money to "continue to survive."
Among other allegations, Bertin's lawsuit says he was not allowed to walk away from the purchase of a home after Litz missed a closing date and Bertin filed a complaint with the licensing body overseeing Litz Real Estate for submitting a "fake" purchase agreement for the home.
'I am sorry'
While both Eaton and Litz declined to respond directly to legal allegations, Litz said he was disappointed by the accusations leveled against him and his businesses in recent weeks.
"I can understand the strategy of them trying to attack me, but I certainly don't agree with the accusations that they made," he said. "I certainly have a different opinion than them, which is to be expected."
Litz said he is continuing to work through the details of his formal split from Eaton and declined to discuss the firm's financial details until that is resolved.
He said he is also working with city officials to clear code and permitting violations tied to the company's developments, including the Wilshire Road project, one on Michigan Road, and the Liberty Place development.
Those violations include canceled or expired permits and uncut grass.
He told IBJ he has been "going beyond what is required in order to do the right thing" but added that "the role of maintaining specific sites was never in my operational portfolio."
Eaton also told IBJ he is planning to continue to work in real estate but did not specify his next steps.
He said he is upset by the public dialogue about the split but is more distraught about the way he says Litz is handling the matter.
"What upsets me the most is how far-reaching this has been and how many people that are affected by this," Eaton said, noting he has been in business with many of his subcontractors for nearly 20 years. "I am sorry they have gotten mixed [up] with my mess with my ex-business partner."•
Please enable JavaScript to view this content.