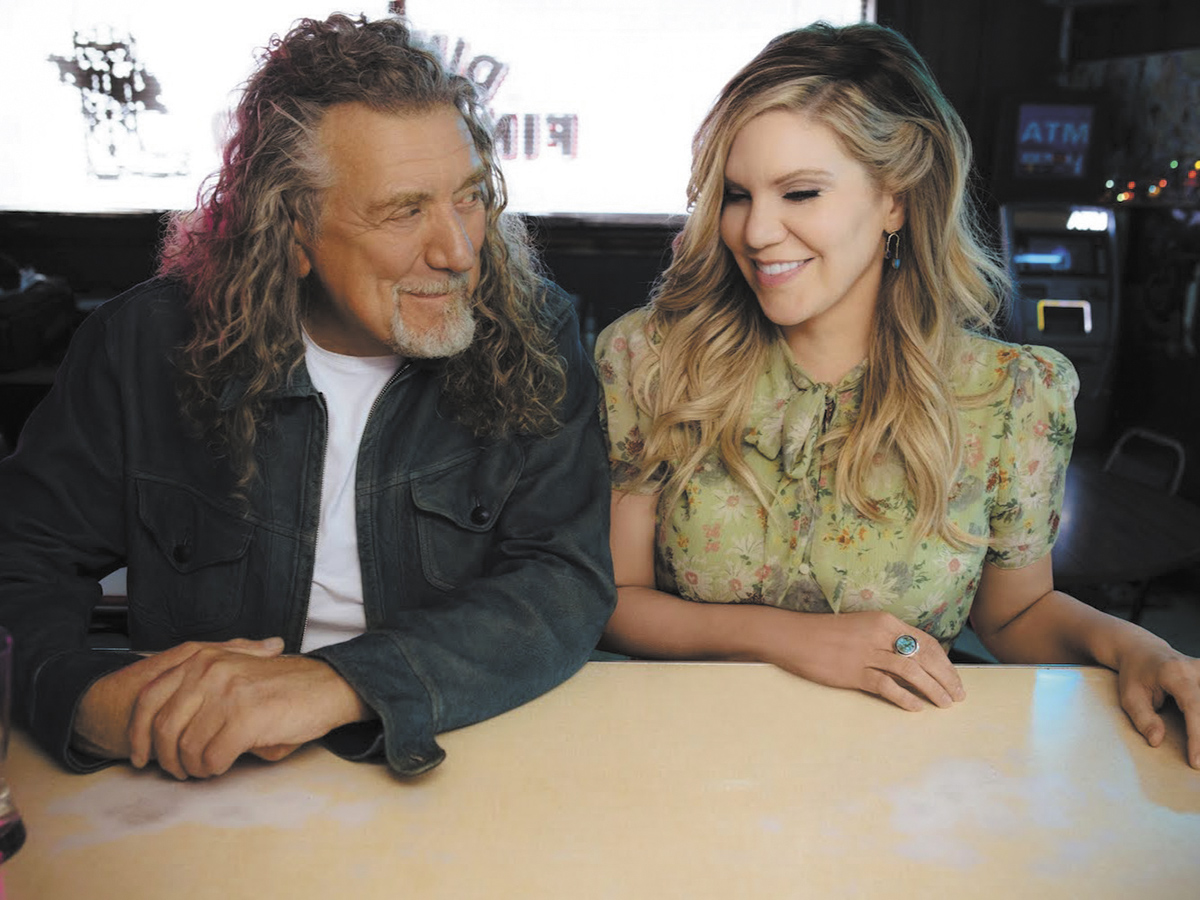 The outdoor concert season in Indianapolis begins April 23 with a performance by jam band Dizgo at Fountain Square's Hi-Fi Annex—and there will be no slowdown in live music through the end of September.
Following two summers in which the pandemic wiped out shows, caused postponements and cut audience capacity, 2022 is a return to normal—and then some—for the concert industry.
Artists ranging from Alice in Chains and Alison Krauss to Zac Brown Band and Rob Zombie are on the road to make up for lost time (and revenue).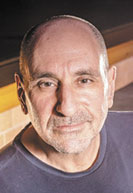 "Everybody wants to get out and play, but they're also out to get paid," said Steve Gerardi, a former production manager and talent buyer for Ruoff Music Center, including the venue's debut season as Deer Creek Music Center in 1989. "The bottom line in the entertainment industry is money. It always has been and always will be."
It's reasonable to describe this summer as the busiest concert season in history, especially in Indianapolis, where dozens of shows will happen at venues that didn't exist before 2020.
Hi-Fi Annex, which debuted during the pandemic's first summer as an open-air alternative to the indoor Hi-Fi venue, has more than 20 shows on its schedule. The "Rock the Ruins" series at Holliday Park, launched in 2021 by the owners of Broad Ripple's The Vogue, will return with 14 concerts this summer.
And the TCU Amphitheater at White River State Park will present about 40 events in its first full summer of doing business. Featuring a permanent stage and permanent seating area, the TCU facility succeeded a seasonal venue, the Lawn at White River State Park, that typically hosted 20 concerts a year.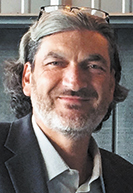 "What you're seeing is pent-up demand from both the industry and the public," said Dan Kemer, the vice president of programming for Carmel's Center for the Performing Arts and a partner at independent concert promotions company MOKB Presents.
Fans of live music can catch Sting, the Rock and Roll Hall of Famer who hasn't performed in central Indiana since 2004, May 8 at the Palladium, part of the Center for the Performing Arts campus. If you don't already have a ticket to this sold-out show, resale website StubHub advertises tickets from $788 to $1,141 each.
But bargain hunters can see soul music icon Patti LaBelle and spend no money when she headlines an Indiana Black Expo Summer Celebration free concert July 15 at downtown's American Legion Mall.
At Noblesville's Ruoff venue, where A-list attractions headline a 24,000-capacity amphitheater, Phish will play three shows and the Dave Matthews Band will visit for a two-night stand. The remainder of Ruoff's 37-show calendar is dominated by stars of classic rock and country music.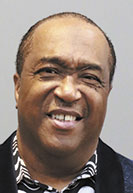 Elsewhere, Lucas Oil Stadium will host a stop of the Def Leppard/Motley Crue/Poison/Joan Jett tour on Aug. 16. Indianapolis Motor Speedway will host two concerts during Indianapolis 500 weekend. Conner Prairie announced 25 nights of Symphony on the Prairie performances last week and the Indiana State Fair will unveil roughly 15 Free Stage headliners in coming weeks.
Geno Shelton, an independent concert promoter who presented his first show in 1992, said musicians and their booking agents aren't missing their chance to work.
"If you've had a band in the last three decades and you can get yourself back together, you can get a gig in 2022," Shelton said.
There's no guarantee, however, that every show will be profitable for promoters or that audience members will attend all the shows on their wish lists.
The promoter's risk
In basic terms, a concert promoter's job is to hire the performer, find the venue, set the ticket price and advertise the show. An independent promoter's expenses can include the performer's guaranteed fee, venue rental, marketing costs, catered meals, stage crew, security personnel and lights and audio equipment.
Shelton, who is promoting a "Juneteenth Freedom Festival" show featuring funk bands Zapp, Average White Band, the Bar-Kays and Ebony Rhythm Funk Campaign on June 18 at the Murat Theatre in Old National Centre, said artists are asking for more money than in the past.
"Bands that used to get $5,000 to $10,000 are now charging $15,000 and $20,000," Shelton said.
Live Nation, the world's largest concert company, owns Ruoff Music Center. Live Nation also operates Old National Centre and schedules events at TCU Amphitheater at White River State Park.
When a tour visits Ruoff Music Center, Live Nation isn't as reliant on ticket sales for revenue as independent promoters are. Live Nation can count on ancillary cash from parking and concessions. There's no need to rent the venue, and Live Nation collects service charges on tickets because the company owns Ticketmaster.
But it's possible that a schedule filled with too many shows could be a liability for Los Angeles-based Live Nation, Gerardi said.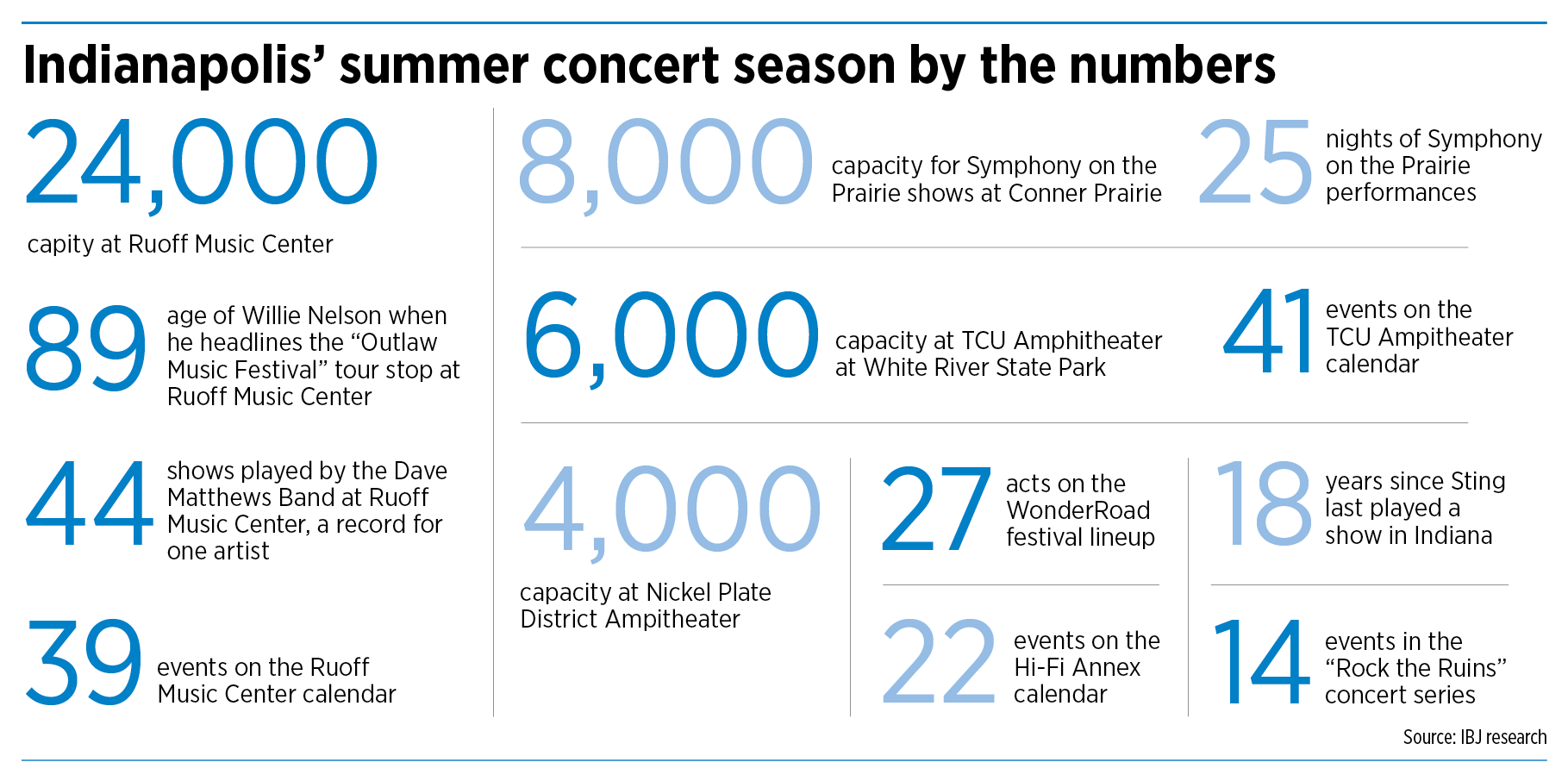 A June 10 bill of REO Speedwagon, Styx and Loverboy at Ruoff Music Center, for instance, likely appeals to the same fans who are considering a June 15 bill of Sammy Hagar and George Thorogood at the same venue, Gerardi said.
"Instead of one of the shows selling 12,000 tickets, maybe it sells 8,000 tickets," said Gerardi, president of SG Entertainment.
Live Nation's Ruoff schedule includes the Dave Matthews Band June 24-25, the "Outlaw Music Festival" headlined by Willie Nelson on June 26 and Dead & Company on June 28. Meanwhile, the Tedeschi Trucks Band will perform June 28 at the TCU Amphitheater.
"What happens to the fan who says, 'I like all five of these shows, but my budget says I can only go to one'?" Gerardi said.
Kemer, who served as president of Live Nation Indiana before joining the staff of the Center for the Performing Arts, agreed that it's a challenge for promoters to manage calendar commitments.
"You try to make the right decisions so the fan doesn't have to choose between a couple of their favorite bands that land on not just the same day, but within two or three days of each other," Kemer said.
Seeking fans
Nickel Plate District Amphitheater, a 4,000-capacity general admission venue in Fishers, is raising its concert profile by working with MOKB Presents this summer.
A five-show ticketed series includes indie rock artists Houndmouth (June 18) and Waxahatchee (Aug. 5).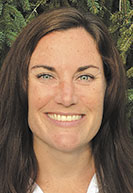 Sarah Sandquist, director of Fishers' Parks and Recreation, said the Nickel Plate District venue collaborated with MOKB Presents for a never-announced 2020 series wiped out by the pandemic.
"We're really aiming for this ticketed series to book artists who are right on the cusp of making it," Sandquist said. "They may not be artists everybody is familiar with, but we hope people will come out and give them a chance."
Admission for each of the five shows is $20 if tickets are purchased in advance. The Nickel Plate District venue plans to present another touring act as part of its Spark! Fishers celebration in late June.
At TCU Amphitheater at White River State Park, the 2022 season begins April 30 with a performance by rapper Lil Durk. If no shows are added after Sept. 30, the TCU season will end that night with headliner the Head and the Heart.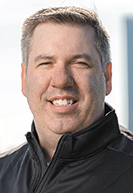 Jake Oakman, who became executive director of the White River State Park Development Commission on Jan. 3, said he's looking forward to seeing Buddy Guy (July 27), Jackson Browne (June 22), Robert Plant & Alison Krauss (June 9) and Yacht Rock Revue (Aug. 19) on the TCU stage.
Oakman said he believes there are enough concert fans in Indianapolis to support 2022's busy schedule. "I know we have a great reputation as a sports city, but I think we're a great music city as well," he said.
From a promoter's perspective, Kemer said, fans support their favorite artists.
"As long as you're doing your homework and you're bringing the right talent at the right time to the right venue, the fans will support it," he said.
An encore in 2023?
Gerardi said he doesn't expect a similar onslaught of shows in 2023.
"I'd be hard pressed to think this is the future," he said. "I think this just happens to be unique to 2022."
He also expects discounts will be offered for some concerts presently on sale.
"That may come in handy for shows where you're trying to move an extra 500 tickets on the lawn," he said, referring to Ruoff and the 6,000-capacity TCU Amphitheater.
In recent years, Live Nation has announced a "National Concert Week" promotion in early May offering $20 tickets with no service fees.
Shelton said he considers the packed concert calendar of 2022 to be an aberration, unless ticket sales are exceptionally strong.
"The only way next year will be the same is if everybody wins," Shelton said. "If 80% of the promoters win, they will say, 'Hey, let's keep this thing going.'"•
Please enable JavaScript to view this content.