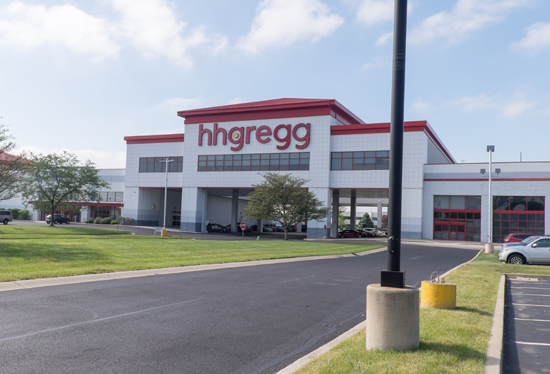 A local mechanical and electrical contractor and its subsidiaries have called off plans to relocate their collective offices from the east side to the former HHGregg Inc. headquarters campus along East 96th Street.
Deem LLC had sought city approval for special commercial zoning for the massive property, allowing uses such as retail sales, offices, warehousing, conference rooms and a training center.
But a Deem official told IBJ on Tuesday morning that the firm, which had the property under contract pending city approvals, would instead stay at its current headquarters after the deal "fell apart." Further comment wasn't immediately available.
The 28.6-acre campus at 4105 and 4151 E. 96th St. would have been home to Deem's corporate offices and those of affiliate companies Victory Unlimited Construction LLC, Victory Surfaces and Central Security and Communications. All operations would have been housed within the existing 415,000-square-foot C-shaped structure located on the site.
Deem had planned to upgrade the exterior of the structure and replace warehouse heating and lighting; parking lot lights and driveways; and landscaping. It also planned to renovate office, retail and training center spaces, according to city filings.
The headquarters would have replaced the companies' offices at 6831 E. 32nd St. and employed an estimated 135 people, including about 45 warehouse employees. In addition to corporate offices, the new property also would have consolidated additional facilities like Victory Surfaces' warehouse at 5720 Kopetsky Drive in Indianapolis and a monitoring station for Central Security at 731 W. Henry St.
Deem was founded in 2002 and now operates in 30 states. The firm provides HVAC, plumbing, electrical and refrigeration services, as well as industrial piping and sheet metal installation. Victory Unlimited Construction generally builds cold storage warehouses. And Central Security offers fire safety, burglary and camera monitoring services.
Deem and its affiliates planned to use a total of 41,000 square feet for office space. About 61,500 square feet would have been used for retail and showroom space for Victory Surfaces, a company that specializes in natural stone fabrication for counter tops, tile and other residential and commercial uses. A 30,000-square-foot training and technology center was planned near the back of the complex.
Two warehouse spaces to the south and east, totaling about 226,500 square feet, were to be used for product assembly and modification. The third warehouse area, about 55,500 square feet on the western portion of the property, would have be used for staging and shipping and receiving. The entire complex includes about 1,130 parking spaces.
Deem also planned to tear down a now-closed Steak n Shake located on one of the outlots along 96th Street at the front of the site.
This is the second time in two years plans for the HHGregg property have fallen through. The site had been previously eyed by Napleton Automotive Group for a new Kia automobile dealership, but the Chicago-based company abandoned those plans in January 2019, instead moving its existing dealership to part of a multi-use building along Keystone Avenue.
The HHGregg building is owned by Throgmartin 96th Street LLC, which is affiliated with the Throgmartin family that founded the home appliance company in 1955 and ran it for decades.
Please enable JavaScript to view this content.