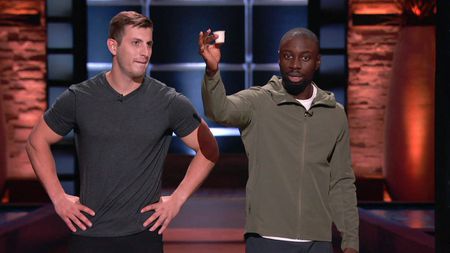 Indianapolis entrepreneur Kweku Larbi and his startup company, Brumachen, will be featured on Friday night's episode of the television show Shark Tank, which airs at 8 p.m. on ABC.
Brumachen is a portable single-serve coffee maker that resembles a travel mug. It uses biodegradable coffee pods made from sugar cane.
Larbi, 27, and his cofounder, Ross Smith of Columbus, Ohio, flew to Las Vegas in August to tape their segment of the show, in which entrepreneurs pitch their products to a group of business people with hopes of securing an investment. As per show rules, Larbi can't reveal the outcome in advance.
Larbi is a native of Ghana who earned an engineering degree from Cleveland State University. He moved to Indianapolis after college to take an engineering job at a construction company. Larbi got the idea for Brumachen when he visited construction sites and saw the limited options for crew members who wanted a cup of hot coffee.
"The guys out there working have to go get coffee from a convenience store nearby," Larbi told IBJ.
Larbi founded Brumachen in 2019 and left his engineering job that same year.
Smith, Larbi's business partner, is a social media influencer whose followers include 2.6 million Instagram followers and 1.85 million subscribers to his YouTube channel.
The two became partners after meeting at a birthday party, Larbi said.
Please enable JavaScript to view this content.