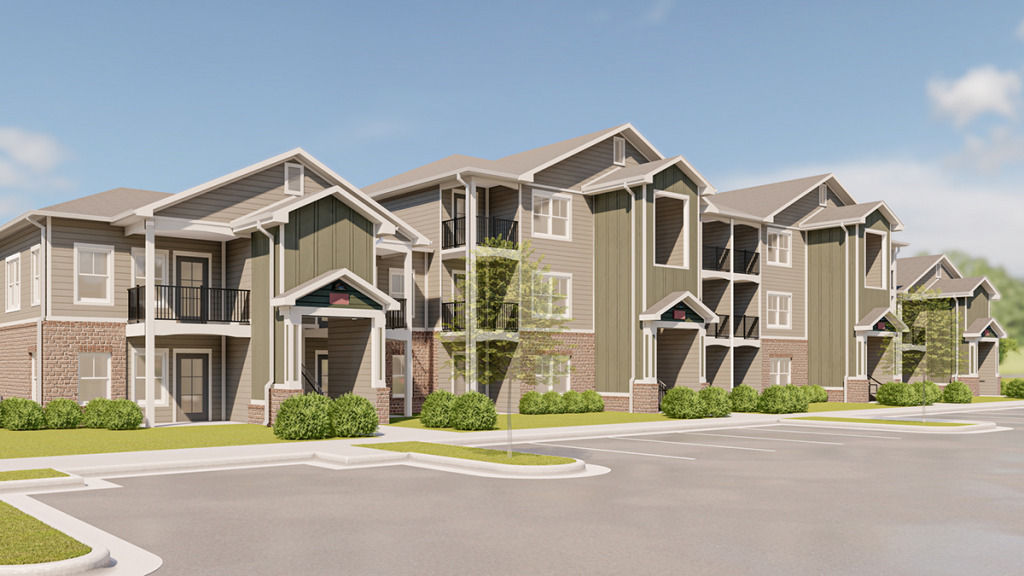 A Carmel-based developer plans to spend $50 million to develop 200 units of housing for lower-income residents on the south side of Indianapolis, near Interstate 465.
Pedcor Companies will break ground on its City Heights project in fall 2022 at the southwest corner of Bixler Road and South East Street. The development will be composed of 10 buildings across 19.5 acres.
Brandon Delk, Pedcor's vice president of development, said the multifamily project will target individuals and families making up to 60% of the area's median income.
City Heights will feature one-, two- and three-bedroom units, with preliminary rents ranging from $780 for a single-bed, 715-square-foot unit to $1,015 for a three-bedroom, 1,281-foot unit—although Delk noted those figures could fluctuate. Early estimates show a two-bedroom unit, which would be about 1,030 square feet, is expected to rent for about $910 per month.
"We're really looking to be a catalyst for redevelopment on the south side of the city," Delk said. "I think the neighbors are excited about that, as well, so we're getting a lot of support from them."
He noted the project is near the Thompson Road bus stop, with Pedcor planning to build a new pedestrian connector that will run to the neighborhood. It's also along the U.S. 31 IndyGo line. The firm plans to reconstruct Bixler Road as part of its project.
The acreage, which is largely undeveloped, is currently under contract with the deal expected to close by the end of March. An existing building, Bethany Early Learning Ministry, will stay intact. 
Representatives of the South Dale neighborhood, where the project is located, have told city officials they are supportive of the project, after residents had an opportunity to discuss design plans for the development with Pedcor officials.
One of the buildings on the property would be a combination of a first-floor clubhouse with apartments on an upper floor. None of the buildings are expected to exceed three stories, with plans to gradually transition to the taller buildings at a greater distance from a bordering neighborhood.
"We worked very closely with the neighborhood there in South Dale and … we've basically designed this site to have product that moves from two story to three throughout the site, to provide a nice transition for the neighbors," Delk said.
Pedcor received City-County Council approval earlier this month to rezone the property to allow for a planned development. Now the firm is working through financing, permitting and final architectural plans, according to Delk.
He said the firm expects to receive various tax credits for developing lower-income housing from the Indiana Housing and Community and Development Authority, with discussions under way for additional incentives from the city of Indianapolis.
Construction is expected to take about 24 months, with units delivered by the end of 2024.
Fifth Dimension Architecture and Interiors, a Birmingham, Alabama-based company, is the design firm on the project.
Pedcor was founded in 1987 after the passage of the Tax Reform Act of 1986, with the intention of developing affordable housing. It has developed projects in at least 20 states.
Please enable JavaScript to view this content.