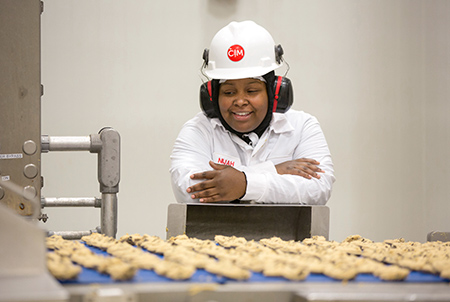 An Indianapolis-based commercial bakery plans to spend $25 million to expand operations and hire 50 employees for its facility near Indianapolis International Airport.
CraftMark Bakery LLC, 5202 Exploration Drive, expects to spend about $5 million to convert a warehouse into production space and another $20 million on new equipment, the company says in a tax-abatement request to the city's Metropolitan Development Commission.
CraftMark is the baked goods supplier for more than 70,000 restaurants in North America, including Subway, one of its largest clients. Its products include frozen cookie and bread doughs, premade frozen batters and ready-to-eat flatbread.
Founded in 2014, CraftMark employs about 300 people at its nearly 340,000-square-foot facility at the AmeriPlex business park, adjacent to the airport.
Craftmark is seeking two separate seven-year tax abatements as it looks to create a 20,000-square-foot addition to its pre-baked cookie production area as it looks to take on a larger chunk of the national market.
Both abatements would be phased, starting with a 100-percent abatement in the first year and diminishing in subsequent years.
The abatement for the personal property—new equipment—would allow the company to save 31%, or $528,946. It would pay about $1.2 million in personal property taxes on the new equipment over the seven-year term of the abatement, in addition to the $255,349 it already pays annually. After the personal property abatement ends, it would see an increase of $195,756 to its annual taxes.
Separately, Craftmark is looking to save about 9%, or $47,450, with an abatement on its real property improvements. The company would still pay $523,505 during the seven-year abatement, along with the existing annual total of $415,913. When the abatement expires, the firm would pay an additional $81,565 each year on the improvements.
The incentive requests aren't the first CraftMark has made to the city. In 2017, the company reached an abatement agreement on $32 million in investment. That was part of a massive $56 million project that included a 118,000-square-foot expansion to the building and a commitment to employ at least 396 people by the end of 2020.
The company said the incentives will help it hire 50 workers making average pay of $19.06 per hour and retain 396 workers making average pay of $24.90 per hour.
The 50 hires CraftMark plans to make through the new expansion would put the company at 446 employees by the end of 2022.
The company also received abatements in 2014 tied to a $75 million initial investment to construct a building and start operations.
The abatements received preliminary approval from the MDC on Wednesday and are expected to be heard for confirmation by the same group before the end of the month.
CraftMark representatives did not immediately respond to a call requesting comment Thursday.
Please enable JavaScript to view this content.