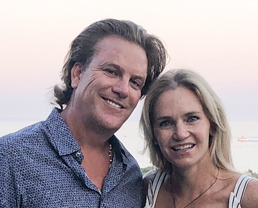 Indianapolis-based Defenders Inc., one of the city's largest private companies, has been acquired for about $381 million by Boca Raton, Florida-based security systems giant ADT Inc., the companies announced late Monday.
Defenders has long been ADT's largest independent dealer, with annual sales estimated at more than $600 million.
Defenders owners David and Jessica Lindsey, who founded their home security and automation company in 1998, received roughly 16.3 million shares of ADT common stock for their 100% stake in the company, ADT said.
The acquisition price was based on ADT's closing stock price of $7.45 on Friday, making the Lindseys' take about $121 million.
ADT said the remaining $260 million from the deal was paid in cash to retire existing Defenders debt, fund other liabilities and pay transaction expenses. The cash consideration was partially funded from existing revolving credit facilities, ADT said.
Defenders, which did business as Defender Direct for most of its existence, has about 2,900 employees and more than 130 field branch locations throughout the country. About 900 of its employees work in Indiana.
The companies did not say how the acquisition would affect business operations in Indiana or whether Defenders would continue to operate as a separate business unit.
It did say the deal "establishes a single party focused on the customer experience and lifetime value, and reduces channel conflict and potential for customer confusion."
"We're excited to officially join forces with the impressive Defenders team after successfully partnering with them for nearly 22 years so that, as one company, we can create a unique and simplified platform," ADT CEO Jim DeVries said in written comments. "This opportunistic acquisition creates numerous strategic, financial and operational advantages for ADT, and is consistent with our stated goal of driving down the capital intensity of the business as we seek to drive long-term, profitable growth."
Defenders was frequently one of the Indianapolis-area's fastest-growing companies during its early years and eventually became one of the city's biggest. The firm ranked 26th on IBJ's 2018 list of Indiana's largest private companies, based on 2017 revenue of $575 million.
The company told IBJ in 2018 that it was on pace to exceed $600 million in sales that year.
"We have built our business by partnering with ADT to sell and install state-of-the-art security systems, helping to protect more than 2.2 million families through our best-in-class marketing team and expert knowledge of the industry," David Lindsey said in written comments Monday. "Given this longstanding and productive relationship, we are proud that this transaction will integrate us even closer into the ADT team, and I am excited to be a significant shareholder and see the benefits we are able to deliver to customers as a combined company."
ADT said Defenders CEO Jim Boyce, who has been with the company since 2010, will join ADT.
ADT shares rose 11 cents on Monday before the acquisition was announced, closing at $7.56 each.
Please enable JavaScript to view this content.