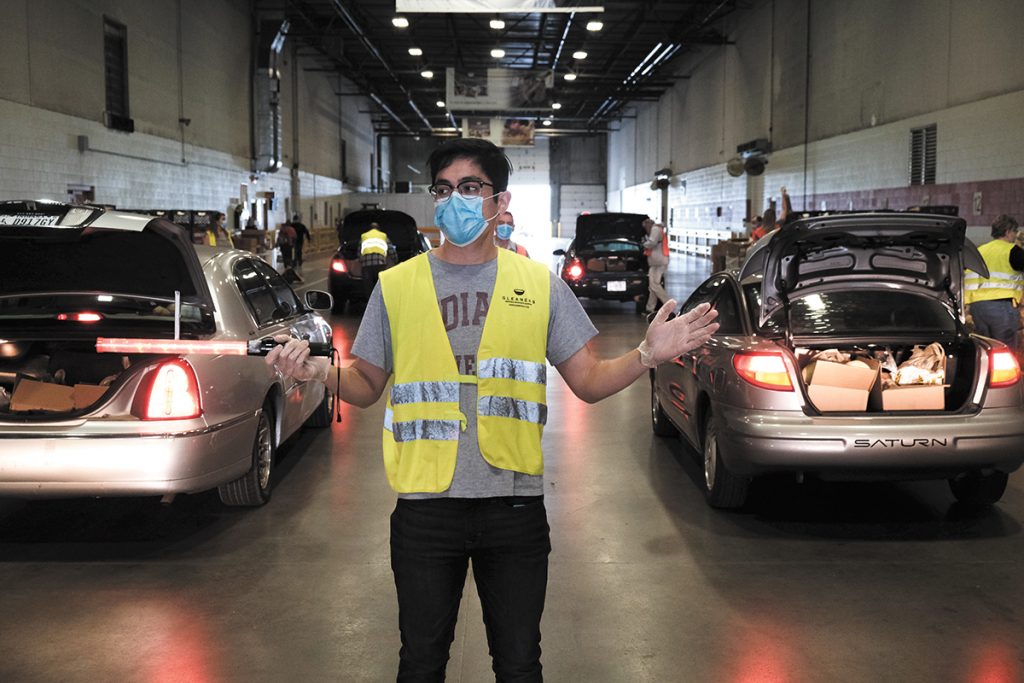 Since the COVID-19 pandemic hit Indiana in early March, dozens of relief funds have been created to help individuals, organizations and businesses hardest hit by the restrictions put in place to slow the virus' spread.
To date, more than $45 million has been raised by central Indiana organizations.
The funding is going to businesses that need assistance paying their employees or rent, to organizations helping families pay their mortgage or buy groceries, and to businesses and organizations bearing additional expenses in response to the pandemic.
IBJ took a look at how much the various funds have raised—through donations from individuals, government, and the philanthropic and business communities—and how that money is being spent.
Human services
In the early days of the pandemic, a coalition of community organizations led by the United Way of Central Indiana launch a fund that would support human service needs created from or exacerbated by the anticipated closing of schools, restaurants, retail and other non-essential businesses.
Called the Central Indiana COVID-19 Community Economic Relief Fund, or C-CERF, the fund started on March 13 with more than $15 million, thanks to contributions from Lilly Endowment Inc., Richard M. Fairbanks Foundation, Eli Lilly and Company Foundation, United Way, Central Indiana Community Foundation and Nina Mason Pulliam Charitable Trust.
Since then, it has grown to more than $23 million, and United Way has overseen the distribution of more than $15 million in grants to 100 organizations across central Indiana.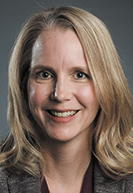 The governor closed non-essential businesses on March 16; schools were closed March 19. On March 24, the first wave of C-CERF grant funding went out the door. Since then, two more waves have followed, said Sara VanSlambrook, chief impact officer for United Way.
The money has supported child care for first responders and hospital workers, homeless and domestic violence shelters, food pantries, and even unemployment-benefit appeal efforts.
Contributions have come not only from the fund's founders, but also from individuals and companies with ties to central Indiana, VanSlambrook said.
"It's been a tremendous response that's continued," she said. "We're still every day getting more investments from individuals."
The fund recipients are already solving big problems and innovating to solve the challenges quickly.
"They're going to need support not just today," she said. "The economic impact of this is going to be long term. Beyond this month, beyond next month and into the future."
Take for example Gleaners Food Bank of Indiana, which received $1.5 million from the fund. John Elliott, president and CEO, said the food bank expects its costs to run $10 million over budget by the end of the summer. Annually, Gleaners operates on about $10 million, meaning the pandemic has essentially doubled its budget for the year.
About 325,000 households across Gleaners' 21-county area struggled with food insecurity before the pandemic. Since then, Elliott estimated, the number has doubled as unemployment has risen.
The funding Gleaners received from C-CERF mostly went to buy food, but some also helped pay for temporary labor that was needed after the organization's workload doubled. The money also helped fund supplies to create meal boxes for families and for delivering food to people who can't get out of the house.
"As generous as the C-CERF funds were, we already spent it," Elliott said.
Small businesses
Indy Chamber and the city of Indianapolis in late March announced the creation of a Rapid Response Loan Fund for small businesses in central Indiana that have been hurt by the outbreak.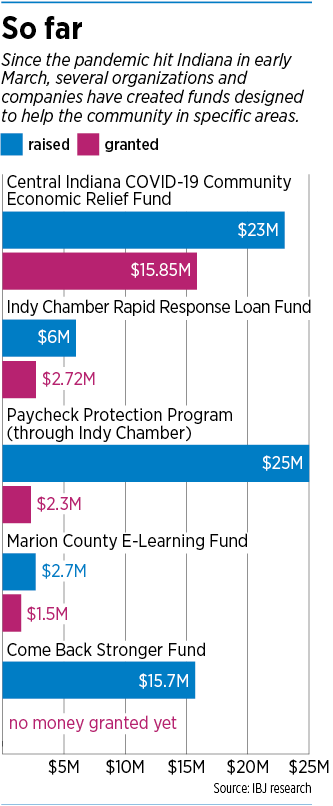 The fund's goal was to raise $10 million that could be deployed quickly to businesses that needed immediate assistance while waiting for federal help. The fund was seeded with about $3 million from the city and Indianapolis-based Anthem Inc. and has since raised about $6 million.
Chamber representatives say demand for the loans, which range from $1,000 to $25,000, is high. As of Monday, 1,320 businesses had requested funding totaling more than $25 million, so many loans aren't likely to get funded.
The chamber has closed 139 loans totaling $2.72 million. More than 85% of the loans were for Marion County businesses; 17% went to businesses in the hard-hit food-and-beverage industry.
Additionally, nearly 60% went to companies owned by minorities, women, veterans or people with disabilities.
Keith Shovan, owner of local security company SFI Risk Services LLC, received $76,000 from Indy Chamber through the Rapid Response Fund and the chamber's portion of the federal Paycheck Protection Program.
Shovan said when the governor's stay-at-home order went into effect March 25, much of his business came to a halt as clients shifted hours or closed up offices.
As income decreased, the initial $25,000 from the chamber helped with operational expenses and allowed SFI to continue paying its 18 employees.
It also allowed the company to move into better office space, he said.
The second wave of money, about $50,000, came through the federal Paycheck Protection Program.
"Those actually gave us the breathing room that we needed because obviously our largest expense is our weekly payroll," he said.
"If it had not been for these relief funds, there was a threat we could have closed our doors, and we're not in that situation right now."
The Indianapolis City-County Council gave Indy Chamber the seed money it needed to begin offering loans through the Paycheck Protection Program.
To date, the chamber has closed 105 paycheck loans totaling $2.3 million. It has $25 million available so plenty of loan capacity remains.
School-age children
The Indianapolis E-Learning Fund launched last month as Marion County schools returned to instruction after spring break.
The $2.7 million fund was created by founding partners Richard M. Fairbanks Foundation, Eli Lilly and Company Foundation, Cummins Foundation, EdChoice, Emmis Communications Corp., Glick Philanthropies, The Heritage Group, The Indianapolis Foundation, Indianapolis Public Library Fund, Indianapolis Motor Speedway, Indiana Charter School Network, Institute for Quality Education, Lilly Endowment Inc., Lumina Foundation, The Mind Trust, The OneAmerica Foundation Inc., Salesforce Inc., Telamon Foundation and United Way of Central Indiana.
Its goal is to solve device and connectivity problems schools face as learning has moved online.
Since then, $1.5 million has been granted to Marion County's 11 public school districts and more than a dozen public charter schools.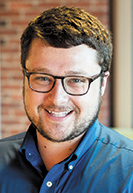 Patrick McAlister, director of the Mayor's Office of Education Innovation, said most schools will likely pair the funding with money they'll receive from the federal CARES Act. Some schools will buy enough computers to ensure every student has one in the future.
The money was allocated after the city office performed a needs assessment that looked at the percentage of students who qualify for free and reduced lunch; who lack access to high speed internet service; and the number of laptops, tablets and hot spots needed.
Marion County educators who completed the assessment's survey reported that more than 25% of students did not have access to the high-speed internet necessary to engage with e-learning. Additionally, tens of thousands of students also lacked laptops, tablets or mobile hot spots that would allow them to learn at home. Many of those students are in low-income families.
For Indianapolis Public Schools, for example, more than 10,000 of the district's roughly 25,000 students are without high-speed internet access. The district needs 3,000 laptops and 8,700 hot spots. IPS received about $246,000 from the e-learning fund.
Nearly 60% of Warren Township students lack high-speed internet access, and the district needs 2,400 laptops, 1,600 tablets and 40 hot spots, the assessment found. Warren Township received roughly $108,000 from the fund.
The rest of the funding, McAlister said, will be used to establish an online lab for students, parents and teachers to share best practices for e-learning. The office has already issued a request for proposals for a company to develop, launch and operate the Indiana E-learning Lab.
Responses to the RFP are due May 26, and the lab is expected to be ready for use by the start of next school year.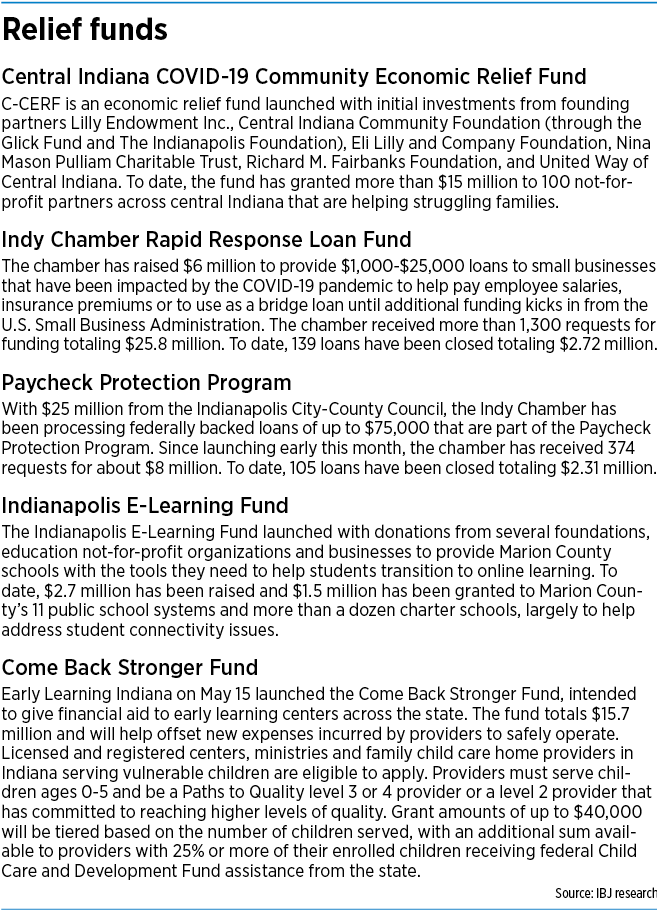 Early learning
While the E-Learning Fund is helping school-age children and their families connect with educators, a new fund aims to serve younger children and their parents.
The $15.7 million Come Back Stronger Fund by Early Learning Indiana, announced May 15, is funded primarily by a grant from Lilly Endowment. The fund is designed to reinforce Indiana's supply of high-quality early-learning opportunities, especially for the most vulnerable children.
"In the best of times, early-learning providers operate on razor-thin margins due to the imbalance between the cost of providing care and families' ability to afford it," Early Learning Indiana CEO Maureen Weber said in written comments.
"As a result of the COVID-19 pandemic, the path forward is even more precarious, with added safety-related expenses and uncertainty around enrollment and staffing," she said. "This funding will help providers make necessary operational changes to deliver safe and high-quality early learning services that are critical for Hoosier families and the state's economic recovery."
Licensed and registered centers, ministries and family child care home providers that meet specific quality levels and serve vulnerable family populations are eligible to apply.
Grant amounts of up to $40,000 will be tiered, based on the number of children served, with an additional sum available to providers with 25% or more of their enrolled children receiving federal Child Care and Development Fund assistance from the state.
In addition to grant funding, Early Learning Indiana will provide technical assistance to Indiana child care providers and help them develop strategies to continue offering high-quality early care and educational programming during the pandemic.
Grant funding from Lilly Endowment to Early Learning Indiana in 2019 will also support the development of new tools and resources for child care providers to help strengthen and sustain their programs.•
Please enable JavaScript to view this content.