Longtime commercial real estate developer Brad Chambers has been named Indiana's secretary of commerce, Gov. Eric Holcomb announced Monday morning.
Chambers, 57, who founded Indianapolis-based powerhouse development firm Buckingham Cos. in 1984, will take his new position July 6. He'll succeed Jim Schellinger, who stepped down abruptly in March after 5-1/2 years on the job.
Jim Staton, senior vice president and chief business development officer for the Indiana Economic Development Corp., has been serving as interim secretary since shortly after Schellinger's departure.
The state said Chambers will enter into a two-year contract with the IEDC, which he will lead. He is expected to reduce his day-to-day involvement with Buckingham.
The company will not be eligible state incentives while Chambers is secretary.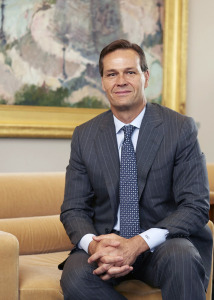 Buckingham develops, builds and manages mixed-use, multifamily, commercial and hospitality projects. It also operates several real estate investment funds.
"There is no one more qualified to lead our economic development efforts than someone who's been a leader in the business for 35 years," Holcomb said in written remarks. "Not only has Brad created, grown and expanded his business from the ground up, he's been focused on how his work contributes to making Indiana the best place to invest, work, and live for his entire career."
Chambers, who is chairman of the Indiana State Fair Commission, will remain in that role through this year's fair, the state said.
In addition to his job as president and CEO of Buckingham, Chambers is founder and board member of Buckingham Foundation Inc. He's a member of the National Multi Housing Council and Young Presidents Organization, and a trustee of St. Paul's Episcopal Church.
He previously was on the boards of Indianapolis Downtown Inc., Indianapolis Neighborhood Housing Partnership, Indianapolis Museum of Art and Urban Land Institute of Indiana.
"I'm honored to serve the state of Indiana and give back to a home that has given so much to me over the years," said Chambers in written comments. "I'm very excited for the opportunity to strengthen statewide entrepreneurship and help drive Indiana's overall business climate to the next level."
Please enable JavaScript to view this content.