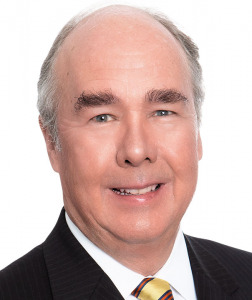 Meteorologist David James, who has been covering the weather at Indianapolis TV stations for most of the past four decades, announced his retirement on Monday.
James, who has been working at WISH-TV Channel 8 since April, said on social media that Monday night's forecast was his last before his retirement.
"One more cold morning Monday and then a big warm up starting Tuesday," James said on Facebook. "BTW my final forecast for StormTrack8. On to retirement !! Thanks to WISH-TV for the opportunity to be part of the StormTrack8 team. Great bunch!!"
Armed with a bachelor's degree in meteorology from Parks College of St. Louis University and a master's degree in environmental policy from Indiana University, James hasn't spent his entire career in the weather business.
He started his meteorology work as an Air Force weather officer at Keesler Air Force Base in Biloxi, Mississippi, in the 1970s.
In 1980, he began a 20-year-run as a meteorologist at WRTV Channel 6 in Indianapolis. During that time, James also spent 16 years as a board member and, eventually, executive director, of not-for-profit development organization Eastside Community Investments.
From 2000 to 2003, he served as director of the Indianapolis Neighborhood Housing Partnership, and from 2003 to 2006, he worked as a personal banker at Chase Bank.
But James rarely left the weather business for long. Since 2006, he's worked for Palatine, Illinois-based Murray and Trettel and Weather Command as a forensic meteorologist with a focus on insurance verifications.
In late 2015, he became a freelance meteorologist for WXIN-TV Channel 59 and WTTV-TV Channel 4, a job he maintained until joining WISH.
He also has been teaching aviation meteorology for Vincennes University at Indianapolis International Airport since 2018.
James was concise in his retirement announcement when describing his work as a meteorologist: "Most fun job ever!!"
Please enable JavaScript to view this content.