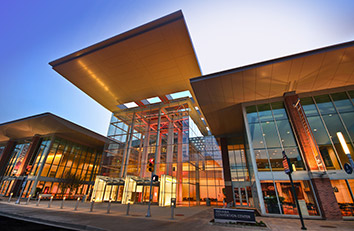 The Capital Improvement Board of Marion County had another difficult month in August, as its revenue streams continued to fall short of prior-year numbers and budget projections because of the pandemic.
The agency, which owns downtown's major convention and sports facilities, on Friday said its August revenue—operational funding from August and tax-based funds from July—missed target figures by a wide margin.
The board brought in $4.7 million in tax revenue, about 54% (or $5.6 million) below budget and more than 35% lower than prior year. Tax revenue accounts for about two-thirds of the CIB's annual budget. The board brought in just under $285,00 in operational revenue—nearly 90% below budget and 92% lower than the prior year.
August is the restart month for collections from the professional sports development area, a mostly downtown zone that captures state income and sales taxes collected at Lucas Oil Stadium, Bankers Life Fieldhouse, Victory Field and four downtown hotels—plus the Indianapolis Colts' northwest-side practice venue.
The PSDA brought in about $560,000, about 74% off from budget.
The CIB faces some stiff headwinds with its budget over the next year. It's projecting a shortfall of about $41.6 million for 2021.
Executive director Andy Mallon last week confirmed the CIB laid off eight full-time employees as part of cost-cutting measures. The board also instituted new policies for worker pay during the dip in activity at the convention center, resulting in employees being paid for hours worked rather than a hard 32-hour week.
Overall, the CIB brought in $5 million of its anticipated $14 million in revenue, leaving it 64% off budget for the month and 61% behind August 2019.
The convention center brought in several events throughout July and August, including a few youth basketball tournaments,  that led to a slight pick-up in revenue streams.
Additionally, Visit Indy this week shared the latest tourism impact statistics with the Indianapolis Business Journal, showing the city and its businesses missed out on more than $535 million in economic impact because of convention and event cancellations.
Overall, 340 groups, representing nearly 965,000 attendees, outright canceled their events because of the pandemic. This accounts for more than 604,000 hotel room-nights and includes some of the city's largest annual events such as FDIC International, National FFA, Gen Con and the Performance Racing Industry.
Non-annual events like the General Conference of Seventh-Day Adventists and the National Safety Council also were called off.
The calendar for the first quarter of 2021 is also rather bare, as nearly one dozen events have already withdrawn from their calendar dates because of continued uncertainty. The 11 groups that have canceled—like the American Library Association and Experimental Biology—account for about 144,000 visitors and nearly 96,000 room nights. All told, the canceled events were projected to generate $167 million in economic impact.
Visit Indy said 71 groups planning to host events in Indianapolis in 2020 and 2021 have rebooked for later, meaning the city could salvage some of its lost business. The groups, which the tourism agency did not identify, could mean about $22 million in economic impact, along with about 30,000 visitors and almost 44,000 room nights.
Please enable JavaScript to view this content.