Manufacturing is one of Indiana's top industries, and the state intends to keep it that way by investing millions into a grant program to keep companies housed in the state competitive.
Manufacturing Readiness Grants launched last year as a pilot in a partnership between the Indiana Economic Development Corp. and Conexus Indiana to stimulate private-sector investments in modernizing Indiana's manufacturing sector.
The program initially had about $4 million to distribute, said Dave Roberts, chief innovation officer at the IEDC. Its success in the last year, with nearly 100 applicants, led the state to want to invest further.
This year, the Legislature extended the program through 2023 by adding $10 million per year for grants to the general fund in the state budget.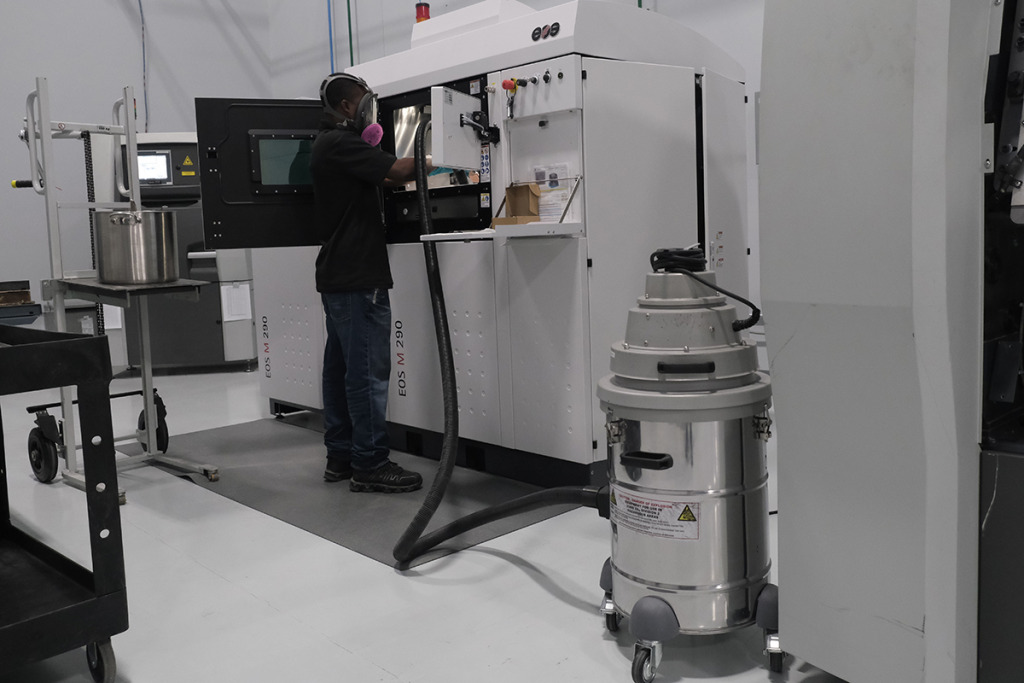 "It is a significant commitment from the General Assembly and from the governor," Roberts said.
A total of 122 grants have been awarded to date, totaling nearly $9.7 million to companies in 50 counties. The recipients are expected to make technology-based capital investments projected at more than $68.6 million.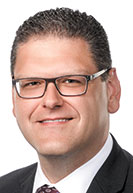 Of the additional $10 million made available this year, about $2.8 million has been awarded, and Roberts said he expects to have a majority of that money allocated by the end of the year.
Manufacturers account for nearly 28% of Indiana's gross state product, employing about 17% of the workforce, according to data from the National Association of Manufacturers.
Indiana wants to keep the manufacturing sector strong, so investing in projects that help modernize companies helps them remain competitive and keep a leg up, Roberts said.
Manufacturing has been "a tremendous advantage to us historically," he said. "But it's not a birthright. It's not a given that we'll continue to be competitive as we look 10, 20, 30 years into the future."
Applicants for the grants represent a variety of industries across the state, from aerospace and defense to industrial food preservation.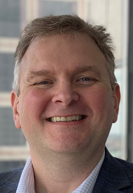 The projects that typically receive funding use advanced technologies called Industry 4.0, said Mitch Landess, vice president of innovation and digital transformation at Conexus, which promotes the state's advanced manufacturing and logistics industries. These tech advancements can include cobots, 3D printing, data analytics, machine learning or artificial intelligence.
"We want to see people push themselves to tell us how they're going to take what they're presently doing, and how they're going to transform it to what they think they should be doing for the future," Landess said.
The application process for the Manufacturing Readiness grants involves a months-long timeline of peer reviews at Conexus before the IEDC makes the final decisions. The Conexus screening is conducted by a committee of 10 industry experts from manufacturing, private-equity technology investing and academia, Landess said.
Each application is looked at separately. More than 260 companies have applied for grants so far, and several are still being reviewed.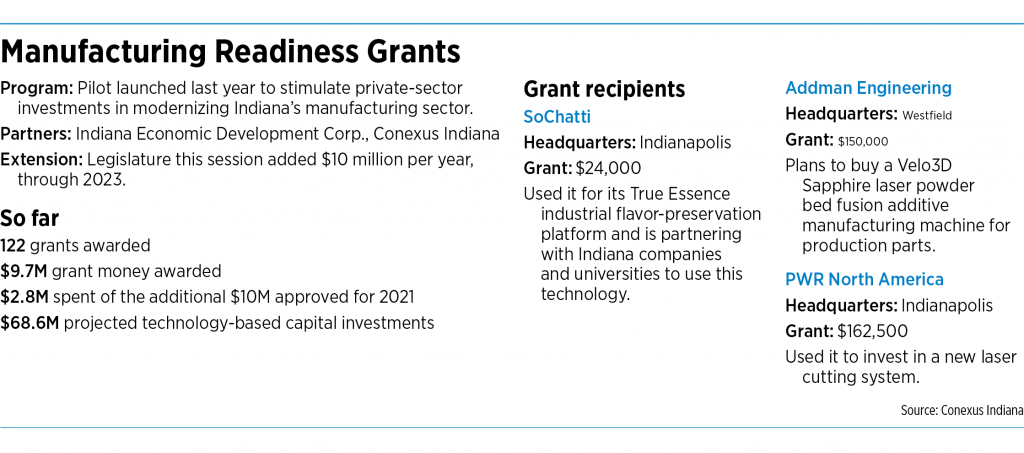 Several grant recipients are already seeing benefits from the program. Indianapolis-based PWR North America, a division of an Australian company, used a $162,000 grant to purchase an Amada CNC fiber laser machine for cutting metals.
This technology is giving the company competitive advantages to break into the aerospace defense and electrification heat exchanger markets, primarily in electronics cooling, said Steve Rasso, general manager.
"It opened up a whole new line of products for us to be able to make here in Indianapolis that we could not make prior," Rasso said. "It's helped us get into marketplaces that get a foot into the areas where we didn't before."
PWR North America said it has brought in about $2 million in additional business since getting the laser machine.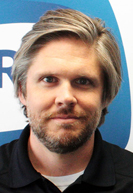 Addman Engineering, based in Westfield, was one of the most recent recipients of a $150,000 grant to help purchase a Velo3D Sapphire laser powder bed fusion additive manufacturing machine to cut production parts.
The company makes metal additives and machinery, working a lot in aerospace and defense, said Bob Markley, executive vice president at Addman. The Velo3D Sapphire laser is an advanced technology used by companies such as SpaceX, he said.
"This is just another great tool for us to have in our tool box," Markley said. "We're creating the future … we really are currently continuing to push the boundaries of what's possible in the manufacturing sector."
SoChatti, a manufacturer based in Indianapolis, used its $24,000 grant to expand a part of its brand.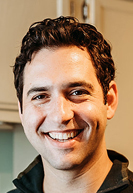 SoChatti primarily makes specialty chocolate. But it's putting more emphasis on its flavor-preservation technology, branded True Essence. The company invented this technology over the past five years. It transforms perishable products—such as fruits, vegetables and juices—into a shelf-stable form that retains flavor.
"A grant was helpful in enabling us to scale a piece of equipment necessary to prove out the industrial potential of that next arc of our business," said Matt Rubin, CEO of SoChatti.
SoChatti is working now to bring its food-preservation technology to other companies who want to industrialize food preservation, Rubin said. The company also created its first preserved product, called Fruit Nectar, which is a juice concentrated to a honey-like consistency. When the product was released in May, it sold out in 45 minutes, and the company continues to see high demand, Rubin said.•
Please enable JavaScript to view this content.