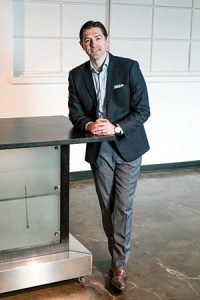 Fast-growing marketing agency JDA Worldwide has named Phil Daniels as its new president, the Carmel-based firm announced Sunday.
Daniels joins JDA after more than 11 years at health care analytics software firm Springbuk, which he co-founded in 2009. He replaces King Lumpkin, who had been JDA's president since 2014.
Daniels was previously senior vice president and chief strategy officer for Indianapolis-based advertising agency Trendy Minds.
In 2007, he co-founded Indianapolis-based creative agency Tactic Marketing, which counted ExactTarget, Herff Jones and McLaren Automotive among its clients.
Daniels was named an IBJ Forty Under 40 recipient in 2019.
"We couldn't be more excited about Phil joining the JDA family," said JDA co-founder, CEO and Chairman Brad Benbow in written comments. "Phil's proven ability to scale and lead top-flight, culture-first companies, as well as his successful marketing and analytics experience, makes him a perfect fit to lead our team."
JDA finished No. 2 on IBJ's annual List of Fastest-Growing Private Companies in 2017 and No. 6 in 2018.
The company, founded as Joseph David Advertising in 2003, saw revenue grow from $10 million in 2015 to $34 million in 2017.
It ranks as the 14th-largest advertising agency in the Indianapolis area, based on $69.8 million in local capitalized billings in 2018.
Its clients include Museum of the Bible, Pure Flix Entertainment, SeaPak Shrimp and Bleacher Report.
Benbow said the firm, which has more than 20 local employees, has continued to add to its workforce during the pandemic.
In addition to its headquarters at 200 S. Rangeline Road in Carmel, JDA has offices in Atlanta; Traverse City, Michigan; Colorado Springs, Colorado; and St. Simons Island, Georgia.
Please enable JavaScript to view this content.