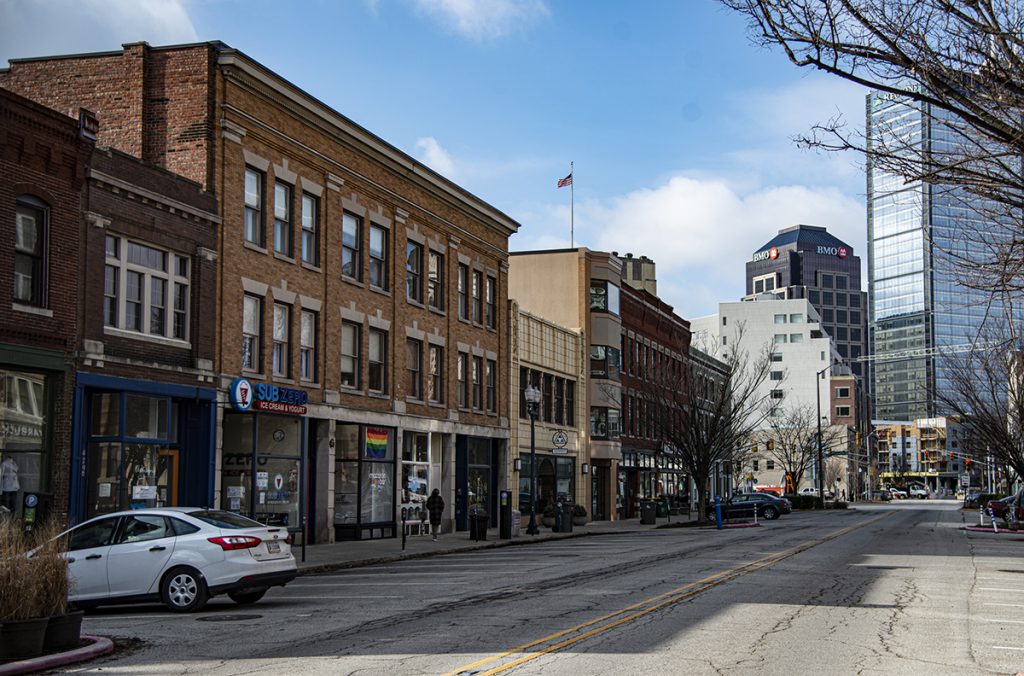 A group of 23 local business and not-for-profit leaders has gone on record to oppose the city's decision to close Massachusetts Avenue to traffic and is asking the mayor and the City-County Council to halt the plans until a public meeting on the matter can be held.
In a letter to Indianapolis Mayor Joe Hogsett, City-County Council President Vop Osili and councilor Zach Adamson, the group of merchants, not-for-profit leaders, restaurateurs and building owners said they learned about the street-closing plan on the evening news and not from city officials.
On Tuesday, Adamson, who chairs the council's Public Works Committee, announced on Facebook the city's plans to close portions of five major corridors so restaurants and retailers could expand their operations outside and to allow pedestrians to properly social distance.
"While trying to navigate the ever-changing environment spawned by this pandemic, we're now confronted with a new challenge—the lifeblood of our local economy is being arbitrarily closed with no input or regard for the people it will impact," the letter says. "Most of us have been blindsided by the news and think this may be the fatal blow to our struggling neighborhood and businesses."
Among those signing the letter was Amy Minick Peterson, the owner of gift shop Decorate and the wife of former Indianapolis Mayor Bart Peterson, a Democrat.
Indianapolis restaurants will be allowed to offer in-person dining—but only with outdoor seating—starting Friday under a recent order by Hogsett and Dr. Virginia Caine, director of the Marion County Public Health Department.
On Wednesday, during a press conference, Hogsett and several members of his administration announced the plan to close the corridors to traffic for the coming weeks as part of the city's reopening plan
In addition to closing a stretch of Mass Ave, which will temporarily eliminate more than 300 parking spots, the city plans to close the south side of Monument Circle and parts of Georgia Street, Illinois Street and Broad Ripple Avenue. The idea is intended to provide more room for outdoor dining.
In the letter, the group equated the Mass Ave plan to a "street fair" and said virus proliferation was a primary concern.
"Funneling the city's population to Mass Ave for what will be, in essence, a 'street-fair' (with alcohol) after 3 months of quarantine is a recipe for disaster," the letter states. "Some restaurants have expressed concerns about managing CDC guidelines, even more so when demand is high and tables and guests are strewn all over the street. Other restaurants that lack outdoor seating and desire expansion can use adjacent parking spaces, as seen elsewhere along Mass Ave, without closing the entire street indefinitely."
Hogsett said Wednesday the closure would last through, at latest, July 4 but the city is considering June 1 for a reopening date for indoor dining at 50% capacity.
The letter also expressed concern about access for deliveries, visitor parking, residential and commercial building access, customer access, street cleaning and sanitation, inclement and severe weather, security and public safety.
The group—organized by Bill Pritt, who owns Forty-Five Degrees and YoguLatte, and Kristin Kohn of Silver in the City—said the street closure plan has no vocal support except among people excited to be able to get out of the house and the city leaders facilitating it.
"The street being open is not the problem and closing it is not the solution," the letter reads.
Business owners away from Mass Ave shared the same sentiment with IBJ.
In a message to IBJ, Craig Huse, owner of St. Elmo Steak House, Harry & Izzy's and Burger Study, said he was never consulted about the street closures and doesn't know of any businesses that were. His three downtown restaurants are all on corridors affected by the closure plan. Huse also operates a Harry & Izzy's on East 82nd Street and 1933 Lounge in Fishers.
Huse said he doesn't plan to open any of his downtown restaurants until May 29, at the earliest. Harry & Izzy's on 82nd Street will open its patio this Friday.
"Mayor Hogsett is the newest restaurant expert in Indianapolis, and I look forward to the restaurant business someday returning to the private sector," he said. "Obviously, we will continue to play the cards being dealt. We can't wait to safely serve and delight our Indianapolis guests like we have been doing in Fishers since May 11."
The city said other businesses are in favor of the plan, but officials would be open to more feedback.
"From Day One, our primary goal has been to balance public health with the well-being of local businesses," Deputy Chief of Staff Taylor Schaffer said Wednesday night in an email. "The creative approach we announced earlier this week is meant to prioritize the critical need for social distancing in our pedestrian-heavy corridors, while also increasing opportunities for businesses to expand their footprint.
"In total, 20 Mass Ave merchants have reached out to the city to express an interest in utilizing outdoor space adjacent to their business and a dozen have completed the application process for outdoor amenities. Still, we remain committed to continuing conversations with stakeholders in all of the impacted areas in order to identify challenges and alleviate issues."
Schaffer said a meeting was planned with some stakeholders affected by the plan on Thursday.
Patrick Tamm, president and CEO of the Indiana Restaurant and Lodging Association told IBJ the association was not consulted by the mayor's office on the street closures and its focus remains on getting dining rooms open in Marion County on June 1.
"The next 30 to 60 days is absolutely critical to the many restaurant owners that often define and provide the sense of community and the quality of place in neighborhoods across the city of Indianapolis, Indiana, and the country," he said in an email.
The planned closures are as follows:
—Massachusetts Avenue, from its intersection with College Avenue to its intersection with New York and Delaware streets.
—Georgia Street, from Pennsylvania to Illinois streets.
—Illinois Street, from Georgia to Market streets.
—Broad Ripple Avenue, from College Avenue to Monon Trail.
—Monument Circle, southeast and southwest quadrants.
Staff writer Susan Orr contributed to this report.
Please enable JavaScript to view this content.