The two major political party candidates for mayor of Indianapolis faced off Monday night in a what black leaders called a historic discussion on issues facing their community.
The forum, which several hundred people attended at Arsenal Technical High School, was hosted by the African American Coalition of Indianapolis and moderated by Tina Cosby, public affairs director for Radio One Indianapolis stations. The questions covered five topics—economic development, food insecurity, criminal justice reform, education and housing.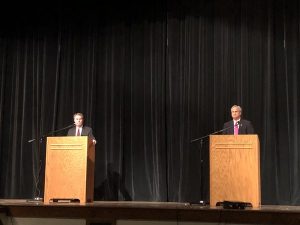 Democratic incumbent Joe Hogsett, who is seeking a second term, tried to emphasis the progress he says his administration has made to support the black community, while Republican state Sen. Jim Merritt countered that significant issues still exist.
"We have a lot of work to do in Indianapolis," Merritt said. "Indianapolis is struggling."
During a question about reducing the number of black male murders, Merritt criticized the current administration for the record homicide rates and not having enough police officers on the streets.
Merritt said he spent Saturday night walking around Monument Circle—one day after a male teenager was shot there—and did not see any police officers and noticed that half of the lights were out.
"And we had a shooting the night before," Merritt said.
Hogsett defended his police department, and said on any given night like that, there would have been 40 police officers within the Mile Square, which includes Monument Circle.
"Maybe you're just not looking in the right places," Hogsett said. "They are everywhere."
Hogsett also mentioned that the homicide numbers had been increasing years before he took office, but he believes the city may see a decrease this year.
"It's certainly not something that just began three years ago," Hogsett said.
On a different question about gun control, Hogsett brought up a state law that prohibits cities from passing any legislation that is stricter than state law. That means pursuing local gun control measures would be futile because they wouldn't hold up in court, he said.
"We're prohibited from doing anything about it by the Indiana General Assembly," Hogsett said.
When Merritt, who has been a state senator since 1991, was asked to respond to the question, he did not address the issue of the state law but said he would be involved in the community and would try to gather as much information as he could to prevent gun violence.
"We need to know what is going on in the community," Merritt said.
Both candidates were also asked if black lives matter or if all lives matter.
Merritt said the mayor is responsible for keeping all residents safe, and that's what he'd do as mayor. Hogsett said both statements are true.
"Yes, all lives do matter, just like black lives matter in particular," Hogsett said.
The conversation Monday night followed weeks of discussions between the mayoral campaigns and a broad coalition of faith-based groups, black elected officials and civic leaders who are trying to bring issues facing the black community to the forefront.
In response to some of the concerns from black leaders, Merritt last week released a "black agenda" that outlined policy ideas and goals to improve the lives of black Marion County residents. Hogsett, who initially said he would not create a black agenda because his overall agenda is inclusive, essentially did the same on Monday afternoon.
"Today's conversation is an important one," Hogsett said Monday night. "And one that must continue beyond one day."
The candidates will meet again on Oct. 28 for a debate hosted by the West Side Chamber of Commerce and WXIN-TV Channel 59. Libertarian candidate Douglas McNaughton also will participate in that event.
Election Day is Nov. 5.
Please enable JavaScript to view this content.