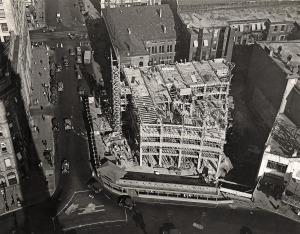 Indianapolis architectural firm Rubush & Hunter designed the art deco masterpiece Circle Tower, which was completed in 1930 (the year after this construction photo was taken) in the southeast quadrant of the Circle. The 17-story building—the tallest building that sits directly on the Circle—is part of a National Register of Historic Places designation. It is built of Indiana limestone, with pink granite at the base, and includes step-backs at each level above the 10th floor, which is meant to reduce the amount of shadow cast on the Soldiers & Sailors Monument. Those top floors include art deco sculptures and panels, and the interior includes dark polished marble and terrazzo floors. The city razed the Franklin Building and other low-rise buildings to clear space for Circle Tower.
Sources: Indiana Historical Society, National Park Service, Emporis
Credit: The photo is courtesy of the Indiana Historical Society. More images are available at images.indianahistory.org.
Please enable JavaScript to view this content.