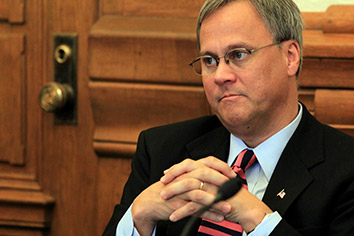 Would area residents be willing to pay tolls for easier travel on busy central Indiana roads like Binford Boulevard?
Republican mayoral candidate Jim Merritt is offering the idea as a possible way to raise revenue to help fix local infrastructure that he says "is crumbling."
Merritt, who has served in the Indiana General Assembly for 30 years, on Wednesday proposed a variety of possible solutions for the city's infrastructure funding issues, including using local tax revenue "to secure a public-private solution."
"For years we have leveraged working with the private sector to help with efficiency and effectiveness to help solve public-sector problems," Merritt said. "I would like to expand this."
Merritt also said he would ask the Indiana Legislature to "reallocate funding to Indianapolis to cover the excessive use of our roads."
"In 2016, the legislature provided an additional $59 million for immediate road repairs here in Indianapolis, Merritt said. "They understood then–as they do now–that immediate action must be taken, especially after road repair and maintenance have been so harshly neglected over the past three
years."
Another idea he raised was "optional, not compulsory" express toll lanes on roads such as Binford or Fall Creek Parkway.
"For those who chose to use this option for travel, they would pay an additional fee, and that money would be used to continuously improve our roads," Merritt said. "It would be a choice of the driver and not something mandated."
Merritt said the approach has been used in other cities. For instance, in Los Angeles, drivers on Interstate 10 and Interstate 110 pay a toll to use  "ExpressLanes," using a so-called "FasTrak Flex" account. Once a car enters the express lane, the correct toll is deducted.
Merritt hasn't always been keen on asking non-Marion County drivers to pay for road repairs.
Last year, Merritt told IBJ that the idea of imposing a commuter tax was "silly," and said "there is no support in the Republican caucus of the Senate to establish a commuter tax or any type of added taxation for individuals who work in Marion County and live outside."
Merritt's proposals were quickly criticized Wednesday by Mayor Joe Hogsett's campaign and called a "political stunt."
"Our response is simple: we hope every Indianapolis voter is paying attention, because if they don't let their voice be heard on election day, Sen. Merritt's destructive toll road plan could become reality," campaign spokeswoman Heather Sager said. "If Sen. Merritt's idea of a 'bold solution' is to put a usage tax on drivers, we don't think Indianapolis can afford his plan."
Please enable JavaScript to view this content.