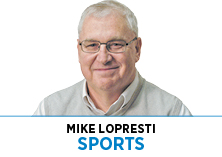 This is the field of dreams in central Indiana, where 60-year-olds get to be teenagers. Where judges can pitch, and truck drivers can chase curves, and real estate agents can try to beat out slow-rollers.
Is a man ever too old to play baseball? "Yes" is your answer? Then you've come to the wrong place, on the wrong night. On this field, you can see the passion … and hear the grunts and groans. And also hope this isn't the night a guy has to be carried off after a heart attack, because that's happened, too.
We begin this Monday evening with two men pushing 70, sitting in the stands at New Palestine High School and discussing what is to come: The Red Sox vs. the A's, two of the 10 teams in the 45-and-over age division of the Indiana Baseball League. That's the league with lots of guys eligible for the senior citizens menu.
Fred Hart is 69 years old and will manage the Red Sox this night. He has played in the IBL since it began in 1990. Gary Knowles is 68 and has been playing since the mid-1990s, though he is currently on the shelf, recovering from back surgery.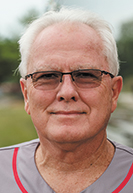 "We all met in a classroom at Butler University after seeing a little bitty ad in the paper," Hart is saying about the birth of the IBL, a central-Indiana-based organization that now has divisions for 18-and-up, 25, 35 and 45. "It was like walking back into a time warp. I always say this is a time warp. You're back to playing like you were in high school."
Corrects Knowles: "The mind thinks you're playing like you were in high school."
Continues Hart: "But the thing is, you get in the dugout and you don't have any other cares in the world."
Seconds Knowles: "Everything else disappears."
That happens every Monday night. Let us spend a couple of weeks seeing how.
One Monday night in Pendleton …
Now taking the field, your IBL defending champions, the Pirates. There's a sex therapist playing third base and a CEO at shortstop. A police officer is at second base, and a pharmacist involved in clinical research is catching. His battery mate on the mound is a pitcher who is also vice president of an automatic pool cover firm. The center fielder? He's a 58-year-old graphic designer, Don Pollard, who also manages the team. Ask him about all the past physical ailments he's endured to still be playing at his age and … we'll get to that later because it takes a while.
So just what is going on out there?
The manager/first baseman for the opposing team, the Dodgers, ponders that question. Doug Phillips is coming in with a batting average of nearly .700—and he's 66 years old. "I think it's a bunch of guys that still love to play baseball," he begins. "It's probably like watching a high school game in slow motion. We can still hit, still pitch, still do everything for real, but not quite as fast.
"I think if you asked everybody, they'd say the same thing. It's what we do. Guys have played it their whole life. It's Monday night, so we're here."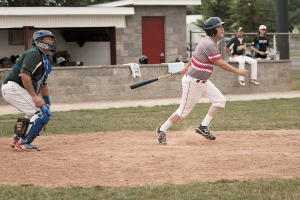 Most of the men in the IBL played in high school, some in college, a few professionally. None have lost the zest to be on the field.
Take the Pirates' starting pitcher this night. It has been a while since Mike Shadoan was a college player and later baseball coach at IUPUI. He's now 53. But he has come to throw, well, if not quite smoke, then at least a little haze. He has been in the IBL from the start.
"You'll have your [jersey] on, and you go to a gas station or out to eat afterward, and everybody goes, 'So where do you guys play softball at?' It's not softball; we play hardball. They'll say, 'You play hardball still?'"
Pollard is 58, played softball and football in the Air Force and has been a diehard IBL player since the mid-1990s. He still gets out there in the younger divisions. My question to him was what injuries he has endured through his athletic career. Here goes …
Ruptured Achilles, torn left groin, separated right shoulder that has never healed ("The reason I don't throw like I used to"). Dislocated left wrist that needed six hours to repair, double hernia, hip muscle tear, broken left hand.
"Sorry you asked?" he says. "I'm the Evel Knievel of the men's senior league."
The Dodgers—whose roster includes a doctor, a fireman, an engineer and a stockbroker—score first for a 1-0 lead. While that's going on, the Little League team having a practice on the diamond next door breaks into a verse of Happy Birthday for one of the players. At that moment, with third-graders singing on one field and sexagenarians trying to stretch singles into doubles on the other, you are reminded how much baseball is a game for all ages.
The Pirates win 9-4. They clinched the title last year by the football score of 28-23, and to celebrate, there was no dog pile of 50- and 60-year-olds on the field after the final out. "I think everybody was so tired, they were just happy it was over," Shadoan remembers.
In this Pirates-Dodgers game, there are stolen bases and runners thrown out trying to advance and stick double plays. Pollard makes a diving catch, meaning he probably landed on some part of his body that has needed surgery.
"This is true baseball in every sense of the word," Damon Grothe will say over the phone later. He plays for the 45-plus Reds but is also president of the IBL and understands the need for such an enterprise. "I have guys tell me all the time, 'Thank you for giving us the opportunity to be able to do this,'" he says. Grand Park has the Hoosier Adult Baseball League as well, so there is a big market around here for older fellows who want to hold onto the game.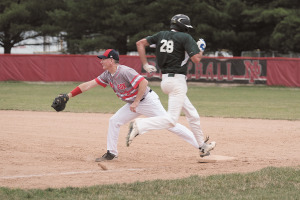 There are some rules in the IBL to accommodate the years. The league uses nothing but wooden bats. No inning can start once the game has gone 2 hours and 45 minutes. Each team gets four courtesy runners during a game.
Shadoan pitches seven innings—the league limit—and understands there is probably an ice pack in his immediate future. "No doubt. I'd say 80% of us will be icing something," he says. "I don't know what tomorrow morning will be like."
One Monday night in New Palestine …
In a graybeard league, the Red Sox are among the grayest. The average age in the 45-and-up division is 52, but for the Red Sox, it's just over 61. They handed the Pirates their first loss of the season not long ago, and the winning hit came from Darrel Miller. He's 73.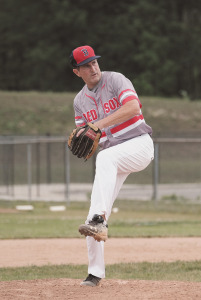 But it's Monday, and they're ready to go. Men such as Brad Sellers, who is 57 and threw 182 pitches in a game last season. "Other parts of the body hurt worse than my arm," he said. Dan Turner, who is 58 but actually enjoys slapping on the gear and kneeling in the catcher's position all night. "It's a mindset," he says. Rod Parker, who is 61 and still trying to leg out hits on two replaced hips.
Knowles, a retired CFO, has seen it all in his nearly three decades. He has participated in 15 World Series for senior baseball in Arizona and once watched two teams get in a fight after a 60-something player scored a run by cartwheeling across home plate. Well, boys will be boys.
Knowles has his own medical history. Twenty years ago, he had to recover from both shoulder and elbow operations, at the same time. "Two surgeons came in. One did my shoulder and, when he was done, the other came in and did my elbow," he says.
He's hoping to get back from his back surgery to play a few last games this season. Someone in the 45-plus IBL is always recovering from something. Even cardiac arrest. Knowles has seen three heart attacks on the field and remembers the scariest.
"The guy was pitching and kind of bent over and didn't feel good. There's always a good chance that one of the players on each team is a doctor. It just so happened one was a doctor. He said to get him to a hospital, and the players took him directly. He blue-lined a couple of times while he was there, but he came through OK. He came back playing."
This night goes badly for the Red Sox as the A's pound away for an 18-5 win, but to be here is what matters. "A lot of guys are really into golf. A lot of us are not necessarily big golfers, and this is kind of a fill-in for us," Knowles says. As Pollard mentioned the week before, "We play hurt, we pay to play. It's just for the love of the game."
Time waits on no man. But Monday nights in the IBL, it at least pauses.•
__________
Lopresti is a lifelong resident of Richmond and a graduate of Ball State University. He was a columnist for USA Today and Gannett newspapers for 31 years; he covered 34 Final Fours, 30 Super Bowls, 32 World Series and 16 Olympics. His column appears weekly. He can be reached at mjl5853@aol.com.
Please enable JavaScript to view this content.