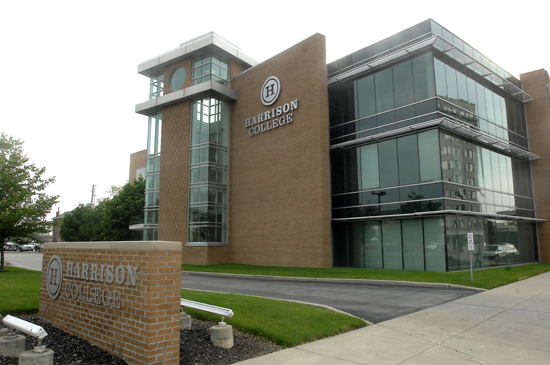 Local apartment developer Milhaus LLC plans to move its headquarters from the Fletcher Place neighborhood to the former Harrison College building downtown on East Washington Street to accommodate the growing firm.
The company, which is currently headquartered 460 Virginia Ave., will move to the three-story structure at 550 E. Washington St. by mid-2023, occupying about 28,500 square feet on the first and second floors of the roughly 50,000-foot building.
It's spending about $5 million to renovate the vacant structure, which is part of its Grid apartments campus that opened at the northeast corner of Washington and East streets in early 2021.
Harrison College closed in 2018. A Milhaus affiliate bought the property at 550 E. Washington St. on Aug. 29, 2018, from Harrison for $6.3 million, according to Marion County assessor records.
Jourdan Woodruff, director of development operations for Milhaus, told IBJ the new headquarters will have seating for nearly 160 employees, compared to the 75 that can be accommodated now. The company employs nearly 180 people, according to IBJ research.
"We need more space," she said. "We've been growing for a few years, so part of it is catching up on all the hires we've made in recent years … as well as considering future hiring."
For example, Milhaus in 2021 added a legal division to help it handle land acquisitions and zoning matters, as well as other legal issues tied to its projects. It also has aspirations to bring more functions in-house in the coming years, Woodruff said.
Milhaus considered at least six locations for its headquarters but landed on the Harrison College building because it was already something the company owned and could be designed in a manner that jibes with the firm's identity.
"When we bought it, we completely demoed the entire building, so all the walls and all the finishes are gone," Woodruff said. "We're basically restarting and we're able to carry over the really cool industrial, authentic vibe from our existing office and bring that into the space—even though it's a more traditional, corporate office space. We feel like we can put our stamp on this building."
The space will have five or six conference rooms and a handful of private offices (there's two at the Virginia Avenue building), as well as an open floor plan with multiple communal spaces and a patio area. The company plans to move to the new building in the second quarter of 2023. Kort Builders is the construction firm for the interior of the space.
The third floor of the building will remain available for potential tenants, Woodruff said.
Onyx+East—a single-family home and townhouse developer that spun off from Milhaus in 2015—is expected to take the company's space at the Virginia Avenue building, she said. Onyx+East is currently headquartered at 1812 Central Ave.
Woodruff said the investment in the new Milhaus headquarters is indicative of the company's commitment to Indianapolis, even as it opens other offices in locales like Kansas City, Missouri, and Texas.
"We started here and our offices and headquarters are always going to be tied to Indy. We're going to keep investing in the market," she said. "Over the past few years, there's been a lot of product near downtown, so we have been really focusing on providing more unique opportunities that aren't downtown, or even your typical suburban projects."
Woodruff said it will remain to be seen how Milhaus' projects fare amid changing economic conditions, as some experts argue the United States is headed toward a recession. She added that construction costs have been on the upswing for more than a year. Interest rates have been rising as well.
"We are trying to be as smart and strategic as we can—making sure our projects and the ones we're going after make sense and are we're spending money [effectively]," she said. "We are very aware of where we're at now and what could potentially be coming. Both [increased interest rates and construction costs] together puts us in a tough spot. But we are still moving forward on all of our current projects. It's just that some of them are taking a little bit longer."
Please enable JavaScript to view this content.