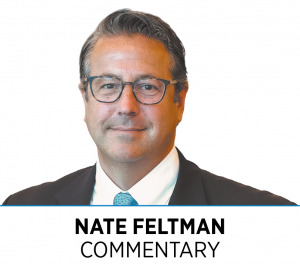 Next year's Republican gubernatorial primary is sure to be a bruising one given the crowded field and the amount of money already raised. All five candidates either currently hold a statewide office (U.S. Sen. Mike Braun and Lt. Gov. Suzanne Crouch), formerly held a statewide office (former Attorney General Curtis Hill) or held an appointed position with a statewide portfolio (former Indiana Secretary of Commerce Brad Chambers and former Indiana Economic Development Corp. President Eric Doden).
Early television campaign ads by Chambers and Doden have focused on introducing themselves to Hoosiers. But given the effectiveness of negative ads and the war chests accumulated by some candidates, it might just be a matter of time before we begin to see attack ads.
Recent comments by Crouch, Doden and Hill might be a precursor of what is to come. Each has taken shots at one of the largest, and arguably one of the most important, economic development projects in state history: the LEAP Lebanon Innovation District, which will be home to Eli Lilly and Co.'s largest single manufacturing site in the company's history.
The LEAP District is one of Chambers' signature accomplishments. Shovel-ready sites have always been important when going after opportunities. However, the scale and complexity of the sites needed has changed dramatically. Due to national security and supply-chain concerns, trillions of dollars will be on-shored to the United States in the form of massive new advanced manufacturing facilities in the pharmaceutical, semiconductor and EV battery industries.
Seeing an enormous opportunity for Indiana—and realizing that speed is more important than any incentive—Chambers and the IEDC team quickly assembled a nearly 9,000-acre shovel-ready site in Lebanon that could accommodate these massive investments. According to Lilly CEO David Ricks, Lilly's $3.7 billion investment would not have happened in Indiana without the LEAP District.
Soon after Lilly's announcement, the issue of sufficient water supply for future development at the LEAP District surfaced. While there is sufficient water for the Lilly investment, additional development will require new sources of water.
Central Indiana's water shortage has been well-documented for decades. The IEDC has taken a proactive approach by investigating the possibility of a water pipeline that would run from the Wabash Alluvial aquifer near Lafayette to Lebanon. Early tests have indicated sufficient water supply, but further testing and work are necessary.
Doden has criticized the IEDC for supporting larger communities at the expense of smaller ones, stating that he is "deeply concerned" about the pipeline plan. Crouch initially raised concerns about the use of farmland for LEAP and more recently has been critical of IEDC's handling of the water-shortage issue. Hill has gone so far as to say the LEAP project should be halted. Braun has struck a much more reasonable tone, acknowledging central Indiana's decades-long known water shortage, but saying LEAP should move forward.
Criticizing such investments is not new in Indiana. Gubernatorial candidate Evan Bayh attacked opponent John Mutz in 1988 for his support of SIA's Japanese investment in Lafayette. While comments from Doden, Crouch and Hill don't go that far, they could send signals to potential investors that Indiana does not welcome their investment.
Indiana is attracting the jobs of the future. Pitting city against city or rural versus urban will set us back. Let's hope our candidates offer solutions to challenges that work for all communities rather than take political shots for personal gain that could hamper Indiana's economic growth.•
__________
Feltman is publisher of IBJ and CEO of IBJ Media. Send comments to nfeltman@ibj.com.
Please enable JavaScript to view this content.