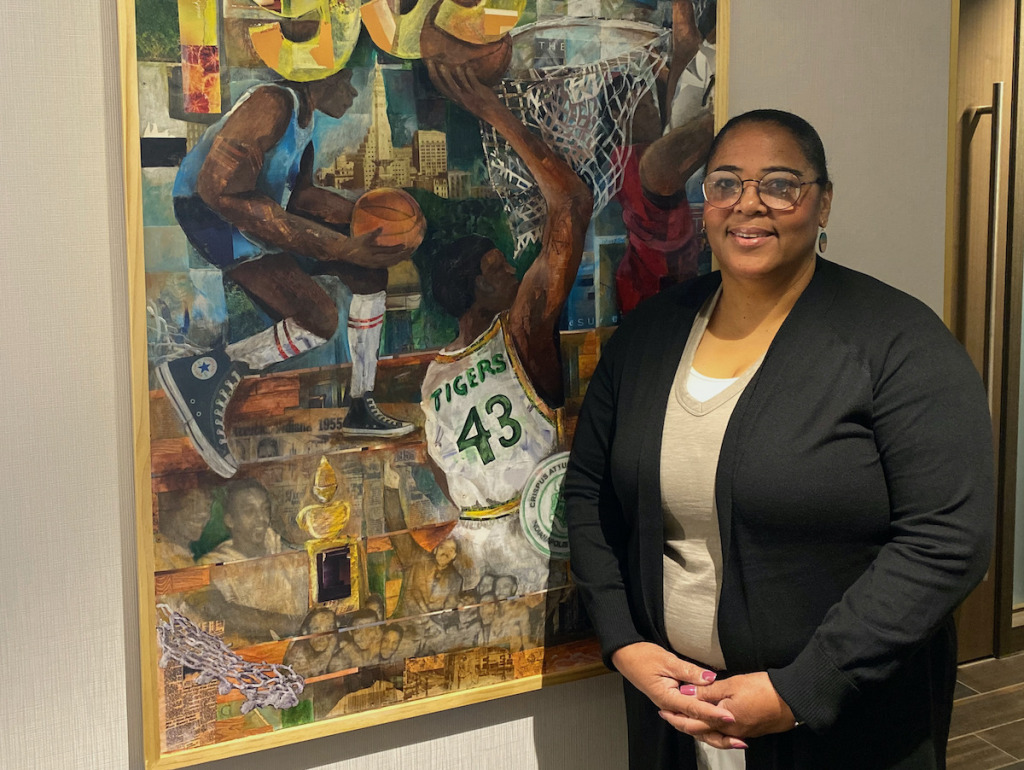 Richmond-based artist India Cruse-Griffin did extensive research on the topic of Crispus Attucks High School basketball before contributing paintings to a new long-term exhibition at Gainbridge Fieldhouse, but she didn't expect one detail to have a personal connection.
Cruse-Griffin found a newspaper clipping that listed her great-aunt as someone who lived in an Indianapolis house that later became the home of Oscar Robertson, the Hall of Fame player who starred at Attucks.
"They named my grandmother's sister in the article," Cruse-Griffin said. "I thought, 'What the heck?' "
This cosmic coincidence indicated that Cruse-Griffin received the correct assignment when the Indy Arts Council, Pacers Sports & Entertainment and the Capital Improvement Board commissioned artwork to be displayed at the arena's team store, main concourse, balcony and suite level as part of renovations billed as Fieldhouse of the Future.
Cruse-Griffin was enlisted to visually tell the story of the 1955 Attucks state championship and Lockefield Gardens Dust Bowl, where the city's best basketball players developed their skills on a dirt court. A set of four paintings, in which Cruse-Griffin uses magazine pages for a collage-style canvas of sorts, are displayed on the KeyBank Suites level of Gainbridge Fieldhouse.
The new-look arena will host its first event Oct. 2, when musician Post Malone headlines a concert. A free open house for the work by 22 artists, an event titled "The Art of the Game," is scheduled 5 to 7 p.m. Oct. 10. To register for tickets for the open house, visit nba.com.
Other artists with work on the KeyBank Suites level include Pamela Bliss, who interprets Reggie Miller's notorious "choke" gesture as a multiplied image in the silkscreen tradition of Andy Warhol, and Kyng Rhodes, who inserts Pacers' ABA-era icons into settings of flowers and butterflies.
On the balcony level, artist Kyle Ragsdale offers an impressionistic continuum of basketball players across generations.
On the main concourse, artist Artur Silva pays tribute to non-basketball moments at the arena that opened in 1999.
In Cruse-Griffin's Dust Bowl pieces, she includes a school that served as a backdrop for pickup games that attracted large crowds.
"In front of the school was a playground and basketball goals," Cruse-Griffin said. "And kids started playing there and it became really popular."
In 2016, IUPUI placed a plaque near the former site of the Dust Bowl at the northeast corner of North Street and University Boulevard. The 1955 Attucks team was the nation's first all-Black team to win a state championship and the first Indianapolis team to win a boy's state title.
Please enable JavaScript to view this content.