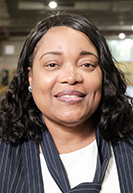 Inez Evans started as IndyGo's president and CEO just before the Red Line launched in September—a time of great promise but also complications.
And her short tenure has not been without problems. The first phase of IndyGo's ambitious bus rapid transit system has been plagued by technology problems and frustration among some riders, which has led to lost revenue since its launch.
Paris-based Flowbird Group missed its deadline to install new ticketing systems, and Pennsylvania-based Avail Technologies struggled to deliver a working real-time vehicle information system that would've helped buses arrive every 10 minutes, as promised.
Under Evans' leadership, IndyGo has already hired secondary vendors to correct the ticketing and route problems. IndyGo also plans to hold both original vendors accountable for the damages.
Evans will have to look to her experience in launching rapid transit systems across the nation to guide IndyGo through those—and any other—initial pains.
"I think, if you look over [IndyGo's] history, there's not been a tremendous investment in transportation," Evans told IBJ in September. "And so, folks have had to depend on that car because there was no other option. And now that we're investing in transportation here, we believe that we're truly going to give others a viable option."
Evans previously served as CEO for the Southwest Ohio Regional Transit Authority and the Santa Clara Valley Transportation Authority in California, which introduced bus rapid transit systems in 2012 and 2015, respectively.
Looking forward, Evans has planned a research-driven approach to making the public transit system as a whole more viable.
She's made connections with key Indianapolis employers to source data on where their employees live and what their work schedules look like, in the hopes that a tailored transit route might entice new riders.
Beyond convincing riders, Evans has taken on the task of convincing employers to subsidize the cost of their employees' bus fares.•
Please enable JavaScript to view this content.