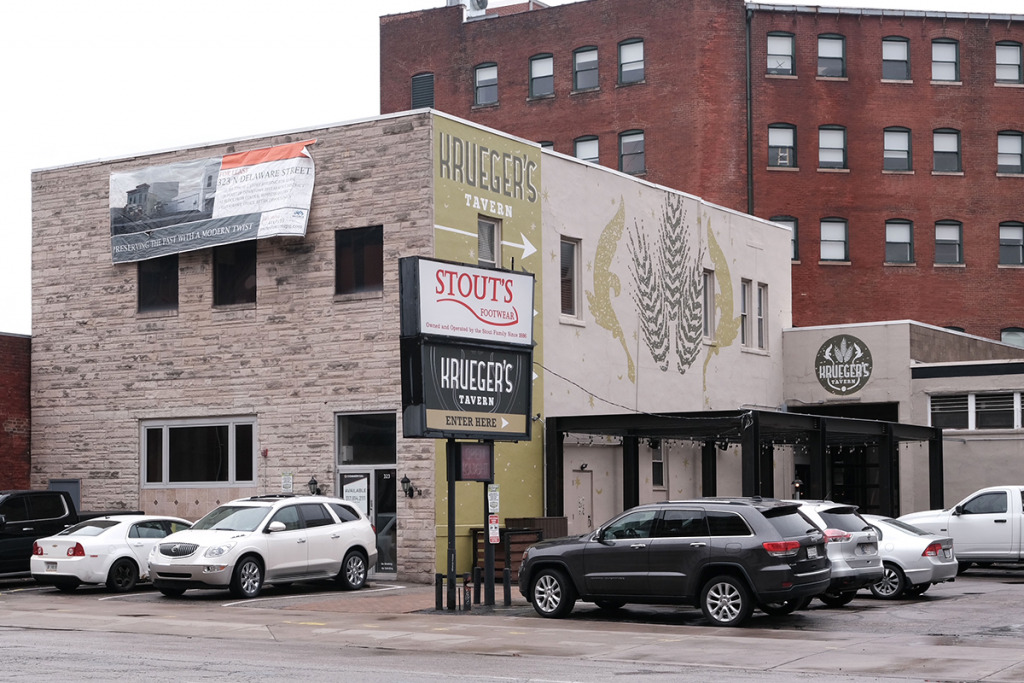 Two longtime friends in the restaurant business are teaming to create The Oakmont, a restaurant and bar near the southwest end of Mass Ave that will feature Instagram-friendly cuisine and décor.
The 5,300-square-foot space at 323 N. Delaware St. is set to open by mid-April. It formerly housed Krueger's Tavern, which had opened in 2018 and is part of Cincinnati-based Thunderdome Restaurant Group. Krueger's closed at the beginning of the pandemic and never reopened.
The Oakmont will be a 21-and-up establishment offering American entrees, burgers, sandwiches and appetizers, along with a weekend brunch. The bar menu will include extensive whiskey and tequila selections, along with draft beers and craft cocktails.
"It's going to be a little bit of everything," said Chris Burton, who owns The Oakmont along with longtime friend Gus Vazquez.
Although The Oakmont is still finalizing its menu, Burton said the cuisine will be designed with an eye toward Instagram-friendly options. That means unique, eye-catching dishes meant to tempt diners to photograph their food and post the images on Instagram, which has emerged as an especially important site for foodies and restaurateurs.
"Social media is the most important piece of marketing there is right now," Burton said. "Most of the influence of where you're going to eat is based on a picture you saw."
Some of Burton's menu ideas, for instance, include twists on the meats-and-cheeses charcuterie board. He envisions a bagel board filled with bagels and spreads, or a pancake board loaded with different flavors of pancakes, syrups and toppings.
The restaurant will also feature murals indoors and out, Burton said, along with colorful décor also meant to catch an Instagrammer's eye.
Burton and Vazquez have been friends since 1999, when they met as servers at a Joe's Crab Shack in Houston. Since then, each has built a career in the hospitality industry.
Vazquez' background includes working in sales for Houston-based food service distributor Sysco and in leadership roles at the dine-in movie theater chains Studio Movie Grill and Star Cinema Grill. He recently moved to Indianapolis from Houston to launch The Oakmont with Burton.
Burton moved to Indianapolis in 2003 and has been an owner at multiple local establishments. Until 2019, Burton was managing partner at the downtown and Broad Ripple locations of Kilroy's. He declined to explain the reason for his departure.
He was also a co-owner of downtown nightclub Revel on South Meridian Street. He and his partner sold the business in 2018. From 2006 to 2016, he co-owned Britton Tavern in Fishers until he and his partners decided to sell the business.
After leaving Kilroy's, Burton intended to take a few months off to figure out his next project. The pandemic's arrival stretched that into a longer break. Burton said he's been biding his time since then because he didn't want to launch a new establishment during the depths of the pandemic.
He would have preferred to wait even a little longer before opening The Oakmont, but he said the availability of the former Krueger's Tavern space was "too good of an opportunity to pass up."
Burton declined to reveal how much he and Vazquez are investing to launch The Oakmont. The two partners are leasing the space.
Please enable JavaScript to view this content.