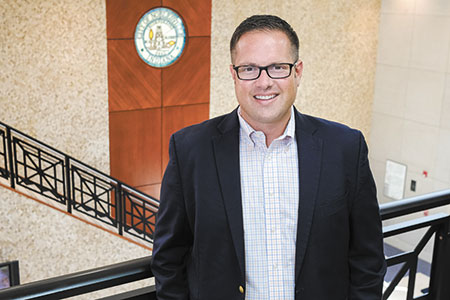 Noblesville Mayor Chris Jensen announced Monday morning that he will seek a second term in office next year.
Jensen, 38, won a four-way Republican primary election in 2019 and ran unopposed in the general election to replace four-term Mayor John Ditslear.
"Noblesville is my hometown," Jensen said in written remarks. "As mayor, I have worked to honor our treasured past and historic downtown charm while charting a clear path toward our brighter future."
No Democratic or Republican challengers have publicly announced their campaigns to run in the May 2, 2023, primary election. Mayoral elections are set for Nov. 7, 2023, with the winner taking office Jan. 1, 2024.
Jensen has focused throughout his first term on attracting private investment to Noblesville. In July, the city touted that $1 billion in private capital had been committed to the city since the beginning of 2020.
The investment included a series of downtown projects, including $145.6 million for the Nexus apartment complex, the Village at Federal Hill, East Bank and the Lofts on Tenth.
Other major investment projects include Hyde Park ($142 million), Washington Business Park ($135 million) and River West ($118 million).
Companies such as Curium Pharma, BlueSky Commerce and Noble Industries also combined to commit more than $78 million in investment through expansions of their operations in Noblesville.
"Together, we can continue to develop our workforce and make generational investments in infrastructure that will keep jobs and families moving to and around our hometown," Jensen said.
Jensen, a 2006 Butler University graduate, previously served on the Noblesville City Council and worked as a client services manager for Indianapolis-based Lochmueller Group.
He got his introduction to politics during his last semester at Butler when he interned for former Republican Sen. Luke Kenley. Jensen worked as an assistant for then-Lt. Gov. Becky Skillman after college.
Jensen is the latest Hamilton County mayor to announce his plans for 2023.
Carmel Mayor Jim Brainard announced Sept. 13 that he will not run for an eighth term in office. Kevin "Woody" Rider, president of the Carmel City Council, became the first candidate to announce a run for the city's mayor.
Neither Fishers Mayor Scott Fadness nor Westfield Mayor Andy Cook have publicly announced their intentions for the 2023 election. Two members of the Westfield City Council—Jake Gilbert and Scott Willis—have said they plan to run for mayor.
Please enable JavaScript to view this content.