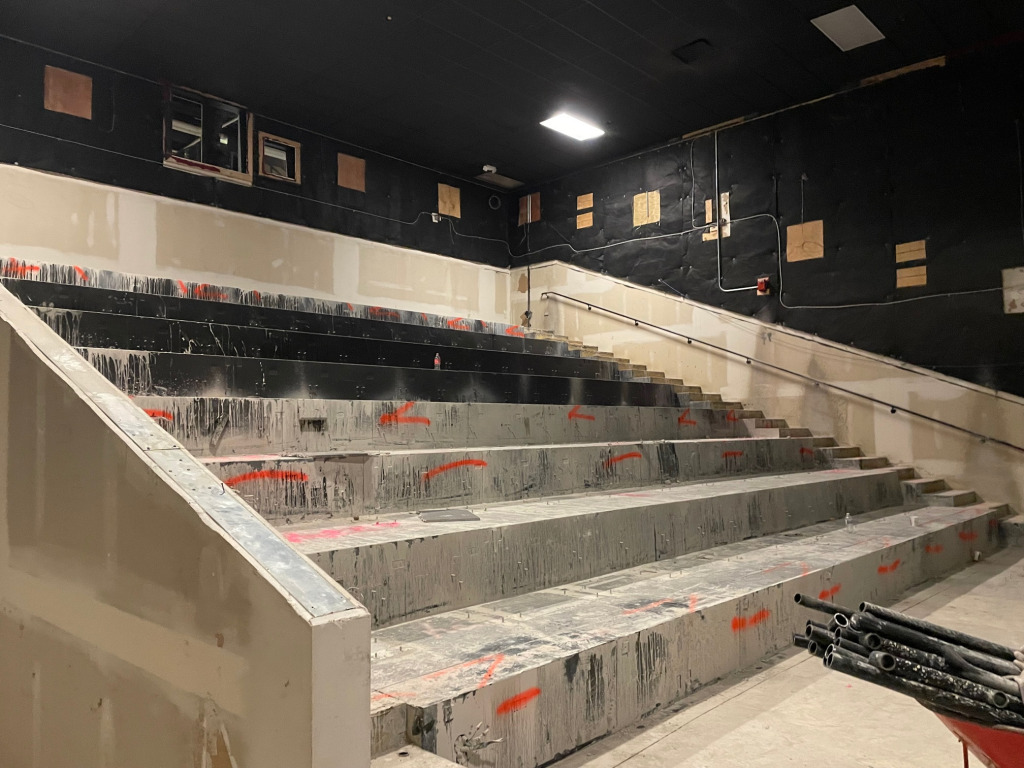 In Hollywood parlance, a significant reboot is under way at the Hamilton Town Center multiplex leased by Troy, Michigan-based Emagine Entertainment Inc. in 2020.
Changes at the Emagine Noblesville movie theater, formerly Hamilton 16 IMAX + GDX, include the installation of heated recliners, first-row "cuddle chairs" and two 18-seat screening rooms designed for birthday parties and other private events. All Emagine theaters also offer beer, wine and cocktails.

Although an IMAX screen is no longer part of the theater's amenities, Emagine will offer its version of a large-format picture—which the company bills as "EMAX."
The screen will be as wide as the Hamilton 16 IMAX screen, Emagine chairman Paul Glantz said, at 70 feet. But the EMAX screen's height is less than the 44 feet presented by the Hamilton 16 IMAX.
The private screening rooms will occupy a second-floor mezzanine.
"We've had a lot of success with the premise of, 'Go big or go small,' " Glantz said. "These screening rooms have proven to be particularly popular. It even worked during the pandemic."
Parties are self-contained, with food, beverages and a movie in each room. And the entertainment doesn't have to be a movie, said Glantz, who mentioned broadcasts of live sports as an option.
"Anything that can be presented digitally is within our wheelhouse," he said.
Regarding the "cuddle chairs" in the building's auditoriums, Glantz said Emagine introduced its love-seat concept as a way to make the first row more appealing to customers. Accompanied by an ottoman, the cuddle chairs are priced at a discount when compared to other seats.
The theater, 13825 Norell Road, became an Emagine property following the 2020 bankruptcy of Goodrich Quality Theaters.
The 70,000-square-foot multiplex originally opened in 2008. Mitch Ross, who served as the venue's general manager until 2018, has come back to that role for Emagine.
Renovation work began in January, and Emagine Noblesville will remain open during construction, with half of the building cordoned off from the public. The work is expected to be completed by the end of the year.
Emagine, founded in 1997, owns and operates 28 "luxury" theaters in Michigan, Illinois, Minnesota, Wisconsin and Indiana. Outside of Noblesville, the only other Emagine theater in Indiana is in Portage.
Please enable JavaScript to view this content.