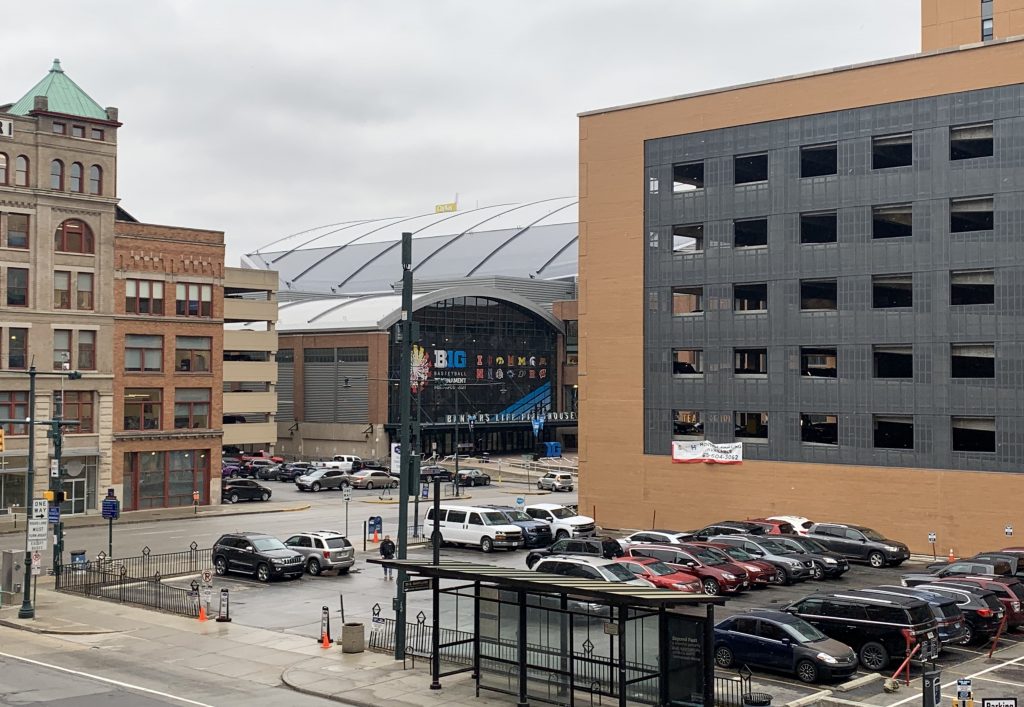 The new owner of a parking lot at the southwest corner of Pennsylvania and Maryland streets is considering using the land for a new downtown hotel.
Atlanta-based Peachtree Hotel Group bought the 0.28-acre parcel for about $3.5 million in late December as part of an overall $33.3 million acquisition that included the Hampton Inn at 105 S. Meridian St. and another parking lot.
Brian Waldman, executive vice president of investments for the hotel group, told IBJ that Peachtree bought the land for the development opportunity and is now "evaluating our options to potentially build on the lot."
The 50-space surface lot is used for valet services by the Hampton Inn.
Waldman said the process is still in its early stages, and it's not clear if or when a new hotel could go on the site. He said a hotel brand has not been selected.
The company has more than 120 properties under the Marriott, Hilton, Hyatt, Choice and InterContinental Hotels Group flags.
"I wouldn't necessarily say that we have a timeline, but, if it makes sense to move forward, we'd like to move forward," he said. "We're trying to figure that out now."
Currently, 19 total hotel projects are in the works downtown, which could add about 4,200 rooms to the city by the end of 2026.
He said if the land is ultimately developed, Peachtree would need to find a way to accommodate vehicles that would otherwise use it for parking.
"If we were to do something on it or if anyone were to do anything on it, we would obviously need to be able to accommodate parking for the hotel," he said. "There are a few different directions that that could go in."
One would be adding a parking structure to a new hotel development, he said, while another would involve the Hampton utilizing other parking structures nearby.
The lot is one of two undeveloped parcels east of the hotel.
A 0.23-acre parcel immediately west—between the 102 S. Pennsylvania lot and the Hampton—is owned by HRI Properties, a New Orleans-based firm that built the dual-branded Hyatt Place/Hyatt House across from from Bankers Life Fieldhouse. That lot, too, has been used for parking since that hotel opened in mid-2019.
In addition to managing the downtown Hampton Inn, Peachtree is developing two hotels in the Plainfield area (Residence Inn and Courtyard). The firm has never developed a hotel in downtown Indianapolis, but it has bought and sold multiple properties throughout central Indiana since 2000.
Please enable JavaScript to view this content.