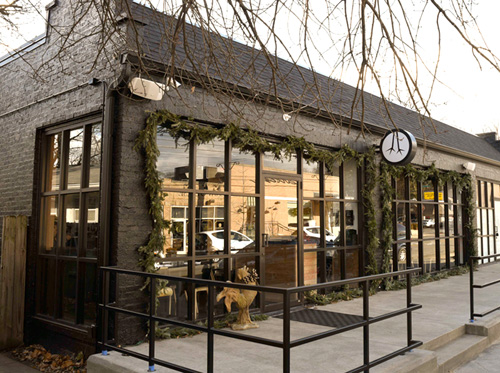 After essentially mothballing restaurant operations following the state's stay-at-home edict on March 23, the Patachou family of restaurants is slowly ramping up carryout options while developing a new burger-and-fries concept in Meridian-Kessler.
Apocalypse Burger—a name that came to Patachou founder Martha Hoover during a recent Sunday night Zoom call with family—would be based in the former location of the chain's Crispy Bird eatery at 115 E. 49th St., according to Patachou Inc. marketing director Maddy Barnas. At least initially, it would only offer carryout service.
The site also has become a base of operations for a limited set of carryout options from the Petite Chou and Cafe Patachou menus, available on Fridays. Meanwhile, the Napolese location across the street at 114 E. 49th St. last week began offering carryout service from 4 p.m. to 8 p.m. on Thursdays through Saturdays.
In addition to burgers and fries, Apocalypse Burger would offer similar kinds of comfort foods. It doesn't have a firm date for beginning service, and it likely won't for at least another month while Patachou officials get a better sense of how they can roll out more options from existing concepts, Barnas said.
It's also unclear whether Apocalypse Burger could become its own restaurant with on-premises dining after social distancing protocols are lifted.
"We're just getting back into the swing of things," Barnas said. "We're thinking about our current locations first, and then we will focus on Apocalypse Burger."
Patachou's plans are in flux as state and local officials develop timelines and guidelines for reopening the economy, Barnas said.
Crispy Bird closed in January 2019 after the executive team that opened the restaurant in 2017 left for other projects. Hoover claimed the restaurant was designed to be short-lived. The 2,200-square-foot space was repurposed as test kitchen for the chain.
Patachou Inc. owns and operates 12 other restaurants in the Indianapolis area under the Café Patachou, Petite Chou, Napolese and Public Greens flags. It also operates the bar/restaurant Bar One Fourteen.
All but three of the restaurants closed on March 16 after Gov. Eric Holcomb issued an order that restaurants discontinue on-premises dining. The three that remained open for carryout were the Napolese on 49th Street and the Café Patachou locations at 4901 N. Pennsylvania St. and 14390 Clay Terrace Blvd.
The cafés closed on March 23 after Gov. Eric Holcomb ordered the public to stay at home, except those in "essential" occupations or while performing duties necessary for health and safety. Napolese closed several days later.
From March 16 to the full closure of Napolese, the three restaurants logged gross sales, tips and donations of about $55,000—all of which was forwarded to a relief fund established to aid Patachou employees during financial hardships, Barnas said.
Patachou Inc. has between 350 and 375 employees. Currently, about 80% to 85% have been furloughed, Barnas said.
The company is slowly trying to bring more employees back as it adds more carryout options. It has been offering family-style meals from the Petite Chou menu for the last two Fridays from the 115 E. 49th St. location, and added Patachou Provisions—coffee, granola and baked goods from the café menu—last Friday.
The company now is adding more items from the café menu and is considering opening another carryout point at a Cafe Patachou location farther north, in addition to the 49th Street location.
Please enable JavaScript to view this content.