The curtain is set to be raised on a nightly five-minute patriotic light and sound presentation that local officials say will cast Monument Circle in a whole new hue and could draw tens of thousands of people annually to the iconic landmark.
An idea that was born in 2007—when Indianapolis was putting together its Super Bowl bid—lay dormant for a decade but was revived last year by a Lilly Endowment call for city arts and culture proposals.
Shining a Light on Indianapolis debuts Nov. 9.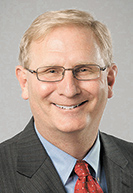 It is one of 17 projects funded by Lilly Endowment through its Strengthening Indianapolis Through Arts and Cultural Innovation initiative. The 2018 initiative provided $48 million in grants—which ranged from $49,000 to $9.2 million.
Shining a Light received two five-year grants—one to Downtown Indy Inc. and one to the Indiana War Memorials Foundation—totaling $7.68 million.
A plan is being formulated to fund and maintain the attraction for much longer than that, said Bob Schultz, senior vice president of marketing and events for Downtown Indy.
"We think this is going to be a major attraction for many years to come," Schultz said.
Launching the project—which will receive finishing touches this month—has taken major coordination with various government entities, historical agencies and businesses. Schultz said project leaders had to get permission from the state for everything they were doing related to the Soldiers & Sailors Monument and the street that encircles it.
Everything outside the Circle—on the sidewalks and surrounding streets—needed city approval. And Downtown Indy needed cooperation from building owners as well.
"We saw very strong collaboration around this project, and that's one of the things that really intrigued the Lilly Endowment," said Judith Cebula, the endowment's communications director. "This project got a lot of buy-in from the mayor, the governor and businesses around the Circle. The Lilly Endowment saw lots of potential to activate a location that already has a lot of visitors."
Endowment officials also were impressed with the project's long-term maintenance and enhancement plans. Downtown Indy is leading an effort to raise more money to pay for future content, for artists who will be part of programming, and for future physical enhancements. Downtown Indy's goal is to raise $3 million by 2024, Schultz said.
Lilly Endowment cares "about the sustainability of a project," Cebula said. "We care about how an organization is going to live … its vision and take care of this going forward."
Schultz is confident project results will be worth the cost and effort.
The show, which will commence each night just after dusk, features myriad patriotic images and original music leading up to a crescendo of four beams of bright light crisscrossing over Monument Circle—symbolic of the state's reputation as a crossroads of America.
'Vibrant gathering space'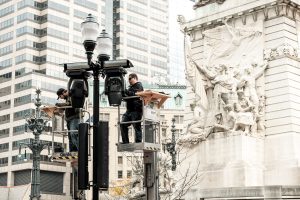 A group of leaders from some of the city's biggest conventions and meetings—including some veterans—who got a sneak peek last week were awestruck, said Visit Indy Senior Vice President Chris Gahl.
"Many commented on the uniqueness of the space from an event perspective," Gahl said. "The dry run whet the appetite on the idea of finding a bird's-eye view of the space to host VIPs during a convention. Having the light show set to music recorded locally in such an iconic, patriotic space was appealing to meeting decision-makers always seeking a unique experience for their event."
The show's enhanced lighting, video-mapping capabilities, state-of-the-art sound system and movable performance staging "will enable a variety of interactive event experiences, especially during evening hours, that will help amplify Monument Circle as a vibrant gathering place and creative public amphitheater," Downtown Indy's Schultz said.
"Programming will include seasonally themed experiences, light shows and a nightly signature salute synchronized with an Indianapolis Symphony Orchestra original score that pays tribute to what the iconic monument stands for," he said.
The music was written by Emmy Award-winning composer John Colby, who is known for, among other things, composing the ESPN theme music.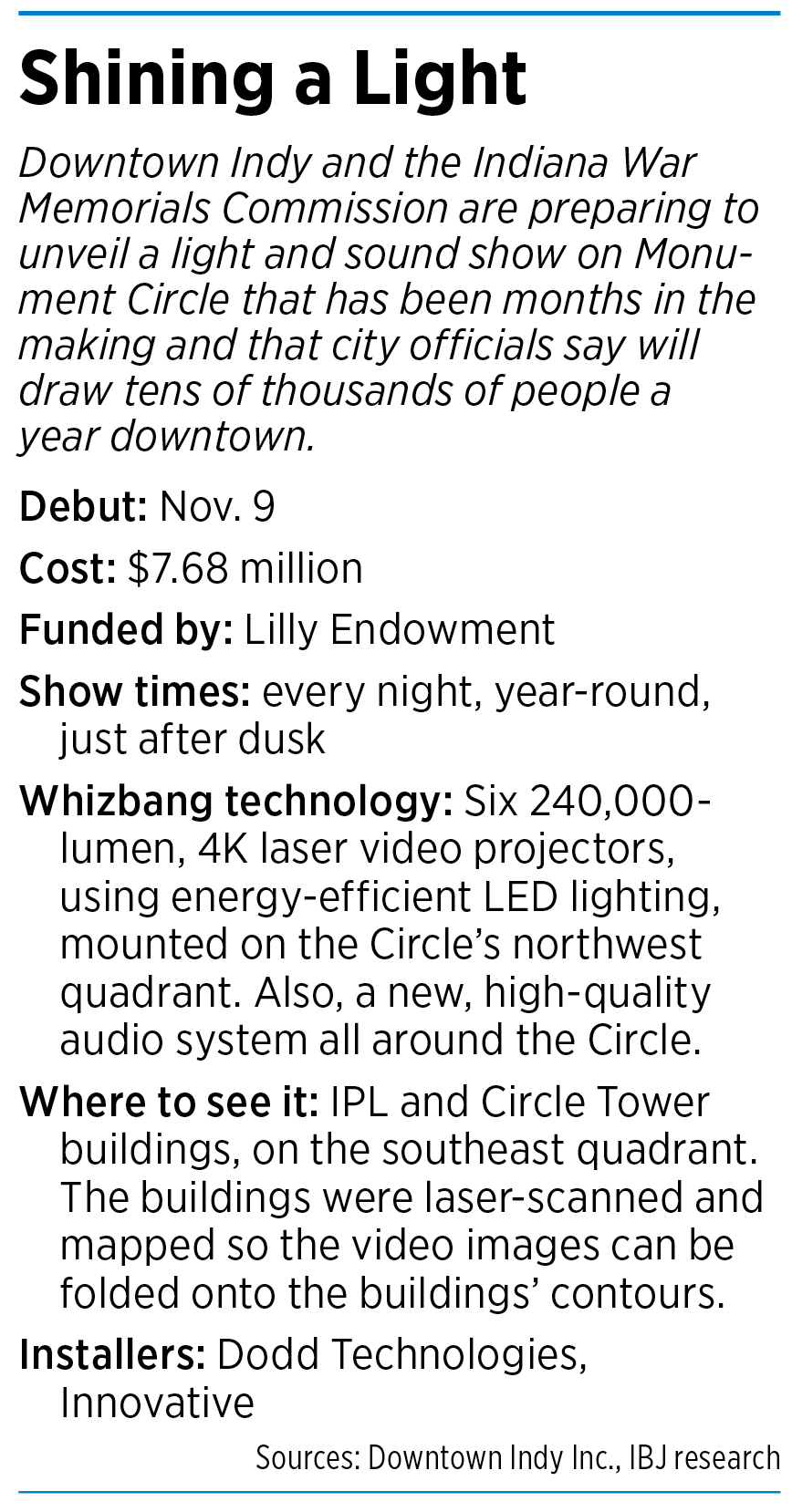 "Our mission was to create a music piece in motion, moving forward, moving forward, then crescendoing into four large beats, that is basically our lighting of the city," Colby said.
The highlight of the technology platform is a 240,000-lumen, six-projector, 4K laser video system that will project from the northwest quadrant of Monument Circle onto the Indianapolis Power & Light and Circle Tower building faces on the southeast quadrant.
The buildings were laser-scanned and mapped so the images could be folded onto the contours of the building surfaces.
"Clean, bright fixtures with energy-efficient LED light engines" are being used, Schultz said.
A state-of-the-art programming and monitoring system and a new audio system around Monument Circle were installed.
Locally based Dodd Technologies handled the hardware installation and another local firm, Innovative, is handling content programming.
"We're bringing light, we're bringing images, we're bringing stories to the Circle," said Dodd Technologies President Mark Dodd.
Numerous—and massive—light and sound devices have been installed around the Circle, including lasers and speakers mounted on building tops, on newly installed lamp-post-style poles and below street level. Some of the high-tech components require their own heating and air-conditioning systems.
Customization
The installation has far greater capabilities than just the nightly show, Schultz said, but Downtown Indy is proceeding with caution to keep the offering artistic, tasteful and non-commercial. No corporate imagery will be used.
"There are a number of customized things we can do with this for the holidays and so on," Schultz said.
One small example is that video images of snowflakes can be projected on the buildings surrounding the Circle, making it look like one big snow globe. Photos and corresponding sounds of images of racecars can also be projected onto the buildings.
As for the monument itself, Schultz said: "This is not Kings Island. We'll do nothing different [from] what's allowed on the Lincoln Memorial or White House."
The nightly production will start with an audible notice 10 minutes before the presentation starts. A musical introduction is followed by a video that's designed to be a signature patriotic salute to Indiana veterans and a nod to the freedoms they've help the nation win. As the music crescendos, four spotlights crisscross over Monument Circle signifying the state's reputation as the crossroads of America. That is followed by the playing of Taps. The presentation concludes with a video and music giving tribute to Indianapolis' various monuments and military memorials.
The patriotic Signature Salute will run every night, even throughout the holiday season, when it will merge with a coordinated holiday theme. That kicks off Nov. 29 during the Downtown Indy Circle of Lights. Visitors will see enhanced holiday activations and new video and lighting elements.
When the show concludes, the Circle will then be lit artistically.
"It's not just throwing bright light up there," Schultz said. "It's lighting it with subtle hues and strong lumens that give the monument depth and texture. We think it will show it in an entirely new light with features accented that you've never noticed before."
First of its kind
Innovative CEO Conrad Piccirillo said the display will be one of the first of its kind in the country.
"You will not find a larger lighting and projection display on a fixed structure in the U.S.," Piccirillo said. "For Indiana, this will absolutely be the largest lighting and projection on any architectural structure. The only thing of this scope and scale is in Europe and one in Australia."
Piccirillo compared the feat of projecting a single, cohesive image from multiple projectors to "firing three bullets from a rifle into the same hole."
"To sync projectors to project an image like this on a surface more than 200 yards [away] while shooting around Monument Circle, it takes mind-bending math to get this done," he said. "This is cutting-edge technology."
"To do this correctly, we digitally mapped every nook and cranny [of the buildings] in 3D," said Shawn Mollet, Innovative creative director. "That assures it's going to be really exciting for the viewer on the Circle."
The project's installation has taken thousands of hours over nine months, Piccirillo said.
"This project has taken unprecedented cooperation to get done," he said. "The combined effort has been extraordinary."
The idea for such a display was brainstormed as part of the Super Bowl hosting bid, Piccirillo said, but local officials decided the project was too costly for a one-week run.
"The time and expense going into this project is obviously significant, and the thought was that, if you put this much into it, it should be a permanent installation," he said.
Piccirillo has little doubt the investment will pay off.
"When we test it and people see it, there's a big wow factor," he said. "This is going to be super inviting for downtown and Monument Circle. I think when this project is done and the show is on, you'll see a huge increase in traffic around the Circle. It's going to be an attraction for local residents and a big draw for visitors."•
Please enable JavaScript to view this content.