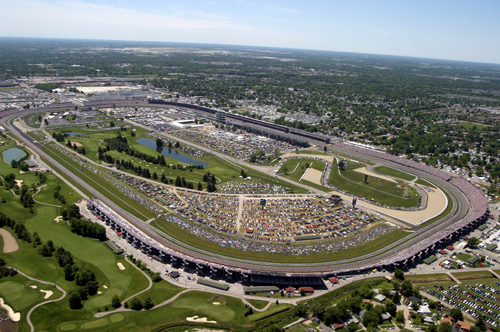 A deal that will make Penske Corp. the owner of Indianapolis Motor Speedway and the IndyCar Series drew universal positive reaction from motorsports insiders on Monday morning.
Hulman & Co., which has owned IMS since 1945, announced it was being sold to Penske subsidiary Penske Entertainment Corp. The deal, which includes IMS, the IndyCar Series and Indianapolis Motor Speedway Productions, is expected to close in January.
Mario Andretti, who won the Indy 500 in 1969 and has been heavily involved in IndyCar for the past several decades, said Penske owner Roger Penske called him this morning to share the news.
"I'm over the moon about this," he said. "If anyone is going to take over the speedway and the series, to me there could be no better person or entity. It's still part of the family."
Andretti said he was told the Hulmans had been exploring a sale for a few years, and that Roger Penske, 82, "jumped on it" to prevent a racing outsider from taking over.
"He wants to protect the integrity of what is there and knows much more to can be done by understanding the magnitude of what we have," he said. "Quite honestly, I don't think in recent times that's been understood … it just needed to have a little more of a boost (from ownership), to be honest with you."
Penske is the winningest team owner in Indianapolis 500 history with 18 victories, including Simon Pagenaud's win in May. He capped the IndyCar Season with a championship from driver Josef Newgarden, the 15th for the Team Penske organization.
"Anyone that understands anything about [motorsports] has to feel that this is extremely positive for us," Andretti said.
McLaren Racing CEO Zak Brown, formerly a long-time motorsports marketing executive in the Indianapolis area, called the deal a "landmark announcement."
"I cannot think of a better owner than Roger Penske and his corporation to ensure the growth and future of IndyCar," Brown said in an email to IBJ. "His business acumen and dedication to the sport and passion for the Indianapolis Motor Speedway are second to none. This is a landmark announcement that delivers confidence in a bright future for IndyCar."
Tim Frost, owner of Chicago-based consultancy Frost Motorsports, said the decision must have been difficult for the Hulman family.
"This is a very big move for both entities involved," he said. "It's a huge family decision for the Hulman/George family, to end a tradition like they have. That's not an easy one to make—particularly when it involves the legacy and family members it has built over the years.
"On the other side of the coin … Roger Penske, is a well-known guy, both from business relationship and the personal relationship. He has a long history with the Speedway."
Frost said the deal bodes well for the future of IMS and IndyCar.
"I think from an industry standpoint, this is a stabilizing transaction that will assure the future of racing in Indianapolis at the Speedway, due to the legacy that Roger has with it. I think it's an excellent deal for all parties."
Ken Ungar, who was chief of staff for IMS from 1997 to 2001 and now leads Indianapolis-based sports marketing firm Charge, which represents IndyCar Series sponsors, had all good things to say about the ownership change.
"If I were advising [IndyCar] sponsors and partners, I would say 'be very optimistic,'" said Ungar, a former senior exec for the Indy Car Series. "Roger is one of the greatest business people of our time."
In terms of Penske's motivation, Ungar said there are business reasons for him to buy the track and series. "This is the largest sports facility in the world, and it's well-maintained. It's amazing."
And, he added: "This place has a special place in Roger's heart."
In terms whether it will be fair for Penske, the most dominant team in IndyCar, to own the series and its biggest, most important track, Ungar said: "Roger Penske is an honorable guy. I wouldn't have any concern about that."
Longtime IndyCar owner Chip Ganassi also praised the deal.
"I think this is good," Ganassi told AP. "It's really good. It's great. The place is going to be run like a business."
Penske has mixed track ownership and team ownership before, and the Detroit resident first purchased Michigan International Speedway in 1973. He later owned California Speedway, as well, and currently runs the Detroit Grand Prix doubleheader IndyCar weekend.
Indiana Gov. Eric Holcomb said the acquisition is likely to fuel growth at the track and be a positive development for the state's economy.
"The biggest single day sporting event on planet earth is about to get even bigger and better," he said in written remarks. "I couldn't be more excited about the future of the Indianapolis Motor Speedway with 'The Captain' Roger Penske at the helm. Mr. Penske's vision, team and high expectations will ensure Indiana's most iconic asset continues to grow.
"Along with IndyCar, the Indianapolis Motor Speedway forms the core of an entire racing industry that employs thousands of people and pumps hundreds of millions of dollars into our economy. As a racing fan, my excitement is only equaled by my appreciation for the longtime Hulman George commitment to the past and future of the sport of racing and to our great state."
The Associated Press contributed to this story.
Please enable JavaScript to view this content.