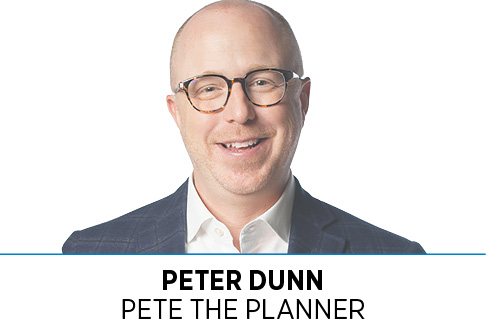 I spend quite a bit of time thrusting my brain into projections about life post-pandemic.
I think about seeing friends and family up close on something other than videoconferencing equipment.
I look forward to my kids' soccer games. And I look forward to the financial pain subsiding for so many households. But until that time comes, I'm simply stuck in my house considering hypotheticals.
I keep coming back to one question, even though every time I attempt to answer it, I argue a different side: Will this crisis make us more self-sufficient?
I ask because our relationship with self-sufficiency has certainly become suspect in relation to our financial stability.
To understand self-sufficiency from a financial perspective, you need to understand convenience.
For the sake of our discussion today, convenience is when you exchange money to save time.
Convenience is a luxury. Well, at least it used to be. But somehow in the last 10 to 15 years, more and more Americans have decided to employ convenience when they didn't have the stability to justify it.
Some people have a ton of money and a ton of time, while most people have only one or the other. And yet others think they have an abundance of money or time, and have neither.
This is where self-sufficiency comes into play. Self-sufficiency is what can level the playing field. It can turn instability into stability by leveraging an abundance of time to save money.
I have two examples of convenience to share with you, and then I'll show you how to identify your potential relationship flaws with convenience. By the way, this column isn't about food, despite both examples being food-related.
I've baked more homemade bread in the last nine weeks than all the bread made during every season of "Little House on the Prairie" combined. Why? Several reasons, but two involve money and time.
Like every other sensible person in this country, I've wanted to tighten-up my household spending and I happen to have more time available than I know what to do with it. Enter, bread-making. It takes a long time, it costs basically nothing, and it isn't very convenient. This is the essence of self-sufficiency.
Let's look at the other side of convenience.
Back in February, when my kids used to have sports practices, time was at a premium when it came to meal prep.
Therefore, we parted with our money to obtain carryout or delivery from a local restaurant. We employed convenience by spending money to save time. It was convenient, seemingly necessary, and not exactly self-sufficient.
Stability is what makes convenience reasonable. I'm cognizant that my previous sentence comes from a place of privilege, but that doesn't change its truth. The fact of the matter is, if my household's stability wanes, so will our use of convenience.
Look at your spending activity on your bank statement.
First look at your spending in January, then look at your spending for April.
You'll undoubtedly notice a change in consumer behavior. And most of the changes will be a result of your changing relationship with convenience.
You've become more self-sufficient out of necessity. You're yearning for increased stability. I get it. I am, too.
Stability comes on the heels of self-sufficiency.
Are there activities and processes for which it makes more sense to employ convenience in spite of the cost?
Of course. I have all the time in the world to change the oil in my car, but that's not happening.
I'm not likely to run a new electrical circuit in my garage, either. But with more time on my hands than I know what to do with, I'm personally completing more tasks than I used to, and the byproduct has been increased financial stability.
Americans will exit this period valuing financial stability more than they have in decades.
This means, eventually, people will have more savings and less consumer debt.
I want our economy to come back to life, and I want the unemployment rate to dive, but I want all this to happen with a higher degree of stability.
Our economy is less fragile when the people who work in it are stable.
For some, that stability can come with increased wages, but for many others, increased stability shows itself when there's an increase in self-sufficiency and a decrease in convenience spending.•
__________
Dunn is CEO of Hey Money, a subscription-based financial-problem-solving company, and Your Money Line, an employee-benefit organization focused on solving employees' financial challenges. Email your financial questions to askpete@petetheplanner.com.
Please enable JavaScript to view this content.