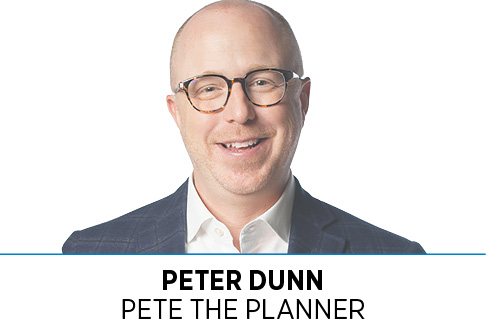 From farther than 6 feet away on an outdoor patio on Father's Day, my father-in-law was telling our family about the sage advice his father had shared with him during his adolescent years: "Get your [school] work done on Saturday, so you can enjoy your Sunday night." I nodded, acknowledged the prudence of his words, and wished I had followed his advice that particular weekend.
Then we had cheesecake.
On the drive home, while blocking out the cacophony emanating from the back seat, I began to think through my father-in-law's father's words once again. It occurred to me that nearly every financial planning emergency I'd ever witnessed could have been avoided by following this guidance.
There's something wildly important buried in his wisdom—getting work done on Saturday doesn't require any more work than completing the work on Sunday; it just requires timelier work.
Proper financial planning does not require additional work. It requires timelier work.
Here are two crystal-clear examples:
Let's start with life insurance. Not only is it cheaper to purchase when you're younger, but it's also cheaper when the health concerns that finally get you thinking about it haven't developed yet. By the way, the same is true for both disability insurance and long-term-care insurance.
You've probably already guessed my second example. Successfully funding retirement is the most difficult financial task you will ever accomplish, but it's markedly easier when you properly fund it now. Determine what percentage of your current income needs to be set aside now, then do it now. If you wait until later, the percentage of your income that you'll need to set aside will be much higher. The same is true for saving for college, too.
Yet there's another hidden element to my grandfather-in-law's axiom, which I believe to be more nuanced an application to financial planning: Anxiety makes ordinary effort much more difficult than it needs to be.
When you think about both your basic and complex financial-planning aspirations—ones you've already accepted responsibility for and ones you haven't—it's important to evaluate the level of anxiety surrounding those plans. Do you have the right amount of anxiety around your unaccomplished goals and aspirations? Because oddly, too much anxiety, or too little, could mean the timing of your work might be off.
For example, if you were to look at your progress toward your retirement goals and objectively observe a deficiency, you need to understand the anxiety you're feeling about that deficiency will pale in comparison to that which will build until you finally address the problem. Unfortunately, human nature often only recognizes the need for change when the anxiety of failures forces a desperate, and sometimes futile, attempt at change.
Unlike homework on any given weekend, financial-planning stakes are much higher. I know this. You know this. But nonetheless, we both sometimes struggle to let our projected anxiety influence our actions. It's vital that you know action calms anxiety more than denial does.
Your homework will always be due on Monday, whether you like it or not.
Now imagine you're able to complete your work with less effort and less anxiety. Would you be interested in that scenario? That's what I'm offering you.
I have not encountered a single person in the last three months who isn't rife with anxiety in nearly every area of his or her life. There's so much we can't control; it's imperative we identify what outcomes we can control and direct our actions toward those elements. We must get our work done on Saturday.
Deeply examine your future financial milestones, acknowledging that some might not have risen to goal status for you just yet, and ask yourself whether you care enough about your progress toward those milestones. Realize that any action you take now will substantially decrease the amount of anxiety you will experience and the amount of work you will need to exert.
Don't let the seductive, unfettered pleasures of a laissez faire Saturday convince you that painful Sunday nights are worth it. We try and try to teach our children this valuable lesson, yet here we are letting our work stack up on us on yet another Sunday night.
Do something about it. The inevitable crushing anxiety isn't worth the pointless delay. There are much better things you can do on Sunday nights, anyway. Perhaps you'd like some cheesecake.•
__________
Dunn is CEO of Your Money Line powered by Pete the Planner, an employee-benefit organization focused on solving employees' financial challenges. Email your financial questions to askpete@petetheplanner.com.
Please enable JavaScript to view this content.