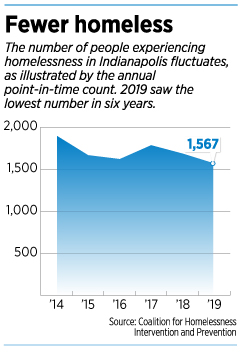 It's been more than two years since the city and state chose four developers to build 500 affordable housing units—including some reserved for people experiencing homelessness—around Indianapolis using federal tax credits.
None of the developments has gone vertical. One of the developers has dropped out. Two others have yet to choose a site for their projects.
Only one has made significant progress—with a groundbreaking anticipated early next year on the former grounds of Central State Hospital. The project, called Central Greens, will offer affordable housing just a few miles from the heart of downtown in a neighborhood experiencing significant redevelopment.
Despite the slow progress of the Indianapolis Integrated Supportive Housing Initiative, officials say they remain hopeful it will achieve its aim to chip away at the need for permanent supportive housing for the city's chronically homeless. The partnership between the city and the Indiana Housing and Community Development Authority launched in July 2017 and aimed to add 500 affordable housing units in Indianapolis, including 125 reserved for people experiencing homelessness.
The initiative's goal is to increase access to affordable housing and decrease homelessness through supportive housing. The IHCDA and the city partnered to shore up funding for the projects. Developers would have access to low-income-housing tax credits issued by IHCDA. The state's low-income-housing tax credit program gives investors a tax break in exchange for providing financing to develop affordable rental housing, whose construction would otherwise be financially unfeasible.
The city and state would also work to offer gap financing to cover what the tax credits don't, and the city agreed to issue tax-exempt revenue bonds to make the projects work.
The initiative is a spinoff of the IHCDA's successful Indiana Supportive Housing Institute, which aims to end long-term and recurring homelessness by creating permanent supportive housing units across the state.
Permanent supportive housing combines an apartment unit paid for by housing vouchers with wraparound support designed to provide stability to someone experiencing chronic homelessness.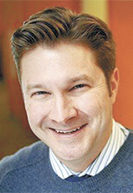 "What we've demonstrated over the last couple of years is that, when you can combine those three things, we are able to house some of the most vulnerable people in Indianapolis and keep them housed permanently, and actually help them stabilize much more quickly than we would otherwise," Deputy Mayor Jeff Bennett told IBJ.
On any given night, as many as 1,600 people could be experiencing homelessness in Indianapolis, meaning they are sleeping in temporary quarters, transitional housing or on the street. Finding permanent housing for those people can take months because there aren't enough units to meet demand.
For example, the city had 963 permanent supportive housing units in 2018, when the Coalition for Homelessness Intervention and Prevention unveiled its five-year community plan for ending homelessness. CHIP's plan calls for adding another 1,100, enough to end chronic homelessness.
But creating more units isn't easy. While the city receives about $6 million in federal funding a year to house its homeless, that isn't enough to eliminate the problem.
Tackling the problem
So city leaders in 2017 decided they needed to create their own programs if they were going to make headway. That year, Mayor Joe Hogsett vowed the city would help add 400 permanent supportive housing units. Some would come from the joint city-state initiative, which would result in either new or rehabilitated complexes, but others would come about by lining up housing vouchers that could cover units for the homeless in complexes with vacancies.
The Indianapolis Integrated Supportive Housing Initiative in summer 2017 issued a request for qualifications from development teams interested in participating. To qualify, they had to be willing to include units for the homeless in their development. They also had to have experience working with low-income-housing tax credits.
Twelve development teams responded, and the city and state that September chose four: Mercy Housing Lakefront and MACO Development Co. LLC; Merchants Affordable Housing Corp. and Insight Development Corp.; TWG Development LLC and Volunteers of America of Indiana; and UP Development LLC and Meridian Health Services.
Early on, the teams participated in workshops designed to develop project concepts. But more than two years later, the program is still at least 18 months from housing low-income and homeless Hoosiers.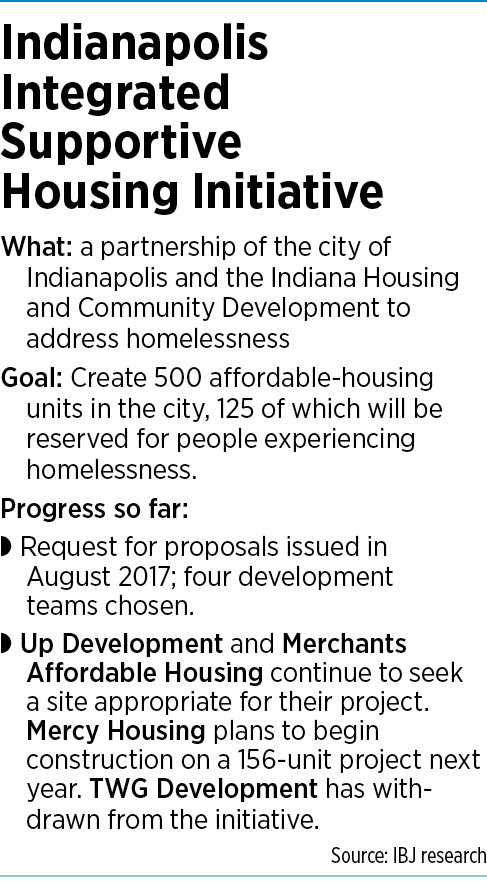 While Indianapolis-based TWG Development continues to build affordable and permanent supportive housing in Indianapolis, the company is no longer pursuing a project through the initiative. John Sullivan, vice president of tax credit development at TWG, told IBJ the decision came down to securing the financing needed to make the project feasible, he said. There didn't seem to be enough to go around, he said, and other projects were already further along.
While Merchants Affordable Housing and UP Development are still seeking sites for their projects, Chicago-based Mercy Housing Lakefront is nearly ready to take off.
Together with Missouri-based MACO Development, Mercy plans to begin construction on a 156-unit complex early next year. Thirty-five of the units, or 22%, will be dedicated to permanent and supportive housing.
The apartment complex will be built at 3355 Kirkbride Way on the former site of Central State Hospital, which opened as the Indiana Hospital for the Insane in 1848. The facility along West Washington Street housed more than 2,500 patients at its peak in the 1950s, but closed in 1994. The city bought the 150-acre property a decade later.
Redevelopment began in 2011 and continues today. Bennett said Mercy's project will bring long-term affordability to a site that is chock full of market-rate-based development.
Construction is slated to be completed in the second half of 2021. Rent for the permanent supportive housing units will be paid for with housing vouchers from the Indianapolis Housing Authority, and residents will also be able to receive support services from Adult & Child Health.
The remaining 121 units will be workforce housing for people earning at or below 80% of the area median income. To qualify, a one-person household would need to earn less than $44,700 annually. A three-person household would need to earn less than $57,550.
The IHCDA has already approved funding for Central Greens, and the City-County Council has preliminarily approved issuing up to $19 million of economic development multifamily housing revenue bonds to finance land acquisition and construction.
'These projects do take time'
As for the other two projects, the city and state remain hopeful they'll move forward sometime next year.
"We continue to work closely with the city of Indianapolis and the other teams that were part of the Institute. … These projects do take time to come together," Brad Meadows, marketing and communications director for IHCDA, told IBJ in an email.
The projects are taking longer than projected (city officials told IBJ in 2017 those units were likely to come online in 2019 and 2020) for several reasons. First, developing affordable housing often is a lengthy process. Developers first have to find a site that works for their project—and sometimes win planning and zoning approval—then figure out how to make the project work from a cost perspective.
The permanent supportive housing piece has made the initiative even more challenging. The city began receiving housing vouchers for rental assistance in November 2017 but funding that helps cover the cost of support services didn't come until later.
Additionally, lining up those support services for the developments—an imperative piece of permanent supportive housing—can be challenging, said Chelsea Haring-Cozzi, executive director of CHIP. Doing so requires entities that might not have previously worked together—developers, property managers and homeless service providers—to form collaborative relationships.
That can take time, she said.
"Developing affordable housing—period—is a challenge, and when we add in components like permanent and supportive, it just gets a little more complex," Bennett said.
Still, community leaders say the city is making progress in its pursuit to end homelessness.
The city has leased up just more than 300 units using housing vouchers, with more in the pipeline, Bennett told IBJ.•
Please enable JavaScript to view this content.