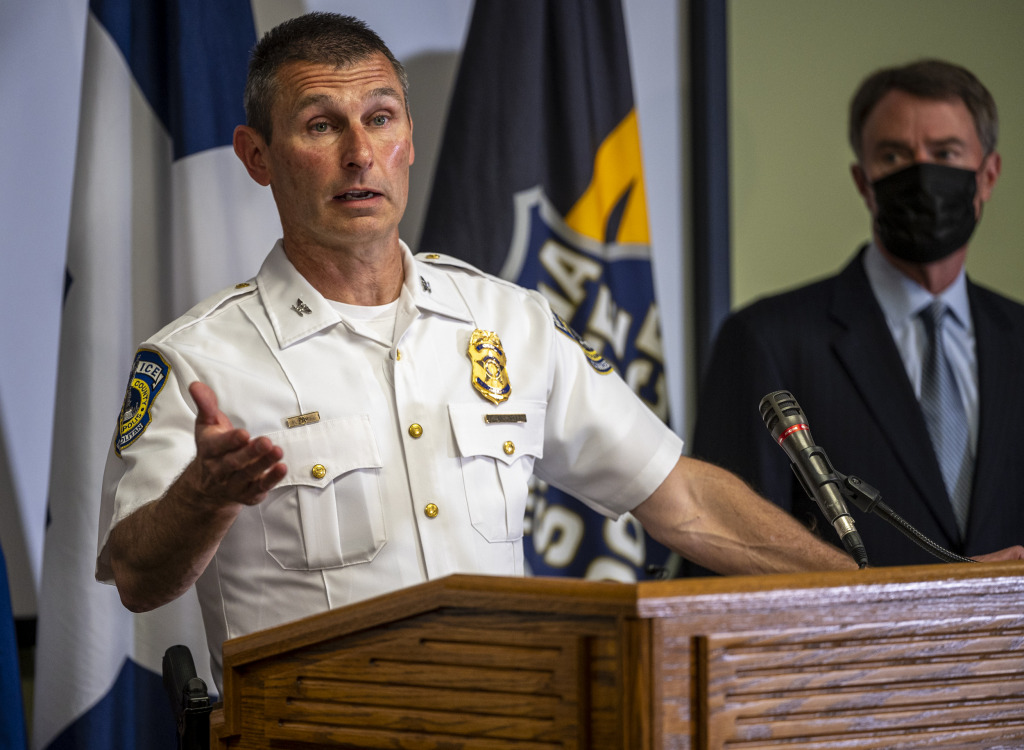 Investigators said Friday morning that they were not prepared to publicly identify the suspected shooter who took the lives of eight people at a FedEx facility late Thursday night near Indianapolis International Airport before shooting himself.
FedEx confirmed that the eight people who died in the shooting at the FedEx Ground center at 8951 Mirabel Road were employees. Indianapolis police said at a Friday press conference that they hadn't confirmed if the gunman was an employee. Authorities did say the shooter was a young man in his 20s.
Initial research indicates the shooting is the deadliest workplace shooting in Indiana history and the deadliest mass shooting in Indianapolis in recent history. The incident was the country's deadliest shooting since 10 people were killed March 22 at a grocery in Colorado.
Indianapolis police Deputy Chief Craig McCartt said the gunman arrived at the facility shortly after 11 p.m. in a car and almost immediately began "randomly" shooting at people in the parking lot with a rifle. The gunman went into the facility for a short period before taking his own life.
McCartt said the shooting took just a "couple minutes." He also said police do not know—and might never know—the motive for the shooting.
"It did not last very long," he said of the incident.
Five additional victims with gunshot wounds were taken to the hospital, including one with critical injuries, according to the Indianapolis Metropolitan Police Department. Two people were treated by medics at the scene and released.
Police have not identified any of the victims and the coroner's office has not yet had an opportunity to enter the scene to begin its identification efforts.
Alfie Ballew, chief deputy coroner with the Marion County Coroner's Office, said it could be several hours until the coroner is permitted on scene. The organization is enlisting its full team of 30 employees to identify victims.
McCartt said there is ongoing police activity throughout the city tied to the shooting, including at the home of an individual they suspect of being the gunman.
It was at least the third mass shooting this year in Indianapolis alone. Five people, including a pregnant woman, were shot and killed in January, and a man was accused of killing three adults and a child before abducting his daughter during an argument at a home in March.
A witness said he was working inside the building when he heard several gunshots in rapid succession.
"I see a man come out with a rifle in his hand and he starts firing and he starts yelling stuff that I could not understand," Levi Miller told WTHR-TV. "What I ended up doing was ducking down to make sure he did not see me because I thought he would see me and he would shoot me."
Gov. Eric Holcomb ordered flags to be flown at half-staff until April 20, and he and others decried the shooting, with some noting how frequent such attacks are.
"We wake up once more to news of a mass shooting, this time in Indiana. No country should accept this now-routine horror. It's long past time to act," Secretary of Transportation Pete Buttigieg, who is from Indiana, tweeted.
Indianapolis Mayor Joe Hogsett said White House Chief of Staff Ron Klain, a North Central High School graduate, reached out to him via text message to offer federal resources to the city.
Hogsett called the shooting "senseless violence," and challenged state and federal laws regulating firearms. He said he would like to see various loopholes in those laws closed, as well as more stringent laws for high-capacity magazines and certain firearms.
Police have not identified the make of the rifle used in the shooting.
"It seems to me that, beyond the need of comfort for the grieving, we must guard against resignation or even despair—the assumption that, 'This is how it must be,' and, 'We might as well get used to it,'" Hogsett said. "We need the courage that compels courageous acts."
At least four IndyGo buses were used to transport workers away from the FedEx facility in the aftermath of the shooting.
Family members gathered at a nearby Holiday Inn Express to await word on loved ones—and some employees were bused there for tearful reunions. But some people said they still had no information about their relatives hours later. Most employees aren't allowed to carry cell phones inside the FedEx building, making contact with them difficult.
"The eyes of the nation are on Indianapolis today, in ways that we would never have hoped for," Hogsett said.
"When you see notifications on your phone, but you're not getting a text back from your kid and you're not getting information and you still don't know where they are … what are you supposed to do?" said Mindy Carson, holding back tears. Her daughter, Jessica, works in the facility and she had not heard from her.
Chris Bavender, a spokesperson for the FBI's Indianapolis office, said the FBI is helping the police with the investigation.
Attorney General Merrick Garland was briefed on the shooting, and the White House said President Joe Biden would be, as well.
A man told WTTV that his niece was sitting in the driver's seat of her car when the gunfire erupted, and she was wounded.
"She got shot on her left arm," said Parminder Singh. "She's fine; she's in the hospital now."
He said his niece did not know the shooter.
Please enable JavaScript to view this content.