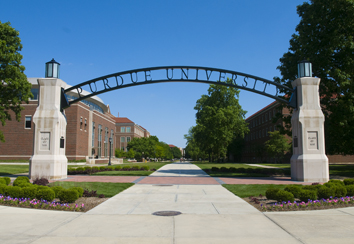 Purdue University said it has added more than 200 faculty members over the past year, marking the largest single-year increase in the school's 153-year history.
The university cited record enrollment and increased investment as reasons for the hiring binge.
Purdue hired 213 new faculty members at its West Lafayette campus, 84 of whom are the result of new investments through the university's enrollment growth initiative, its $75 million Equity Task Force and other initiatives.
"These are indeed exciting times at Purdue, a landmark year with the record levels of investment we are making in our faculty, drawing the best and brightest scholars, teachers and researchers from across the nation and world to be a part of our Boilermaker family," Jay Akridge, provost and executive vice president for academic affairs and diversity, said in written statement. "With these new faculty, we are dramatically expanding our research capabilities as well."
Purdue said 37 of the new faculty members are coming from the university's dual-career assistance program. Vice Provost for Faculty Affairs Peter Hollenbeck said the effort provides funding for spouses and partners of faculty members who are seeking their own faculty and non-faculty appointments.
The university is projecting record enrollment of more than 50,000 undergraduate and graduate students for the 2022-23 academic year.
The growth is expected to continue in the next year with 239 faculty searches planned at Purdue.
Please enable JavaScript to view this content.