Juanita Easterling, 39, of Avon, shares a connection with her employees that most bosses don't.
Easterling, an Indianapolis native who has worked in manufacturing since college, now works for Goodwill of Central & Southern Indiana as the plant manager of Cook Medical's brand-new $15 million medical manufacturing facility on the northeast side of Indianapolis. Goodwill staffs and manages the facility, which produces medical devices for Cook.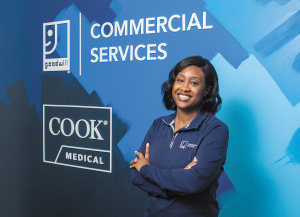 The plant currently has 20 workers, with a waiting list of hopeful employees, and a goal of growing to 100 employees as the facility ramps up.
The plant is at 6130 E. 38th St., at the corner of East 38th Street and Sheridan Avenue—within walking distance of where Easterling lived until her family moved to Detroit when she was 9. That gives her something in common with the plant's employees, the vast majority of whom live in the low-income neighborhood.
The median household income in that ZIP code in 2019 was $36,285, significantly below the Marion County median of $48,316.
How has the neighborhood changed since your childhood?
When I lived here as a little girl, this neighborhood was thriving. It had businesses—Value City [Department store] was the staple point for this area. The schools were thriving. … When I grew up there, it was a blue-collar working class, middle-class neighborhood with homeowners. A lot of Black homeowners. Now, you have a lot of low-income housing in the area, or abandoned housing.
Does having lived in the neighborhood help you in your job?
Absolutely. I really don't believe I would be successful in this role if I did not go through those experiences living here as a child. I am able to be very adaptive to my team members. I have experience of living in a home with no lights. I have experienced being on government assistance. I have experienced bouncing from home to home because my mom couldn't pay rent. So I can relate and have empathy for my team that experiences any of those type of barriers.
If one of your employees is really struggling and discouraged about a challenge they are facing, how do you respond?
The first thing I do is have a conversation. I bring them in a private setting where they can have a conversation with not only myself, but I bring in our life coaches. … And we'll sit down with the employee to figure out and put a plan in place on how we'll address the barriers the associate is facing at that time.
It does feel better to put something on paper—not just be upset but think about what's next.
Yes. Also, they can see that we are holding ourselves accountable to make sure that we follow up with them as well. We let them know: This [job] is not a handout. This is a hand up.
But also, writing it down and putting a plan in place helps them see that they're growing as well. They can see, 'I'm making progress.' Things may feel slow to them. But it's the baby steps. The baby steps. And those are the little wins that we want.•
Correction: The address of the plant—6130 E. 38th St.—has been corrected in this story. See all of our corrections here.
Please enable JavaScript to view this content.