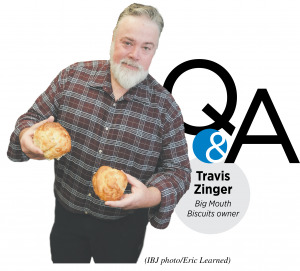 Travis Zinger is a mechanical engineer turned chef.
He started a food truck in Dallas after he was laid off amid the pandemic. Then he ended up in Indy and discovered it didn't have the kind of biscuit restaurant he enjoyed on the coasts. He decided to open one here.
He launched Big Mouth Biscuits at Indy's Kitchen, a culinary incubator at 2442 Central Ave., on April Fool's Day. Now he and business partner Clint Rollins are preparing to open their first stand-alone location at City Market by Thanksgiving while also continuing to operate at Indy's Kitchen.
Why did you decide to start at Indy's Kitchen?
I didn't really have a lot of brick-and-mortar experience. Certainly nothing as far as like learning the ropes about maintenance and things like that. [Indy's Kitchen] really kick-started everything for me. They were the turnkey solution to undertaking this idea. I was able to enter a kitchen immediately that was set up ready to go, had passed all the inspections, had all the permits.
What kind of support did you receive?
It's a community of other bakers and chefs and restaurateurs. So, the knowledge base was really the key for me because I was able to tap into them, ask questions along the way and kind of not fall into a lot of the maybe common pitfalls another restaurant startup would fall into.
Why the focus on biscuits?
With my kids, that was a thing for us, to do—big breakfasts on Sundays. When they moved out on their own, a big breakfast for one just wasn't very cool. When I visited them at college, that's when I learned that it was possible to have a biscuit company, that that's all they serve is biscuits. And I kind of fell in love with it.
What is it you love about biscuits?
The simplicity of it, right? I mean, it's an all-in-one-package-type breakfast. You can get your eggs, bacon, your soft bread and, in our case, gravy—all in one. One bite, basically.
What's special about your biscuits?
We fresh-make our biscuits. And we have a thing called a cat-head biscuit, which in the South means a biscuit that is as large as a cat's head. So, one thing that you'll notice right away when you look at our biscuits is, they're not your typical store-bought biscuit. They're very big. Also, we do a drop biscuit, instead of rolled, and it has a crispy outer edge to it. We also have a little bit sweeter dough than most people.
What's your favorite biscuit that you serve?
We have a honey butter chicken. That's my favorite. It's a fried chicken white breast patty with a honey butter drizzle on top.
How did you come to choose City Market for your expansion?
We were entertaining the idea of a market, like The Garage Food Hall [at Bottleworks District]. We looked at The Amp [at 16 Tech]. And then we looked at the City Market. … We ultimately went with City Market because of its historical background. When we talked to our customers … everybody had heard of City Market. … We want to help them rejuvenate [City Market] and bring more traffic to the area, so we're happy to be part of that.
What's your long-term vision or hope for the restaurant?
Immediately, we need to dominate Indy and take over Indy for biscuits. We want to be able to put Big Mouth Biscuits in locations across Indy to serve everybody. And then ultimately, I would like to expand it in different cities throughout the United States.•
Please enable JavaScript to view this content.