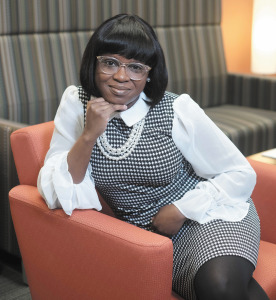 It's no exaggeration to describe Titi Obasanya as a world traveler.
Obasanya, an entrepreneurial adviser, grew up in Nigeria and also has lived in London. She moved to Indiana this year and now works as an entrepreneur-in-residence for Indianapolis-based Elevate Ventures. She also heads up Elevate Ventures' new Elevate Me program, which supports female and minority entrepreneurs.
Obasanya was living in Lagos, Nigeria, and planning to move to the United States when a LinkedIn ad for a job at Elevate Ventures caught her eye. She had an initial interview with Elevate Ventures and was also pursuing some other U.S. opportunities but hadn't locked down a job when she moved here.
"It turned out that, when I landed in Indiana, there was follow-on conversations, a panel interview, and then I got the job," Obasanya said.
Had you ever been to the U.S. before moving here?
Believe it or not, [it was my] first time in the U.S.
You probably had some culture shock!
The biggest culture shock for me was you have to drive everywhere. In the U.K., you get on the bus, you get on the train. In Nigeria, you're literally driven everywhere.
What have you learned from working with founders on three different continents?
The common thread across all of them is you have to take that position of, like, a mother hen. Because the founder needs this ego to be able to keep dreaming. So when you are passing on advice and you're wanting to offer guidance on what steps the founder needs to take, you have to be careful not to destroy or trample upon the founder's ego because he still needs to keep dreaming.
However, you have to act like the mother hen to be able to guide in the right direction and make sure that they arrive at that goal that they have.
The most exciting thing, I think, or one of the differences working with founders in the West, is the sophistication of the innovation. … One of the main reasons for this is … it's developed, right? Access to infrastructure, access to knowledge, access to best practices—that's some of the things that allow for us to see unbelievable innovation that we see even at Elevate today. Founders really thinking outside of the box and having great ambitious plans to solve the world's problems.
Whereas in Africa—it's developing, right? And so there's so many problems. Also, because there's so many problems, [that] means loads of opportunities for the problems we solve, correct?
What do you miss most about Nigeria?
I don't miss the food [laughs] because, even when I was living in Nigeria, I wasn't so much a big fan of the Nigerian meals. And it's nothing to do with Nigerian meals; it's just that [I've always been] a very, very, big, big picky eater.
I know a couple of people have asked me, "Oh, have you been to Nigerian restaurants [in the U.S.]?" I'm like, "No." And they're like, "What?" They look surprised, like, "What's wrong with you?"
You like to write fiction. What attracts you to writing as a hobby?
What I love most about writing songs, singing songs, even writing fiction, especially short-story fiction is it brings you into a world where literally anything is possible.•
Please enable JavaScript to view this content.