For Charity Elliott, the food service business is often a family affair. She grew up working beside her mother in the family's restaurant and catering business.
After college, she started her own career and spent several years in management for various food services and a school system. Then, just months before the pandemic, she decided to launch her own restaurant, Just Peachy Cafe, in her hometown of Shelbyville at 52 E. Washington St. And with the help of her retired mom, husband Chad and sons Gavin and Garett, the restaurant has grown a loyal following in Indy's southern suburbs.
Aside from your family connections, what has attracted you to the restaurant business?
I always enjoyed the fast pace of a restaurant. And then as I grew in the management aspect of it, I really enjoyed connecting with people. The customers, the staff. I love training people and coaching them to … excel past what they think they can do.
What made you decide to open your own business?
When you work for a government entity, like a school, there are a lot of hoops to jump through, a lot of people to answer to. So I decided that I wanted to do something different, and it was time to be my own boss. But I didn't want to give up [the school] hours. So I decided a cafe would be a perfect type of establishment. That way, I could be open for just breakfast and lunch and be able to be home with my family in the evenings.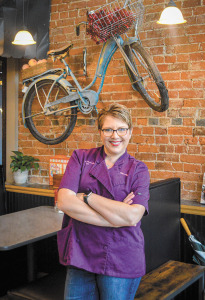 How did you come up with the name for your restaurant?
My whole life, my mom and I, whenever someone says 'How are you?,' we always say: 'Just peachy.' And that's it. [You'll get the same response from restaurant staff.]
How would you describe your menu and ambiance?
We look like Hallmark, but we'll feed you like CMT [Country Music Television]. Because we look like a cute little cafe that might just cater to women and those kinds of groups, but we feed everybody, people of all ages. … Everybody comes in and enjoys the food. The portions are decent size. … It's home cooking, everything from scratch.
What are your specialty dishes?
Probably the chicken salad croissant. Or the soups, the potato soup. That's a big favorite. … All of our toast is served with a peach butter. It's a whipped butter that has peach preserves in it. And then we have a peach mango salsa that we serve with our breakfast wrap and our Just Peachy chicken sandwich. You'll always find cookies in [our dessert case]. Or brownies. There's always something new.
What's been the most fun thing about running your own restaurant?
I have met so many great people, and they become family. I know a good number of my guests by name when they come in, and I just enjoy being part of their lives and I miss [them] when I don't see them. In fact, when they go on vacation, they usually tell me they're leaving.
What's been the secret to your success, creating a thriving restaurant during the midst of a challenging pandemic?
It is the people. People know I care. They know that I'm here for them. There's no reason for me to be here if I'm not here to serve these folks and to take care of them. I really think that's why we have the following, because they know we care.•
Please enable JavaScript to view this content.