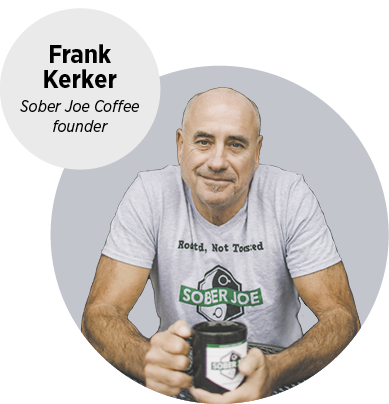 Frank Kerker has a full life. The 60-year-old Bloomington resident is a successful real estate agent and a father of two. He's an avid open-wheel-racing fan and loves driving the streetcars he collects.
So why did the Kokomo native—who worked in South Florida for a decade before moving to Bloomington—want the labor-intensive headache of starting a coffee company?
The answer is at once simple and complicated.
Kerker is a recovering alcoholic. While he hasn't had a drink in years, he has never forgotten that alcohol once nearly ruined his life. Nor has he forgotten that countless people are struggling with addiction at any given time.
So when he was searching for a way to help people exorcise the demons of addiction, an idea percolated in his mind: Start a coffee company—one that makes excellent coffee, as good as anything coffee lovers have sipped. Give the profit to organizations that help those fighting addiction. Or better yet, enlist organizations like the residential-rehab center Progress House in Indianapolis to market and sell the coffee—like a franchise—and let them keep the profit.
So Kerker founded Sober Joe Coffee Co. in October 2017.
What is your recovery story?
Things were starting to unravel in my life. I saw a therapist, and it was suggested I was an alcoholic. I resisted it until it was unavoidable. I jumped off before I totally crashed and burned, but it got pretty bad. I'll celebrate14 years of sobriety on July 31.
What's the origin of Sober Joe?
I spent most of my professional career in the beverage industry, working with a number of big brands, including Sobe, Snapple, Muscle Milk, NOS Energy Drink and Mistic. I had an affinity for the beverage industry. So I combined that with recovery. The fact that coffee is the drink of choice for recovering addicts made this a natural fit.
How did you come up with the moniker Sober Joe?
Sober Frank didn't sound very good.
Who makes Sober Joe Coffee?
I use three different roasters. The main and original roaster is Cadillac Coffee in Fort Wayne.
Who came up with the formula?
It's my formula. All the coffee is packed to my specifications.
Where can you buy it?
Most of the availability has been in Bloomington in grocery stores and other outlets. We've moved into Indianapolis recently, where it's available at Fresh Thyme stores.
Where did the idea to donate profit come about?
I always liked the model of Newman's Own and Ben & Jerry's. And an elemental part of recovery is giving back. I wasn't looking to get rich. I just wanted to use my experience in the beverage world to do good and give back.
How did the partnership with Progress House in Indianapolis begin?
The idea is to find a market owner and for that market owner to find a non-profit in that market. In this case, Progress House inquired about owning the Sober Joe franchise in this market. They buy the product from me at cost and then they keep all the profit they make from sales.
What are your growth plans?
I'd like to find more markets. Louisville is on the radar, and I'd like to get back to South Florida. We'd also like to grow through e-commerce.
What sets Sober Joe apart?
It's really good coffee. I would put it up against anything—especially at the price point, which is basically $10 a bag.•
Please enable JavaScript to view this content.