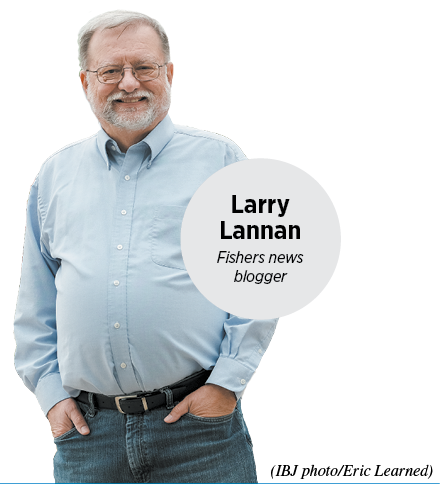 Larry Lannan, 67, of Fishers started writing about his hometown's happenings after retiring from the Internal Revenue Service in 2011. Eight years later, his news blog, LarryInFishers.com, and podcast deliver Fishers residents nearly daily news about their city. For Lannan, a former radio reporter, his news site is his way of giving back to his community. He said he'll evaluate at the end of this year whether he'll continue to run the news site, once municipal elections are behind him. Of course, he said that last year, too.
Tell us your background.
I started broadcasting out of high school. I went to a trade school for broadcasters and jumped right in. I loved music, so I programmed music for a couple of years. Then I decided I better go to college. … As I was doing that, I moved a little more into news. I worked at some small radio stations … and really started to enjoy the reporter side of the job. Around 1977, that's when I ended up as the morning news anchor for WCSI in Columbus, Indiana. I covered education. I covered county government. … I worked at a few Indianapolis stations, too.
You also worked for the IRS; tell us about that.
Really from the inception of radio until about the 1980s, radio stations were expected to have news departments. … The Reagan administration basically said, "You don't have to do that anymore." I saw the handwriting on the wall. There were going to be fewer jobs. … I made a decision I was just going to change. I ended up going to work for the government and ended up in taxes, of all things. I did that for 28 years.
Why did you start Larry in Fishers?
I had been living in Fishers since 1991. I tried to keep track of the news. (There were less than 10,000 people when I moved to Fishers—just an itty-bitty community, and things were just beginning to change). So when I retired, I thought, "I'm just going to put up a little, easy-to-use, rudimentary website, and I'm going to write about what happens at town council meetings and school board meetings when I could make those." … I thought maybe a few government geeks like myself would read it.
What was the community's reaction to the blog, seeing as it doesn't have its own daily newspaper?
More people read it than I thought. All of a sudden, the town council members started telling me they were reading it, which shocked me. When I first started, I didn't even put a counter on it. I figured if nobody was reading it, I would just give up. I still get way more hits than I ever would expect (5,000 to 10,000 a month). There were more people interested in it and that was because, at that time, most of the media was ignoring Fishers and we were growing. Things were happening here, and nobody was paying attention to it. … I've just found that there is a hunger for news. That doesn't mean you can make money doing it. It is still a volunteer effort for me.
What's been the most surprising change you've seen in Fishers?
The most surprising change has been the change of government and the focus. You know, elections matter. There were six candidates for mayor (when the town transitioned to a city), and the two main candidates were Walt Kelly, who had been town council president 10 years before, and Scott Fadness. The reason I mention that is because, had Walt Kelly won that election, we'd be a different place. Scott had a vision … and it's come together much more quickly than even he could imagine. So he wanted to make Fishers a destination, and I think it has [become that]. That's been the biggest change. When I moved to Fishers in 1991, it was a sleepy suburb. You had to go to Noblesville if you wanted Dairy Queen.•
—Samm Quinn
Please enable JavaScript to view this content.