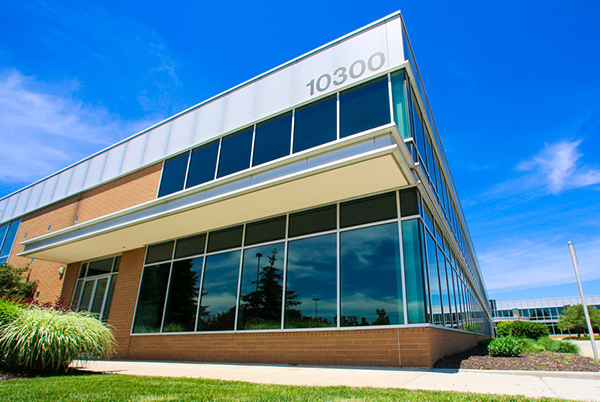 Fishers-based Quantigen Biosciences plans to spend $2.5 million to redevelop 40,000 square feet of office space along Interstate 69 as its new specialty contract research laboratory, adding up to 30 jobs in the process.
Quantigen, a contract research organization that develops diagnostic tests and medical devices for the pharmaceutical and biotech industry, announced plans Wednesday to move from its current 7,500-square-foot space at 7340 Crossing Place in Fishers to the Round Room building at 10300 Kincaid Drive, east of I-69 and south of 106th Street.
The company will take up more than half of the 70,000 square feet in the building not occupied by Round Room, providing the company enough laboratory and office space to double its workforce by 2024.
Quantigen has a contract with the Indiana Economic Development Corp. to create 23 jobs at the site by the end of 2023 that will provide it with up to $350,000 in conditional tax credits, but the company expects to exceed that hiring amount.
Construction has just begun, so Elliott anticipates the company will be able to occupy the space by the end of the year. The city of Fishers has already provided Quantigen with a $50,000 grant toward its buildout and moving expenses, and the city council will consider a tax abatement for the project in July.
"Generally speaking, the investment in this space is allowing us to scale to support our partners," Quantigen CEO Jami Elliott told the IBJ. "This space is a necessity to support that work."
Founded in Fishers in 2008, Quantigen works with what Elliott calls "big box biotechnology companies" to help them expedite their research and development efforts. He said Quantigen acts as a nimble addition to their teams that avoids larger organizations' bureaucracy.
Though the buildout itself represents a $2.5 million investment, Elliott said it will more likely cost Quantigen $4.5 million to $5 million to properly outfit the space into three operational areas: routine molecular diagnostics, contract research and new technologies development.
That includes building to special certification levels that ensure safety when dealing with infectious organisms.
Elliott credits Quantigen's growth to increased demand from pharma and biotech companies to develop new diagnostic tests and platform technologies; support for grant-sponsored research through the Bill & Melinda Gates Foundation; and a recent U.S. Centers for Medicare and Medicaid Services MolDx coverage decision award for a novel genetic test that is used to aid health care providers in medication selection and to improve medication safety.
Please enable JavaScript to view this content.