Republic Airways Holdings Inc. and Rolls-Royce have signed on as investors and partners in an early-stage effort to launch an urban air mobility network that would ferry commuters within cities around the world.
Indianapolis-based Republic and Rolls-Royce, which has a significant Indianapolis presence, are among seven strategic investors that have pledged a combined $105 million investment in Eve UAM LLC, a spinoff from Brazil-based aircraft manufacturer Embraer S.A.
The big-picture goal: Over the next several years, develop and operate a fleet of vertical-lift electric aircraft designed for commuters who are willing to pay a premium to get across town more quickly.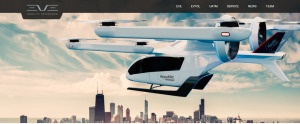 Eve told investors last month that the global urban air mobility market could total $760 billion between 2025 and 2040—and it aims to get a piece of that revenue.
"Urban air mobility is a transformational event in aviation and a generational opportunity to disrupt the ground transportation and helicopter sectors," Eve co-CEO Gerard DeMuro told investors last month.
Both Republic and Rolls-Royce are also identified as among more than 30 entities that have signed non-binding memoranda of understanding or letters of intent to work with Eve in other ways. An investor presentation identifies Rolls-Royce as a technology partner and Republic as among its fixed-wing aircraft operator partners.
In a press release issued Dec. 21, Eve announced that it and Republic had formed a partnership in which Republic would purchase up to 200 of Eve's electric vertical takeoff and landing aircraft. The two parties also plan to "explore additional opportunities" with Republic's LIFT Academy, an Indianapolis school where Republic trains commercial pilots and maintenance technicians.
Eve and Republic will work on "developing a deployment network throughout the central and east coast markets of the United States, with an initial focus on the Boston, New York and Washington, D.C. markets," the press release said.
Republic, a regional airline that operates flights for American Airlines, Delta Air Lines and United Airlines, already has bases of operations in these three cities, among others.
Eve has also announced similar partnerships with other companies. In all, Eve says it has non-binding agreements with companies that could purchase up to 1,735 aircraft with a combined value of $5.2 billion.
Eve says it has also formed partnerships with numerous U.S. and international companies to develop other things that would support the aircraft, including charging stations and maintenance technology.
Embraer created Eve and launched it as an independent company in October 2020. Eve, which is based in Melbourne, Florida, is in the process of going public via a merger with Zanite Acquisition Corp., a special purpose acquisition company based in Cleveland, Ohio. The deal, which values Eve at $2.4 billion, is expected to close in the second quarter. In addition to the $105 million coming from Republic, Rolls-Royce and the other strategic investors, Embraer will invest $175 million in the venture.
For a typical 20-mile trip, Eve says, a flight in a piloted Eve aircraft would cost $100, as compared to $78 for an Uber ride and $12 if the passenger drove his or her gasoline-powered personal vehicle. A 20-mile flight in an Eve autonomous aircraft would cost $50. Eve said it expects to launch autonomous aircraft around 2030.
As an example of its plans, Eve said an air-service network in Miami might have 88 routes and 32 takeoff and landing sites. Eve passengers could get from the city's South Beach neighborhood to Miami International Airport (a trip of about 11 miles) in about 7 minutes, as compared to 45-90 minutes in moderate-to-heavy traffic.
Of course, the success of the effort is unknowable at this point—it won't be until early 2026 that Eve expects to actually have aircraft in service—and there are still many uncertainties.
In communications with investors, Eve discloses a lengthy list of potential risk factors. Among them: The market for urban air mobility might not be as large as anticipated, potential customers may be unwilling to pay a premium for the air service and certain localities might not allow vertical aircraft operations because of perceived safety issues or other risks. None of the aircraft have yet been manufactured, and they might not perform up to expectations.
Republic and Rolls-Royce both declined to comment on their involvement because the project is at such a preliminary stage.
Rolls-Royce designs and makes technology that allows aircraft to take off and land vertically, and some of that work takes place in Indianapolis. But Rolls-Royce said it's premature to know whether the Eve project might bring any work to its local facilities.
And Republic said earlier this week that it's not yet prepared to talk about its involvement in the Eve project.•
Please enable JavaScript to view this content.